Posted by Mandy Spivey on Jun 12th 2018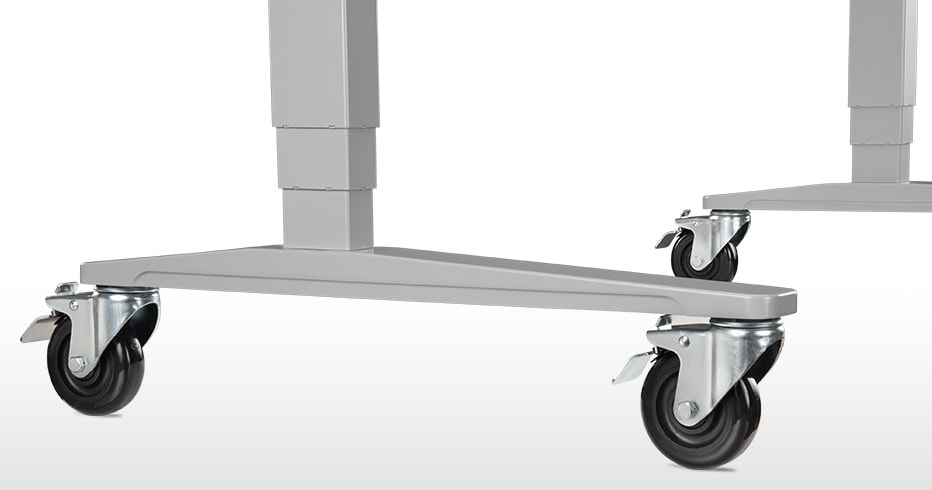 When your height adjustable workstation needs to move, let it with a set of Heavy Duty Casters by UPLIFT Desk!
Not all floors are the same. So when you need to roll your sit-stand desk over uneven surfaces, cords, cables, and even small debris, these brawny casters make it possible. Thanks to these large 4 inch diameter wheels, you can be sure your workstation has the backing to stay stable and upright, keeping your setup together.
Warehouses, industrial zones, and hard hat areas deserve to work ergonomically, too. Assembly lines are made much safer, healthier, and efficient when workers have the ability to switch up postures throughout the day. Work with a portable work table that allows you to task ergonomically in almost any location. Casters are easy to lock and unlock with your foot, meaning you won't even have to break your ergonomic posture to move stations.
We put these casters to the test ourselves. Below are just a handful of environments our casters rolled over with no issue:
A surprisingly large collection of cords in our photo studio
Desk instructions and packaging materials in the assembly area
Wide computer cables in our warranties department
Uneven and cracked flooring in the warehouse
Snack debris and chip bags in our breakroom
Don't get stuck! When you're ready to give your desk the freedom to move, Heavy Duty Casters make your desk mobile to more locations.