Stop, sit, and think. Now stand and do the same. Feel the difference just one small change can make? It's time to banish negative health effects from less-than-optimal working posture with the UPLIFT Height Adjustable Sit Stand Desk.
Stand and move when you want to with an adjustable height desk, which allows you to alternate between sitting and standing at work for better health and productivity, giving you more energy to focus on your next big idea. The entire sit stand desk raises and lowers in seconds with the press of a button, elevating your work to where it's most comfortable for you. Our ergonomists agree this is an ideal solution for most users, but if you're working with limited space, the UPLIFT Space Saver Standing Desk has our most popular desktops in 24" depths.
Because UPLIFT Desk frames use three spindles instead of just two, desks are 33% faster when raising or lowering to your preferred heights. Thanks to a dual-motor design, these desks are quieter, stronger, more reliable, and safer than desks with a single motor. Don't forget the little things that make a desk better than the rest.
This sleek and functional office desk is here to take your work up a notch (or a few). This frame is fully height adjustable from 24.4" to 50.0" (without desktop thickness). Our GREENGUARD-certified laminate desktop is 1" thick. Our 3-stage columns offer 25.6" (650mm) of vertical travel. Our width-adjustable stand up desk frame that can be expanded to fit our desktops easily. A hidden crossbar gives you more legroom or space for mountable under-desk accessories. This ergonomic desk is fully customizable by size, desktop choice, frame color, and add-on accessories.
You don't have to worry about harsh chemicals and wood sealants - we take the time and care to only use the most environmentally friendly and health-conscious finishes to protect both your computer desk and your air quality. Our laminate desktops are GREENGUARD Certified, letting you know you're updating your office ergonomics without bringing dangerous chemicals or materials into your workspace.
Accessorize your desk to uplift and improve your workstation to the max. Whether you want better desk organization or a comfier keyboard tray or ergonomic mouse platform, we have the options to get you working in healthier postures now.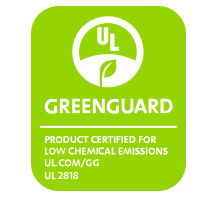 If you're looking for a different style of desktop, try building an UPLIFT eco curve, bamboo, reclaimed wood, premium solid wood, or rubberwood solid wood adjustable height office desk.
Sit to Stand Desk Features
Laminate desktops are constructed out of eco-friendly materials and come in many finishes
Height adjustable from 24.4" to 50.0" (without desktop thickness). Our GREENGUARD-certified laminate desktop is 1" thick. Our 3-stage columns offer 25.6" (650mm) of vertical travel
Three-stage frame is 33% quicker to adjust than a two-stage frame
Quiet, soft start/stop motor included in each leg, with an energy efficient low-draw transformer
Dual motors make UPLIFT Desks quieter, stronger, safer, and more reliable
Hall effect sensor in the frame senses resistance and reverses frame direction for safety
Width-adjustable telescoping base allows users to fit the frame to their desktop easily
Adjustable crossbar positioned directly where the base meets the desktop for more legroom
GREENGUARD Certified desktops are environmentally friendly
Local and globally sourced parts are assembled and shipped from Austin, Texas
Stand Up Desk Specifications
Height range
24.4" - 50.0" H (without desktop thickness)
Desktop thickness
1"
Travel speed
1.5"/second (varies - slowest with maximum load) with soft start/stop actuator motors
Noise level
50 decibels during motion
Base width
Adjustable from 42.25" - 70" W
Desktop width
48" - 80" W
Weight capacity
355 lbs
Keypad
Advanced 1-touch digital memory keypad* is available
Push and hold up/down keypad comes standard
Adjustable foot leveling studs
3/8" adjustment for uneven flooring
Voltage
Input: 110 V
Output: 31 V
Transformer power
200 W (0.2 W on standby)
Power supply current
5 amps
BIFMA/ANSI X5.5-2008 Certified
Yes - completely meets all requirements of BIFMA/ANSI X5.5-2008 Test Sections 4.3, 4.5, 5.2-5.5, 6.0, 7.0, 8.0 & 15.0.
Environmental certifications
ISO 14001, RoHS & CE compliant
Safety certifications
Lifting Column - TUV (Canada and U.S.)
Control Box - TUV (Canada and U.S.)
Power Cord - UL/CSA (Canada and U.S.)
Warranty
7-year warranty on the entire desk base, which includes the motor, frame, controller, keypad, electronics and mechanisms. Optional extended warranty available when selecting desk options
Shipping dimensions
Frame - 11'' W x 10'' H x 41'' D, 61 lbs
Desktop 48x30 - 34'' W x 3'' H x 51'' D, 42 lbs
Desktop 60x30 - 34'' W x 3'' H x 64'' D, 50 lbs
Desktop 72x30 - 34'' W x 3'' H x 76'' D, 59 lbs
Desktop 80x30 - 34'' W x 3'' H x 84'' D, 66 lbs
* Using the advanced 1-touch digital memory keypad is as simple as the push of a button. Four programmable buttons let you choose and set the best sitting and standing heights for you, even for multiple users. Or simply use the up/down buttons to get to that sit-to-stand sweet spot.
Ergonomic Desk F.A.Q.
How do I tell which version of control box is on my desk?

You can check to confirm the version of control box you have on your UPLIFT Desk by taking a peek at the silver label on it. If that sticker says v4.1, v4.2, or v4.3, you have the newest version of UPLIFT Desk's control box, which comes with new features!

What features are on the new control boxes?

UPLIFT Desk's version 4 control boxes come with a handy new safety feature: Collision Sensitivity. This feature lets users set the sensitivity for their desks, so when adjusting, the desk stops when it touches an object, instead of raising and lowering, which can cause accidents and knock over objects. Keypad Lockout is another exciting new function. Easily keep unwanted hands from adjusting the desk when this feature is activated. Users will be able to toggle quickly between One-Touch and Constant-Touch modes with just a few buttons, in addition to being able to switch between inches and centimeters on the keypad.

Why does UPLIFT use three-stage frames?

UPLIFT Desk frames are three-stage vs the traditional two-stage because it makes them faster to adjust thanks to using 3 spindles in each leg instead of just 2. That means their desks adjust 33% faster thanks to this cutting-edge design. A higher and lower adjustability range fits shorter users and even kids, all the way up to very tall users or those who plan on adding a treadmill to their sit-stand workstations down the line.

What are these "dual motors" I keep hearing about?

All UPLIFT Desks come with a dual-motor design, so each leg gets its own motor. This makes UPLIFT Desks quieter to adjust, stronger and more reliable, and safer than desks with just a single motor. When you're updating your desk, don't forget the little things that make UPLIFT Desks better than others on the market.

I live outside of the United States, will this desk work with my outlets and voltage?

All UPLIFT Desks are designed to run on the US electricity standard of 120V. If you're ordering an UPLIFT Desk from outside the United States (excluding Canada), you'll most likely need to plug your desk into a step down transformer, otherwise you run the risk of overloading your desk's control box, which is not covered by warranty. Please contact our support team if you have any questions.

How durable is Laminate?

Our laminate desktops are made to be durable and will stand up well to daily use. Made out of eco-friendly recycled MDF, dozens of layers are pressed together under extreme pressure with a decorative melamine finish to form a desk that's ready to hold all of your monitors and desk accessories with no problem.

Isn't laminate a bit dated?

Not these laminate tops! If you like the look of wood but don't want to spend an arm and a leg to get it, laminate is a cost-effective option to get you standing. We work with desk designers to ensure we offer only the most well-made and stylish laminate desks you can buy.

Is this desk good to use for sewing?

Absolutely! The height adjustment of an UPLIFT desk is great for sewing, crafting, and creative projects. Lower your desk when you want to sit and sew, and then raise your desk to an ergonomic height when you need to cut out fabric.

Can I add my own desktop?

Yes! If you already have your own desktop, you may order just the UPLIFT Desk frame without a desktop.

How easy is it to put the desk together? Will I need more than one person?

You should be able to assemble the desk frame by yourself, as well as attach it to the desktop. However, you will need two people to safely turn the desk over and onto the legs after assembly. Check out our assembly video to see just how easy it will be to install your desk.

Can I use the accessories I already own with this desk?

If you already own a keyboard tray, monitor arm, or CPU holder, you can definitely add these accessories to your desk. Just double-check the manufacturer's instructions to make sure that your accessory is compatible with the thickness of the desktop. Also keep in mind that the crossbar on the UPLIFT desk may run across the center of the desk, depending on the size of your desktop, and may get in the way of a keyboard tray or CPU holder.

Do I have to keep the desk plugged in?

UPLIFT Desk frames should remain plugged in all the time. The low-draw power supply will minimize electricity consumption.

Can I add grommets to my desk after I have already purchased and received it?

If you change your mind after you get your desk and want a different type of grommet, you may always order Wire Grommets or Power Grommets separately.

What happens if my desk stops working outside of the warranty period?

We offer helpful and affordable replacement parts for all UPLIFT Desk models if your desk malfunctions after the warranty period has ended.
The Human Solution customer service provides excellent service as well. I had sent in an e-mail request for a copy of my invoice, which I had misplaced and they had it to me within the hour.

LOVE this desk. Well made, quality materials, easy to assemble, quiet.... I have nothing negative so say about this product. I was even impressed with how well it was packaged/protected for shipping.

Rubberwood Adjustable Height Desk

My desk was delivered on Friday. I didn't have time to assemble it until Sunday. I wanted to have plenty of time. Desk assembly instructions were very clear and told you everything you needed to know to avoid making any mistakes. Assembled the desk and plugged it in and it worked just fine. Love the look and sturdiness of the desk. When I ordered, also received box set of some desk top items and a standing matt. All looks great and very functional. Price was affordable as well. Love it!

Better than you can imagine!

I've been working mostly standing since about 2010, and have used various adjustable desktop risers, one-piece platforms, etc. The last 3-4 years I have been working from home, where I also use a home computer, gaming setup, and a walking treadmill. The problem was that none of my previous pieces offered a solution for ALL my equipment and constantly changing levels (sit/stand/elevated standing on treadmill). All I had was a mish-mash of different equipment, and a constant need to change this around when switching from work to home, or for gaming.
That ended when I got this desk. At 80" in length, it will hold all my work, home, and gaming paraphernalia; the sturdy construction ensures no sagging or weakening in holding 2-3 sets of equipment and monitors; the simple height adjustment makes it a breeze to switch my own level without having to constantly modify positioning of any of my equipment; and finally, I can get the most personal benefit overall with the least amount of aggravation - NONE. Definitely glad I went this route!

Equipment: Eco White 80", power grommets x 2, standard keypad, wire management tray, casters

Very happy with it. It as I wanted and expected :-)

I tried out a standing keyboard stand for 6 months at work, and loved standing, but didn't love my monitors being too low. I purchased a 30x60 black eco desk for my keyboard and 2 monitors. I loved it so much, I purchased a second 30x80 black eco desk to make an 'L' shaped desk and can meet with my clients on the second desk. It is so nice to be able to stand/sit at the push of a button. The first table took about 2 hours to assemble, and the second only took an hour since I knew how it went together. I will be bragging the product up to everyone. Thank you!!

72-inch desk fits my needs

I made the decision to try a standing desk and chose the desk from HumanSolution. My old desk was 72 inches (1.82 m) wide and 36 inches (0.91 m) in depth. This desk is 72 inches wide by 30 inches (0.76 m) wide. I miss the extra width, but not enough to go back to the old desk. The instructions for assembly were very good and it was easy putting the table together. It was a bit more of a challenge adding the CPU holder, keyboard holder and the half-circle drawer, but the instructions were very helpful. I did watch one of the videos and that was extremely helpful. I really like the height adjustment. I've created 3 heights to work at and it goes back and forth each each of the set heights that I selected.

The only disappointment I have with this desk is that it tends to bow in the middle even with the crossbar center rails installed.

This desk was generally easy to put together, i did it myself :) it took me about 2 hours. When you adjust the height, you can hear that the motor is good quality, nothing looks or sounds cheap about this desk. The work space is nice and big, I got the 60". It fits both my monitors vey nice with room to spare for other things. There are cheaper desks, but this one was definitely worth the money. I'm really happy about my impulse purchase lol!

It's a solid well balanced desk that performs as advertised. That's to say all the raves are justified. The accessories are well integrated and I regret that I didn't buy more with my initial order because now I'm paying freight to get them here. But, I couldn't be more impressed - especially when I compare this product to what it available in the office supply store and the like. But for those of you not standing up, whoa! I am so much more productive and alert, instead of a lump of coal a couple of hours into my day!
This product comes standard with a 7-year limited warranty.
Return Information
We offer a 30-day trial on all single-item UPLIFT Desk brand orders, with the exception of solid wood and custom laminate desktops. If for any reason you're not satisfied, return the item with no outbound shipping or restocking fees.
Return windows close 30 days after you receive your item. You are responsible for obtaining a Return Merchandise Authorization (RMA) within this time.
All items must be disassembled and returned in "Like new" condition in their original factory packaging. Items not returned in this condition may be subject to additional fees. You are responsible for return shipping costs.
To start a return, or to view the full returns policy, click here.