Effective 11/15/2021, Humanscale will require a signature upon delivery for all FedEx shipments.


Spice up your waiting room instantly when you add the Humanscale Cinto Chair to your office decor.
Sleek and customizable to your office's color palette, the Cinto delivers you and your guests much more comfort thanks to automatically-adjusting lumbar support that reclines as you do. An ergonomically-designed flexing seat pan evenly disperses your weight, reducing pressure points on the legs for even more comfort for your guests.
Add an optional Vellum-covered seat pad for extra support where you need it. The Cinto is available in a collection of colors and is easily stackable up to 15 chairs tall on the handy and portable Humanscale Cinto Dolly.
Features
Flexible belt design moves and automatically adjusts backrest to support your body
Stress-relief cross-slits uniformly distribute weight on seat pan
Ventilated back and seat pan provide constant breathable support
Stackable up to 6 chairs high (Cinto Dolly can hold up to 15)
Optional Vellum-covered foam seat pad provides extra comfort
Available with CAL 133 compliant components
Chair surface is washable with soap and water
The Design Story
With an ergonomic principles of design in mind, the Humanscale Design Studio created the stackable Cinto chair, with practicality, comfort and function as the goal. It has automatic support for every user, and the easy-to-stack design makes it the practical solution in a multi-seating environment.
Specifications
Overall dimensions
24.15" W x 21.13" D x 35" H
Seat dimensions
17.5" W x 17.5" D x 16.6" H
Weight capacity
300 lbs
Weight
9 lbs (armless)
13 lbs (fixed arms)
Warranty
15 years
Casters
Choose glides if you need a stationary chair or casters if you want a moveable chair.
Arms
The Humanscale Cinto is available with fixed arms or armless.
Frame Color
Two frame colors are available for the Humanscale Cinto: silver or black.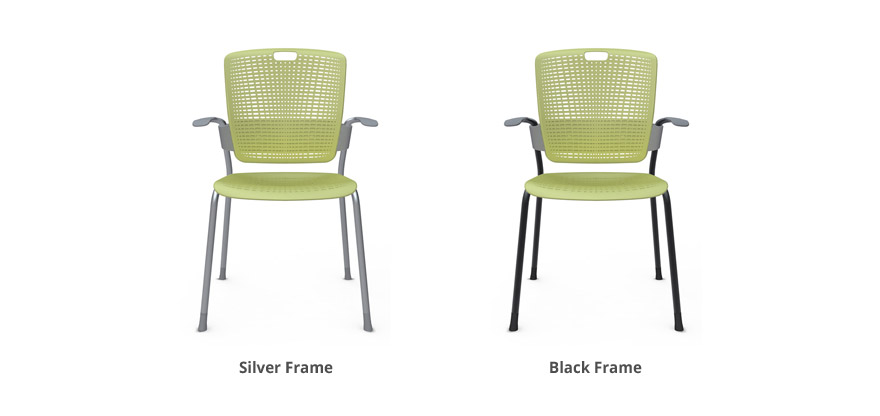 Seat and Back Color
The Humanscale Cinto can be ordered in multiple seat pan and backrest colors to match your office decor.
Seat Pad
Fourtis - Grade 1
Inspired by the Latin word fortis, meaning strong, this fabric is the ultimate ratio of durability and flexibility thanks to a unique weave of two-blended colors, and offering a four-way stretch.
Fireproofing
The Cinto can be ordered with either standard plastic components or CAL 133 compliant components.
Humanscale Terms and Conditions
Due to manufacturer policy, this item cannot be returned.
Cancellations must be made prior to the item shipping and cannot occur after it has shipped.
If you have any questions about the Humanscale terms and conditions please contact us.
Warranty Policy
Visit our Warranty page for the warranty policy for this particular product.
Return Policy
Visit our Returns page for the return policy for this particular product.