Look at all of those curves the Knoll ReGeneration Chair brings to the table or standing desk.
The ReGeneration Chair by Knoll is a uniquely modern ergonomic chair that's designed to deliver comfort and freedom of movement in a single seat. The chair features a sleek design plus a responsive and flexible mesh back, which provides unparalleled lumbar support that follows the natural curves of your shoulders and back to aid you in maintaining good posture while tasking.
The Knoll ReGeneration Chair also features a Dynamic Suspension Control system that's adjustment-free to offer personalized chair recline and tilting capabilities. The ReGeneration Chair delivers flexibility, ergonomic comfort, and steadfast back support that you need for better work. Designed for ease of use, this innovative office chair from Knoll features an optimally breathable mesh back made from a high performance elastomer to keep you working in ideal comfort.
Features
Mesh Flex Back Net buttresses your back and delivers reliable lumbar support
Flex seat offers responsive comfort for changing postures
Dynamic Suspension Control system provides personalized recline functionality
Recline resistance control allows for greater support while seated in an upright position
Slim, minimalistic design keeps chair light and flexible
Sliding seat depth adjustment allows the seat to fit a variety of body types
Specifications
Width
27" W
Height
38" - 43.1" H
Arm height from floor
27.6" - 31.6" (height adjustable arms)
27.9" - 32.1" (high performance arms)
Base diameter
26"
Weight capacity
300 lbs
Warranty
12 years limited
Arms
The Knoll ReGeneration Chair is available armless or with two optional types of armrests:
| | |
| --- | --- |
| Height adjustable arm | Arms adjust over a 4.5" height range. Arm pads are non-adjustable |
| High performance arm | Arms adjust 4.5" as well as pivot 45°, move 1" in width and 1.5" in depth |
Base
Select either a plastic black base or a polished aluminum base.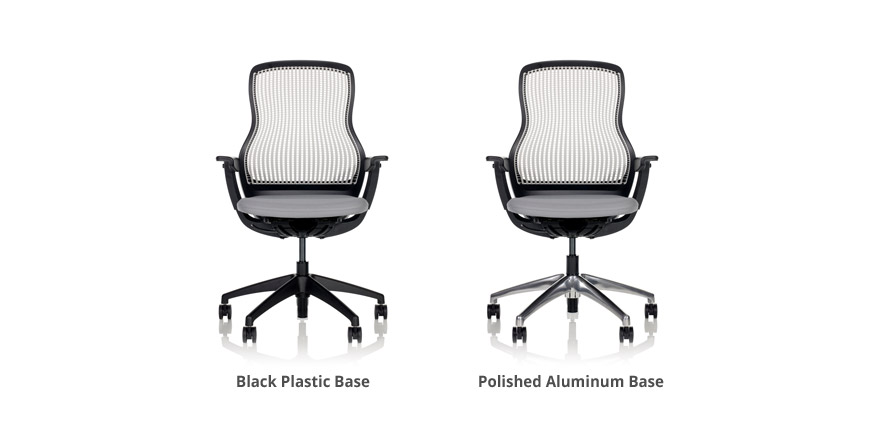 Seat Height
Cylinders are available in three heights. Seat height ranges are listed below:
| | | |
| --- | --- | --- |
| | Thin Seat Foam | Ultra Seat Foam |
| Standard | 16.5'' - 21.75'' H | 17.25'' - 22.5'' H |
| Low | 15'' - 19.5'' H | 15.75'' - 20.25'' H |
| High | 17.75'' - 23.25'' H | 18.5'' - 24'' H |
Lumbar
This padded lumbar support moves up and down within a 2.5" range to accommodate a variety of users. Please note, the added lumbar option is available only with mesh-back chairs, not fabric.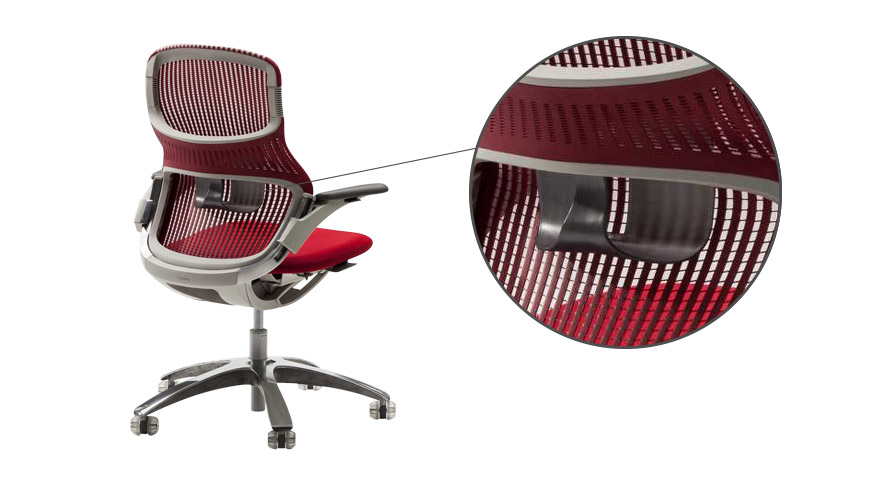 Casters
There are three caster options:
Hard casters for use on soft floor surfaces
Soft casters for use on hard flooring
Glides (reduce chair height by 0.25'')
Back Textile
The back of the Knoll ReGeneration Chair's mesh back is made of a high performance elastomer. This durable back provides dynamic support that responds to users' movements. You can also choose to add a fully-upholstered back to match the seat.
Please Note: Lumbar support is only compatable with the elastomer flex back
Seat Cushion
The seat cushion foam is available in two thicknesses: thin and ultra.
Seat Fabric
Generation - Base grade
Generation fabric is made specially for the Knoll ReGeneration Chair. It is 100% polyester and certified for 100,000+ double rubs.
Hourglass - Grade A
Hourglass is a classic fabric with a dry, wool-like feel. It is composed of 15% polyester, 8% nylon, and 77% post-consumer recycled polyester. A water-based cleaner or mild, water-free solvents may be used for spot cleaning.
Cameo - Grade B
Cameo is a modern fabric with a soft, chenille feel. It is composed of 75% cotton and 25% viscose. For spot cleaning, use a pure, water-free solvent.
Volo Leather
Volo leather is a lightly corrected, aniline leather. The light correction process refines the surface so it better accepts the grain enhancement done prior to finishing. Volo receives a special retannage that tightens the grain and provides a finer hand that other corrected leathers.
Sabrina Leather
Sabrina leather is a very popular full grain leather. The special retannage Sabrina receives provides a smooth, tight grain and supple hand, making it an excellent choice for both elegance and high-traffic use. The average thickness is 0.9 - 1 mm, and the average weight is 2.25 - 2.5 oz per square foot. Sabrina leather is Greenguard certified and available in 114 colors.
Knoll No Cancellation Policy
As an authorized Knoll dealer, we do not accept cancellations, order revisions or returns for any Knoll items ordered.
Please make sure you are ordering the correct Knoll item and the correct Knoll item configuration before placing your order. If you have any questions about the Knoll products we offer or about the no cancellations, revisions or returns policy on Knoll items, please call us at 800-531-3746 before ordering. We're happy to answer any question you may have about Knoll products or about Knoll's no cancellations/revisions/returns policy.
Customers attempting to cancel, revise or return an order for a Knoll product from Human Solution will be subject to significant Knoll manufacturer change/cancellation fees for the order or orders.
This product comes standard with a 12-year limited warranty.
Return Information
Due to manufacturer policy, this item cannot be returned once received nor cancelled once ordered.
Please contact us with any questions about this product before you order.
To view the full returns policy on Knoll products, click here.