Straight from the mind of Richard Sapper, a man well-known for his inventive solutions to the changing demands of technology in the workplace, the Knoll Sapper Monitor Arm is a space-saving monitor arm that can upgrade your workspace in an instant.
The Sapper monitor arm supports a display weighing as much 20 pounds, offering 165° of vertical adjustment, 180° of horizontal swivel, and can easily rotate from portrait to landscape mode in seconds.
Integrated cable management delivers more organization and a clean, streamlined look for a less cluttered workstation just by elevating your screen.
Choose your color and mounting option for the best in monitor arm solution for your work style.
Features
Construction is durable and lightweight
Made with 95% recycled materials
Includes fast release movement joint
Offers up to 17" of depth adjustment, depending on the mounting option selected
External cable management keeps wires accessible and organized
Available in collection of finishes and mounting options
Specifications
Weight capacity
20 lbs
Adjustability
165° up and down
180° left and right
360° rotation for portrait or landscape view
Depth adjustment
17"
Compressibility
Folds to 2 7/8" when fully compressed
Mast height
16" H
Color
The Knoll Sapper Monitor Arm is available in your choice of frame finishes: Gray, Black, White or Silver.
Number of Monitors
The Knoll Sapper Monitor Arm is available in single or double monitor configurations. For additional monitor configurations, call us for a quote!
Knob Color
The height adjustment knob for the Knoll Sapper can be ordered in a vibrant red or jet black.
Mount
The Knoll Sapper Monitor Arm is available with different mounting options to accommodate a wide variety of desks and countertops.
| | |
| --- | --- |
| Fixed bolt-through table mount | Requires a permanent hole drilled into table top for attachment |
| Grommet mount | Clamps to the inside of a desk top grommet hole at least 3'' x 1.77'' |
| Two-piece clamp mount | Clamps to work surfaces 1.125'' - 2.75'' thick |
| Deep table clamp mount | Clamps to work surfaces 1.125'' - 2.75'' thick; designed to reach inwards past knife-edge sides to ensure proper fitting |
| Antenna Table center beam side mount | Attaches directly to Knoll Antenna workstations |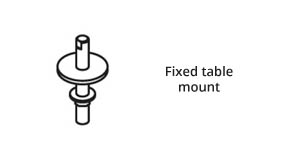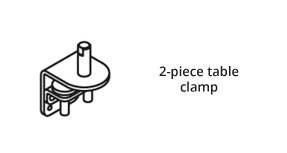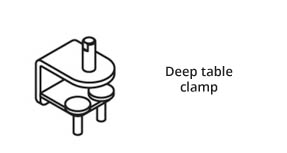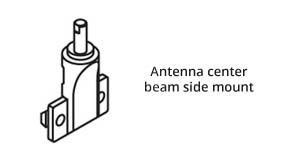 Knoll No Cancellation Policy
As an authorized Knoll dealer, we do not accept cancellations, order revisions or returns for any Knoll items ordered.
Please make sure you are ordering the correct Knoll item and the correct Knoll item configuration before placing your order. If you have any questions about the Knoll products we offer or about the no cancellations, revisions or returns policy on Knoll items, please call us at 800-531-3746 before ordering. We're happy to answer any question you may have about Knoll products or about Knoll's no cancellations/revisions/returns policy.
Customers attempting to cancel, revise or return an order for a Knoll product from Human Solution will be subject to significant Knoll manufacturer change/cancellation fees for the order or orders.
This product comes standard with a 10-year limited warranty.
Return Information
Due to manufacturer policy, this item cannot be returned once received nor cancelled once ordered.
Please contact us with any questions about this product before you order.
To view the full returns policy on Knoll products, click here.