Sleek, modern design and optimal range of motion make the Knoll Sapper XYZ Monitor Arm a crucial means for achieving better ergonomics in the office.
Capable of elevating your work style while organizing your desktop, its stabilizing arm gives you 360° of pivot rotation due to the monitor arm's design that integrates a smooth fingertip adjustment system thanks to a tension-adjustable pneumatic gas cylinder.
The system is able to support monitors up to 20 pounds with no problem. The Sapper XYZ features a wide range of adjustment along all three axes of motion, giving you a full 21 inch depth and 13 inch height adjustment range that can fold down to a compact three inches when not in use.
Features
Gas cylinder allows for smooth fingertip adjustment
360° pivot at base, elbow joint and VESA rotation attachment
Folds away to less than 3" when fully collapsed
Includes quick release movement joint
Holds monitors up to 20 lbs
10 year warranty
Specifications
Depth adjustment range
3" - 21" L
Height adjustment range
5.5" - 20.75" H (above work surface)
Adjustability
153° up and down
180° left and right
360° rotation for portrait or landscape view
Weight capacity
20 lbs
Warranty
10 years
Mount
The Knoll Sapper XYZ Monitor Arm is available with different mounting options to accommodate a wide array of desks and countertops.
| | |
| --- | --- |
| Fixed bolt-through table mount | Requires a permanent hole drilled into table top for attachment |
| Grommet mount | Clamps to the inside of a desk top grommet hole at least 3'' x 1.77'' |
| Two-piece clamp mount | Clamps to work surfaces 1.125'' - 2.75'' thick |
| Deep table clamp mount | Clamps to work surfaces 1.125'' - 2.75'' thick; designed to reach inwards past knife-edge sides to ensure proper fitting |
| Antenna Table center beam side mount | Attaches directly to Knoll Antenna workstations |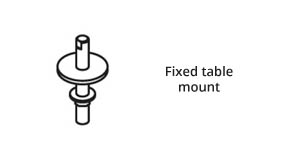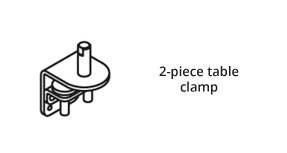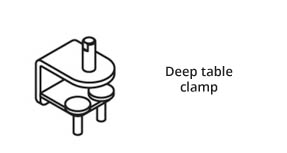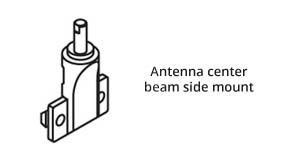 Color
Knoll Sapper XYZ Monitor Arms are offered in multiple colors. Select from Jet Black, Bright White, Medium Gray or Silver.
Knoll No Cancellation Policy
As an authorized Knoll dealer, we do not accept cancellations, order revisions or returns for any Knoll items ordered.
Please make sure you are ordering the correct Knoll item and the correct Knoll item configuration before placing your order. If you have any questions about the Knoll products we offer or about the no cancellations, revisions or returns policy on Knoll items, please call us at 800-531-3746 before ordering. We're happy to answer any question you may have about Knoll products or about Knoll's no cancellations/revisions/returns policy.
Customers attempting to cancel, revise or return an order for a Knoll product from Human Solution will be subject to significant Knoll manufacturer change/cancellation fees for the order or orders.
This product comes standard with a 10-year limited warranty.
Return Information
Due to manufacturer policy, this item cannot be returned once received nor cancelled once ordered.
Please contact us with any questions about this product before you order.
To view the full returns policy on Knoll products, click here.