Love the look and feel of solid wood but want a desk that's more sustainable? Rubberwood Solid Wood Desktops by UPLIFT Desk are perfect standing desk frame toppers when you want a workstation that blends the best in eco-friendliness and beauty.
You might first notice the genuine rubberwood's light blond appearance and muted wood grain characteristics, which complements a variety of office styles - from contemporary to rustic. Hardened over a 30 year lifespan, this lumber boasts a dense and durable constitution, so you'll be able to build the height adjustable workstation you've always wanted, without worries about warping or breaking.
Enjoy more a more ergonomic and environmentally friendly desk with a Rubberwood Solid Wood Desktop by UPLIFT Desk.
Just pair with one of our reliable UPLIFT sit-stand desk frames to keep you working in healthier postures for you.
Features
Constructed out of genuine Rubberwood
Environmentally friendly lumber sourced from retired Hevea brasiliensis or Pará rubber trees
Also known as parawood, Hevea, plantation hardwood, or Malaysian Oak
Expertly handcrafted by our trusted woodworkers
Specifications
Desktop weight
48x30 - 26.9 lb
60x30 - 33.5 lb
72x30 - 40.3 lb
80x30 - 44.8 lb
Width
48" - 80"
Depth
30"
Thickness
13/16"
Rubberwood Desk F.A.Q.
I've heard of rubberwood furniture, but what makes it different from other solid woods?

Rubberwood is a solid wood that is quickly growing in popularity due to its sustainability and usefulness in furniture and desktop manufacturing. Some people prefer rubberwood to other solid wood species because it's eco- and budget-friendly, yet still dense enough to resist warping and breaking.

Is this environmentally friendly?

Yes! Rubberwood is better for the environment than other comparable hardwoods on the market due to the fact that it's harvested and recycled after it has reached the end of its latex-producing life cycle, turning it into functional furniture after 30 years of making latex that's used in millions of products all over the world.

Where is this sourced from?

Our lumber is expertly sourced from the Hevea brasiliensis (scientific name) or Pará rubber tree (common name) on rubberwood plantations in Southeast Asia, including Thailand and Malaysia. You might know it by its other names - parawood, Hevea, plantation hardwood, or Malaysian Oak.

Reclaimed wood, solid wood, and rubberwood - which wood desktop is right for me?

Depending on your price point, personal taste, and environmental leanings, there is an UPLIFT desktop out there for everyone. If you need help, contact one of our customer service professionals and we'd be happy to help you find the desk that uplifts you.
Desktop Style
The UPLIFT Rubberwood Desktop is available in three colors - natural, dark brown, and light brown. The natural finish is a lighter blonde color with muted wood grain characteristics. Dark brown is striking and features chocolate tones. The light brown finish falls in between the finishes and boasts a subtle wood grain.
This eco-friendly desktop is constructed using Rubberwood lumber sourced from retired Hevea brasiliensis trees. This material offers a very dense surface, perfect for a durable desktop.
Desktop Size
Rubberwood desktops are 30" deep and available in the following widths: 48", 60", 72", or 80" wide. Each desktop is 13/16" thick, and won't warp or break thanks to Rubberwood's dense characteristics.
Grommet Holes
Our desktops come standard with pre-drilled grommet holes, but you may choose to forgo grommet holes if you don't want through-desk cable management. Grommets are located fifteen inches from the center of the desk, to the left and right. We've found that this allows for the best combination of cable management and accessory use. Grommet holes allow for easy wire management or you can choose to add power grommets below for an in-desk power solution.
For more grommet photos & details, download PDF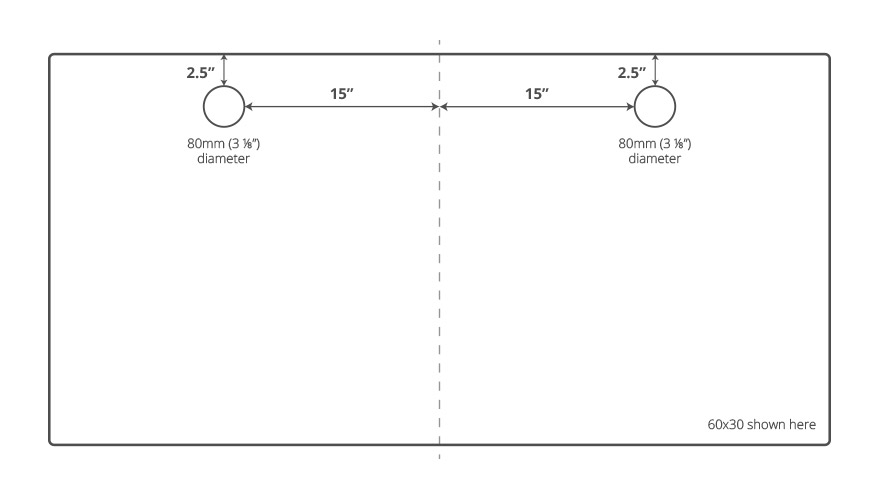 Grommet Options
Choose to add wire grommets or in-desk power to your desktop. Wire grommets allow for clean and organized through-desk cable routing, or upgrade to the UPLIFT Power Grommet to add two in-desk power outlets to each grommet hole so you can power all of your devices while keeping them close at hand.
Grommets are located fifteen inches from the center of the desk, to the left and right. We've found that this allows for the best combination of cable management and accessory use. The wire tray included in the UPLIFT wire management kit was designed to fit between the grommet holes, while still allowing you to mount a full keyboard tray track and modesty panel. Upgrade one or both to UPLIFT power grommets and have a convenient place to plug in your task light, phone, or anything else you need to keep nearby.
Desktops are not covered under our 7 year warranty. We will repair or replace any desktop that is rendered unusable as a result of a manufacturer's defect or damage in shipping if notified within 30 days of receipt.
For information on UPLIFT Desk warranty coverage, click here.
Return Information
We offer a 30-day trial on all single-item UPLIFT Desk brand orders, with the exception of solid wood and custom laminate desktops. If for any reason you're not satisfied, return the item with no outbound shipping or restocking fees.
Return windows close 30 days after you receive your item. You are responsible for obtaining a Return Merchandise Authorization (RMA) within this time.
All items must be disassembled and returned in "Like new" condition in their original factory packaging. Items not returned in this condition may be subject to additional fees. You are responsible for return shipping costs.
To start a return, or to view the full returns policy, click here.