UPLIFT Desk Troubleshooting Tips and Tricks
Need help with a desk error code, a monitor arm that won't stay in the place you want it to, or a keyboard tray that won't raise or lower? Luckily, we've found that these issues can usually be fixed with the simple tips below.
Reset Instructions - UPLIFT Height Adjustable Desk
Are you seeing a R5T, ER1, ER2, ER7, or ER8 error code on your UPLIFT Desk digital keypad? Follow the directions below or watch our video to see how to perform a simple reset, which will generally fix the issue.
Before beginning, make sure you've removed all items under your desk and that your desk is plugged in before you start the reset process
From any position, press and hold the down arrow button on the Advanced 1-Touch Digital Memory Keypad
Continue holding the down arrow until your desk reaches its lowest position
Press and hold the down arrow again for 5 seconds or until ASR is displayed on the screen
Press and hold the down arrow again until it lowers, clicks, and then raises slightly
Once a height is displayed, let go of the down button; your desk has been reset
If your desk uses a standard keypad, follow the same procedure
You can double check that your desk reset worked. If a height is shown on the display, or if your desk moves when you press the up button, then you know the reset is complete
Programming your UPLIFT Desk - UPLIFT Height Adjustable Desks
The control box is the "brain" of your desk, and has many customizable functions. Our Programming Your UPLIFT Desk PDF includes instructions on locking the keypad, changing the memory presets from one-touch to press-and-hold, and setting new lower or upper height limits. Please note that this only works on control boxes with programming codes 99.039.14.0214 (2-leg), 99.046.14.0070 (3-leg), or 99.052.09.0019 (4-leg) printed on the sticker located near the power socket. If you have an older control box, you can purchase a programmable UPLIFT Desk control box.
Counterbalance Instructions - UPLIFT Monitor Arm
If your monitor arm isn't maintaining its position once you've raised or lowered it, it may need to be counterbalanced. Watch our quick demonstration on correctly counterbalancing your UPLIFT Monitor Arm.
Shipping Pin Removal - UPLIFT Large or Switch Keyboard Tray
If your keyboard tray mechanism will not raise or lower, you may need to remove the shipping pin. To locate the shipping pin, see the image below. Simply lift up on the front of the tray & lower the back to relieve pressure on the shipping pin and remove it.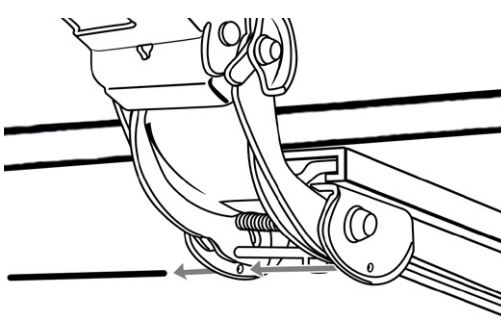 If you are still experiencing issues after following the steps in any of our instructional videos, feel free to call us at 800-531-3746, email us or visit us in live chat, Monday - Friday, 8am - 7 pm, or Saturday, 10 am - 6 pm.
Looking for UPLIFT desk and accessory assembly instructions and tips? We have videos and downloadable materials available here.