Get the rustic office desktop of your dreams with an UPLIFT Rectangular Reclaimed Wood Desktop, available in beautiful Fir. If you're on the search for the natural beauty of a real wood desktop but don't want to chop down a tree to get it, we have you covered.
Rectangular Reclaimed Wood Desktops by UPLIFT are budget- and eco-friendly solutions for a natural wood sit-stand desk. Simply pair with one of our UPLIFT desk frames for a fully functional adjustable height desk.
Enjoy the look and feel of real wood that was naturally sourced, giving it new life as a functional standing desktop that's ready to take your work to the next level.
Choose from several desktop sizes for nearly any workstation setup you need. This listing is for the desktop only.
Due to the one-of-a-kind nature of the lumber, reclaimed wood desktop colors may vary slightly from what you see here. Please click for an example of what these patches look like.
Note: Wood Desktops and Dry Climates
If the air in your area is especially dry, your wood desktop could be at increased risk of cracking and splitting. Wood naturally expands and contracts depending on the amount of moisture in the environment, and without enough humidity, the moisture in your desk can evaporate, leaving it vulnerable to warping.
It's a completely natural process, but it's unfortunately something that could affect your new wood desktop. If your desktop does crack or split, we're happy to send you a repair kit to fill the affected areas. If potentially repairing your wood desktop isn't something you're comfortable with, we recommend that you take a look at our Bamboo, Eco, or Laminate desktops instead.
If your desktop has already warped, please click here for instructions on using our solid wood desktop repair kit.
Please contact us if you have additional questions.
Features
Eco-friendly desktop constructed of salvaged Fir
Each desktop is unique and one-of-a-kind
30" depth provides spacious worksurface
Able to be mounted to a fixed-height desk base
Fir tops are 1.5" thick
Fir tops come with a plywood backing for stability
Specifications
| | |
| --- | --- |
| Overall dimensions | 48" W x 30" D, 60" W x 30" D, 72" W x 30" D, 80" W x 30" D |
| Weight | 45 lbs - 55 lbs |
| Thickness | Fir - 1.5" thick |
Desktop Style
Reclaimed Fir solid wood
These reclaimed desks come from our artisans in California, who specialize in restoring hardwoods, granting a second life to very hardy materials. Each top is unique, and your finish may vary. Fir tops come with a plywood backing.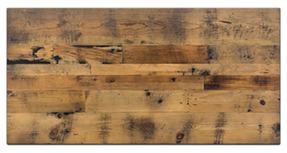 Desktop Size
Reclaimed desktops are available in 30'' depths and a variety of different widths: 42", 48", 60", and 72". Fir tops are also available in 24" depths on 42", 48", 60" and 72" widths.
Fir desktops are 1.5" thick.
Desktops are not covered under our 7 year warranty. We will repair or replace any desktop that is rendered unusable as a result of a manufacturer's defect or damage in shipping if notified within 30 days of receipt.
For information on UPLIFT Desk warranty coverage, click here.
Return Information
We offer a 30-day trial on all single-item UPLIFT Desk brand orders, with the exception of solid wood and custom laminate desktops. If for any reason you're not satisfied, return the item with no outbound shipping or restocking fees.
Return windows close 30 days after you receive your item. You are responsible for obtaining a Return Merchandise Authorization (RMA) within this time.
All items must be disassembled and returned in "Like new" condition in their original factory packaging. Items not returned in this condition may be subject to additional fees. You are responsible for return shipping costs.
To start a return, or to view the full returns policy, click here.