Can a desk really help you be more creative?
With the Whiteboard Sit-Stand Desk by UPLIFT Desk, you can make your mark, draw, and doodle your best ideas right on your desktop. Jot down the key takeaways from meetings, or make keeping mental notes a little easier on yourself with a desktop that lets you mark it up and erase it when you're ready, giving you a clean slate.
With GREENGUARD-Certified laminate, you know you're tasking at an eco-friendly desk that isn't made with harsh chemicals. Use classic dry erase markers and a dry erase board eraser and record your ideas without having to pause to track down paper or open new documents on your PC.
Working at an adjustable height desk allows you to alternate between sitting and standing while you work, which boosts your health and productivity. You'll enjoy more energy for brainstorming, too. The sit-stand desk raises and lowers quietly, yet powerfully, within seconds with the press of a button, uplifting your workstation to where it's most comfortable for your body.
Because UPLIFT Desk frames use three spindles instead of just two, these sit-stand desks are 33% faster to adjust. And thanks to a dual-motor design, these desks are quieter, stronger, more reliable, and safer than desks with just a single motor.
This creativity-boosting desk is both versatile and adaptable, with height adjustments from 24.4" to 50.25" (without desktop thickness), and a width-adjustable stand up desk frame that can be expanded to fit our desktops easily. A telescoping crossbar provides you with ample space for mountable under-desk accessories while also increasing legroom for you.
Don't bring chemicals into your work area. We take the steps and care to use only the most environmentally conscious finishes to protect your desk and your indoor air quality. Our whiteboard laminate desktops are GREENGUARD Certified, so you can rest assured you're staying healthy during your ergonomic office evolution.
Accessorize your desk with ergo-friendly tools to improve your comfort even more. Try a little more modesty at your workstation with the desk organization or an adjustable keyboard tray or ergonomic mouse platform, we have the options to get you working in healthier postures now.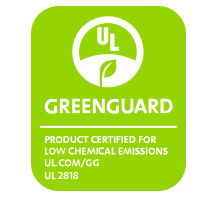 Want something a little different? Try building an UPLIFT Desk bamboo, reclaimed wood, premium solid wood, or rubberwood solid wood sit-stand desk.
Whiteboard Desk Features
Whiteboard desktop is ideal for jotting down ideas, temporary notes, and doodles
For use with dry erase markers and a dry erase board eraser
Desktop features 30mm rounded corners and 3mm white PVC edge banding
Fully height adjustable from 24.4" to 50.0" (without desktop thickness). Our whiteboard desktops are 1" thick. Our 3-stage columns offer 25.6" (650mm) of vertical travel
Three-stage frame is 33% quicker when adjusting than a two-stage frame
Quiet, soft start/stop motor included in each leg, with an energy efficient low-draw transformer
Dual motors inside the frame make the desk quieter, stronger, safer, and more reliable when adjusting
Hall effect sensor in the frame senses resistance and reverses frame direction for safety
Width-adjustable telescoping base allows users to fit the frame to their desktop easily
Adjustable crossbar positioned directly where the base meets the desktop for more legroom and mountable space underneath
GREENGUARD Certified desktops are environmentally friendly
Local and globally sourced parts are assembled and shipped from Austin, Texas
Stand Up Desk Specifications
Height range
24.4" - 50.0" H (without desktop thickness)
Desktop thickness
1"
Travel speed
1.5"/second (varies - slowest with maximum load) with soft start/stop actuator motors
Noise level
50 decibels during motion
Base width
Adjustable from 42.25" - 70" W
Desktop width
48x30: 47.2" W
60x30: 59" W
72x30: 70.9" W
80x30: 78.7" W
Desktop depth
29.5" D
Weight capacity
355 lbs
Keypad
Advanced 1-touch digital memory keypad* is available
Push and hold up/down keypad comes standard
Adjustable foot leveling studs
3/8" adjustment for uneven flooring
Voltage
Input: 110 V
Output: 31 V
Transformer power
200 W (0.2 W on standby)
Power supply current
5 amps
BIFMA/ANSI X5.5-2008 Certified
Yes - completely meets all requirements of BIFMA/ANSI X5.5-2008 Test Sections 4.3, 4.5, 5.2-5.5, 6.0, 7.0, 8.0 & 15.0.
Environmental certifications
ISO 14001, RoHS & CE compliant
Warranty
7-year warranty on the entire desk base, which includes the motor, frame, controller, keypad, electronics and mechanisms. Optional extended warranty available when selecting desk options
Shipping dimensions
Frame - 11'' W x 10'' H x 41'' D, 61 lbs
Desktop 48x30 - 34'' W x 3'' H x 51'' D, 42 lbs
Desktop 60x30 - 34'' W x 3'' H x 64'' D, 50 lbs
Desktop 72x30 - 34'' W x 3'' H x 76'' D, 59 lbs
Desktop 80x30 - 34'' W x 3'' H x 84'' D, 66 lbs
* Using the advanced 1-touch digital memory keypad is as simple as the push of a button. Four programmable buttons let you choose and set the best sitting and standing heights for you, even for multiple users. Or simply use the up/down buttons to get to that sit-to-stand sweet spot.
Ergonomic Desk F.A.Q.
What is this made out of?

Our whiteboard desktop is constructed out of high-quality and eco-friendly laminate. Made out of recycled Kraft paper and wood fibers, and is then covered in a protective melamine finish, it's a great way to spark your creativity while saving some paper!

I heard that laminate was "soft". Is the whiteboard desktop soft?

Our whiteboard laminate desktop is harder than most other laminate desktops. You can write on this desktop with no issues or indentations thanks to the durable melamine coating that protects the top of the desk.

Does this come with the markers and the whiteboard eraser?

No, you will need to purchase dry erase markers and a dry erase board eraser separately.

How easy is this to clean?

Whiteboard laminate is one of the easiest desktop surfaces to wipe clean! Use a dry erase board eraser to erase your markings, and if you want to disinfect it, you can clean it easily with soapy water or Lysol wipes.

I think I still need additional cleaning. What can I do?

When your Whiteboard Desk needs additional cleaning, a soft cloth dampened with warm tap water and mild soaps, like household hand or dish soap, will do the trick. If stubborn stains persist, your Whiteboard Desktop can be cleaned with glass cleaners, such as Windex, 409 Formula All-Purpose Cleaner, Mr.Clean, Fantastik, Isopropyl Alcohol, or Zep Write-Away Graffiti & Ink Remover. If you still have marks after trying these methods, treat the desktop with a 2-minute exposure to hypochlorite bleach, immediately followed by a water wipe down. Note: Bleach can cause discoloration, which is why it's not recommended to leave on the desktop for longer than 2 minutes.

This doesn't look like a typical laminate desk. Why?

We love laminate, and we think you will, too. Affordable and made out of recycled materials, it's a great solution to get you standing for less than it would cost to get a solid wood desk. Laminates also feature some of the newest laminate wood finishes, but this whiteboard desktop is slightly different due to its top surface that was designed to give you a free canvas for all of your ideas, doodles, and notes. If you're looking for more of a classic look, we do have a large collection of laminate options; shop our selection of other fine laminates here.

How will this desktop hold up?

This whiteboard desktop was designed with the utmost in durability in mind, so you can rest easy knowing you'll have a desk that is there for you for years of healthy work. To protect your whiteboard desktop, we don't recommend using it in wet or humid environments, as this can damage the desk. It is also advised that it be kept out of direct sunlight.

What's the deal with UPLIFT Desk's three-stage frames?

UPLIFT Desks are made with superior three-stage frames vs the traditional two-stage frames you can find on most other sit-stand desks. That means their desks are 33% faster thanks to using 3 spindles instead of 2. You'll also have a higher adjustability range to raise and lower the desk, so it fits shorter users and kids, all the way up to tall users or those who plan on adding a treadmill to their workstations down the line. If you want a versatile desk, you'll want one with a three-stage frame.

Will this desk work for me if I live outside of the United States? Will it work with my voltage and outlets?

Every desk UPLIFT Desk makes is designed to run on the US electricity standard of 120V. So if you're ordering from outside the United States, with the exception of Canada, you'll need to plug your desk into a step down transformer before plugging it into the wall or a power source. Skipping this step means you run the risk of overloading your desk's control box, which is not covered by warranty. Please give us a call, email, or chat us if you have any questions.

How can I tell what version of control box I have?

Yes, you can quickly double-check to confirm which version of control box you have by taking a peek at the silver label on it. If it says v4.1, v4.2, or v4.3, you know you have the newest version of control box, complete with a few new features.

What are the features on the version 4 control boxes?

The most up-to-date UPLIFT Desk control boxes come with several new features, starting with Collision Sensitivity. This lets you set the sensitivity for your desk to one of three levels, so when adjusting, your desk stops when it touches an object. Keypad Lockout is another exciting new feature, which lets you keep unwanted hands from adjusting your desk when the feature is activated. This is great for home offices or workstations where children might be. Additionally, users will enjoy having the ability to toggle between One-Touch and Constant-Touch modes and switch between inches and centimeters on the keypad with just a few buttons.

What are "dual motors"?

UPLIFT Desks boast an industry-leading dual-motor design, which means each leg gets its own motor. This means UPLIFT Desks are much quieter when adjusting, stronger, more reliable, and safer than desks with just a single motor.

Does this desktop come pre-drilled?

The Whiteboard Sit-Stand Desk is customizable depending on what accessories you want, so we don't pre-drill guide holes for accessories, letting you place them in any configuration you choose.

What is the weight capacity of this desk?

Our 2-leg desks will hold a hefty 355 pounds. That's more than enough weight for your monitors, CPU, and desk odds and ends.

How many people will I need to put my desk together?

You should be able to assemble the desk frame and attach it to the desktop by yourself. However, you will need two people to safely turn the desk right-side up after assembly. Check out our assembly video to see how to put your desk together.

Do I need to keep my desk plugged in, even if I am not using it today?

Yes, you should always keep your desk plugged in. This maintains functionality of its safety features. A low-draw power supply will minimize electricity consumption, if you are worried about saving power.
This product comes standard with a 7-year limited warranty.
Return Information
We offer a 30-day trial on all single-item UPLIFT Desk brand orders, with the exception of solid wood and custom laminate desktops. If for any reason you're not satisfied, return the item with no outbound shipping or restocking fees.
Return windows close 30 days after you receive your item. You are responsible for obtaining a Return Merchandise Authorization (RMA) within this time.
All items must be disassembled and returned in "Like new" condition in their original factory packaging. Items not returned in this condition may be subject to additional fees. You are responsible for return shipping costs.
To start a return, or to view the full returns policy, click here.