You can have your dream desk and a productivity-boosting dose of ergonomics, too, with a Rubberwood Solid Wood Sit-Stand Desk by UPLIFT Desk.
With this eye-catching height adjustable desk you can participate in better ergonomics at work without sacrificing style or eco-conciousness. Desktops are made out of recycled Rubberwood, which is profoundly eco-friendly due to the second life that this wood gets after being transformed from latex sap-producing Hevea brasiliensis or Pará rubber trees into a beautiful desktop.
Thirty years growing in the tropical climates of Southeast Asia harden the wood the desktops are comprised of, creating a wood dense enough to withstand the weathers of daily work at your desk. Bending and warping are not issues with these Rubberwood desk frame toppers - and thanks to the UPLIFT Desk frame's 355 pound weight capacity, you'll have the reliable and sturdy desk that holds all of your gear, from monitors to keyboard trays. Expertly handcrafted to desktop perfection, you can be sure you're getting a desk that ups your comfort levels and style in the office simultaneously.
You never have to worry about harsh chemicals and wood sealants when you buy our desks - we take the time and care to only use the most eco-conscious finishes to protect both your desk and your indoor air quality. Our UPLIFT Rubberwood desks are made out of sustainable Rubberwood that has been treated sans dangerous chemicals, qualifying it for LEED credits. Our rubberwood desktops are GREENGUARD Certified, too, letting you update your office's ergonomics without bringing harmful chemicals or materials into your workspace.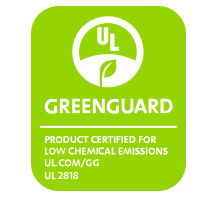 Accessorize your desk to uplift and improve your workstation for more comfort. Whether you want better desk organization or a comfier keyboard tray or ergonomic mouse platform, we have the options to get you working in healthier postures now.
Looking for a different style of desktop? Try building a bamboo, reclaimed wood, or premium solid wood adjustable height office desk.
Work in a better way with the Rubberwood Solid Wood Sit-Stand Desk by UPLIFT Desk.
UPLIFT height adjustable desks meet or exceed all applicable section requirements of ANSI/BIFMA X5.5-2008 Desk Product Test Standards, which means that your desk conforms to the safety and durability requirements set forth by BIFMA. Download our test results here.
Sit to Stand Desk Features
Desktop is constructed out of eco-friendly Rubberwood timber sourced from retired Hevea brasiliensis trees
Also known as plantation hardwood, parawood, Hevea, or Malaysian Oak
Fully height adjustable from 24.4" to 50.0" (without desktop thickness). Our rubberwood desktop is 13/16" thick. Our 3-stage columns offer 25.6" (650mm) of vertical travel
Telescoping desk base width-adjusts to fit desktops of different sizes
Crossbar positioned directly where the base meets the desktop for more legroom and space underneath
Hall effect sensor in the frame senses resistance and reverses frame direction for safety
Whisper quiet, soft start/stop motor included in each leg
Dual motors, one in each leg, mean UPLIFT Desks are stronger, safer, quieter, and more reliable
Low-draw transformer uses minimal electricity
Local and globally sourced parts are assembled and shipped from Austin, Texas
Note: Rubberwood is a real solid wood, and all woods absorb stain differently. Desktop colors may vary.
Specifications
Height range
24.4" - 50.0" H (without desktop thickness)
Desktop thickness
13/16"
Desktop width
48" - 80" W
Travel speed
1.5"/second (varies - slowest with maximum load) with soft start/stop actuator motors
Noise level
50 decibels during motion
Base width
Adjustable from 42.25" - 70" W
Weight capacity
355 lb
Keypad
Advanced 1-touch digital memory keypad* is available
Push and hold up/down keypad comes standard
Adjustable foot leveling studs
3/8" adjustment for uneven flooring
Voltage
Input: 110 V
Output: 31 V
Transformer power
200 W (0.2 W on standby)
Power supply current
5 amps
BIFMA/ANSI X5.5-2008 Certified
Yes - completely meets all requirements of BIFMA/ANSI X5.5-2008 Test Sections 4.3, 4.5, 5.2-5.5, 6.0, 7.0, 8.0 & 15.0.
Environmental certifications
ISO 14001, RoHS & CE compliant
Safety certifications
Lifting Column - TUV (Canada and U.S.)
Control Box - TUV (Canada and U.S.)
Power Cord - UL/CSA (Canada and U.S.)
Warranty
7-year warranty on the entire desk base, which includes the motor, frame, controller, keypad, electronics and mechanisms. Optional extended warranty available when selecting desk options
Shipping dimensions
Frame - 11'' W x 10'' H x 41'' D, 61 lbs
Desktop 48x30 - 33'' W x 3'' H x 51'' D, 42 lbs
Desktop 60x30 - 33'' W x 3'' H x 63'' D, 46 lbs
Desktop 72x30 - 33'' W x 3'' H x 75'' D, 55 lbs
Desktop 80x30 - 33'' W x 3'' H x 83'' D, 62 lbs
* Using the advanced 1-touch digital memory keypad is as simple as the push of a button. Four programmable buttons let you choose and set the best sitting and standing heights for you, even for multiple users. Or simply use the up/down buttons to get to that sit-to-stand sweet spot.
Rubberwood Desk F.A.Q.
What makes rubberwood different from solid wood?

Rubberwood is quickly growing in popularity due to its sustainability and usefulness in furniture and desktop manufacturing. Some people prefer rubberwood to other solid woods because it's eco- and budget-friendly, yet still dense enough to resist warping and splitting found in other hardwood desks.

Is this environmentally friendly?

You bet! Rubberwood is more sustainable and better for the environment than many other hardwoods thanks to the fact that it is harvested after it has reached the end of its life cycle, turning it into functional furniture after 30 years of making latex products that are used by millions of people all over the world!

Where is this sourced from?

Our timber is handpicked and sourced from Hevea brasiliensis (their scientific name) or Pará rubber trees (their common name) from rubberwood plantations. Other names you may recognize the lumber as: plantation hardwood, parawood, Hevea, and Malaysian Oak.

Reclaimed wood, custom solid wood, or rubberwood - which desktop should I pick for my desk?

Depending on your price point and decor tastes, there is an UPLIFT desktop for everyone.

Do I have an option of desk frame?

With this listing we offer our sturdy 2-leg C-frame, which is the most reliable height adjustable two leg desk frame on the market today. For a collection of our other desk frame options, shop our growing family of desks from UPLIFT Desk.

How much weight will this desk hold?

Like all of our 2-leg UPLIFT Desks, this has a hefty weight capacity of 355 pounds.

What is a three-stage frame?

UPLIFT Desk frames are the most stable, reliable, and fastest adjusting adjustable height desk frames on the market today. We owe our top-of-the-line design to our three-stage frame design, which features a heavy duty motor in each desk leg, ensuring you always get the height adjustments you want, when you want them, without desk wobble or disruptions in functionality.

How do I tell which version of control box is on my desk?

You can quickly check to tell which version of control box you have on your UPLIFT Desk by taking a peek at the silver label on it. If that sticker says v4.1, v4.2, or v4.3, you have the newest version of UPLIFT Desk's control box, which comes with new features!

What features can I expect on the new UPLIFT Desk control boxes?

UPLIFT Desk's version 4 control boxes come with a handy new safety feature, Collision Sensitivity; this feature allows you to set the sensitivity for your desk, so when adjusting, the desk stops when it touches an object, instead of bumping into things, and causing an accident. Keypad Lockout is another safety feature that's useful for the kiddos. Easily keep unwanted hands from adjusting the desk when this feature is activated. You'll also be able to toggle quickly between One-Touch and Constant-Touch modes, in addition to being able to switch between inches and centimeters on the keypad with just a few presses of a button.

Why do I need a desk with a three-stage frame?

UPLIFT Desk frames are three-stage vs the traditional two-stage desk many find on the market today. This means UPLIFT desks are 33% faster thanks to using 3 spindles in our desk legs instead of 2, so users have a higher range of adjustability so desks suit shorter users and kids, all the way up to tall users! If you plan to add a treadmill to your workstation later, a three-stage frame is a must to get you the height you need.

What are "dual motors" and why should I care?

We're glad you asked! All UPLIFT Desks come with a dual-motor design, so each leg gets its own. This makes UPLIFT Desks quieter to adjust, stronger, more reliable, and safer than desks with just a single motor. When you're updating your desk, don't forget the little things that add up to make UPLIFT Desks better than others on the market.

I bought a desk but I live outside of the United States. Will this desk work with my outlets and voltage?

In most cases, yes. All UPLIFT Desks are made to run safely on the US electricity standard of 120V. If you're ordering a desk from UPLIFT Desk from outside the United States (excluding Canada), you'll most likely need to plug your desk into a step down transformer, otherwise you run the risk of overloading your desk's control box (this is not covered by warranty). Have additional questions? Please contact our support team and we can help.

Does the desk always have to be plugged in, even when it's not in use?

Yes, UPLIFT desks must stay plugged in at all times to maintain functionality of the desk and its safety features. The desk's low-draw power supply minimizes electricity consumption, so you don't have to worry about wasting those volts.

What happens if my desk stops working outside of the warranty period?

We offer replacement parts for all UPLIFT Desk models if your desk malfunctions after the frame's warranty period ends.
This product comes standard with a 7-year limited warranty.
Return Information
We offer a 30-day trial on all single-item UPLIFT Desk brand orders, with the exception of solid wood and custom laminate desktops. If for any reason you're not satisfied, return the item with no outbound shipping or restocking fees.
Return windows close 30 days after you receive your item. You are responsible for obtaining a Return Merchandise Authorization (RMA) within this time.
All items must be disassembled and returned in "Like new" condition in their original factory packaging. Items not returned in this condition may be subject to additional fees. You are responsible for return shipping costs.
To start a return, or to view the full returns policy, click here.