UPLIFT Desk is #1 on Wired's list of 16 Essentials to Smarten Up Your Home Office, which features products to "help create a workspace you'll be happy to spend time in, while keeping you comfortable and productive throughout the day... This height-adjustable, sitting-and-standing desk is configurable for the way you like to work."
Read More
"Reasonably priced and attractive... I love it. It helps me stay healthy and productive."
"When you're trying to come up with an idea or solve a problem, you move around. A sit-stand desk just makes it easier, faster, and more convenient. It also increases your productivity."
"I strongly recommend the Uplift Bamboo Stand Up Desk if you are tired of spending all day on your derriere. The height range is enough to accommodate people with a broad range of heights, there are dozens of customization options, and the desk is built with sturdy, high-quality materials."
"Several different tops and a telescoping frame allow you to customize the look and width. Take a look at all the options to craft your ideal workspace."
"In all likelihood, you'll want a workstation that allows you to stand and sit. UPLIFT has an extensive line of desks in a variety of sizes, prices and designs... We like the UPLIFT 900."
"I'm told I now joining other standing desk users at Google, NBC, The University of Notre Dame (Go Irish!), MIT, The University of Texas (Go Horns!), Yahoo!, eBay and Boeing. "
"[Readers] who nominated the UPLIFT praised the flexibility in ordering, giving you the option to build out your dream desk as you choose... UPLIFT offers free shipping, which is a huge deal."
Read More
"Having the ability to sit and stand for parts of the day is the best of both worlds. It's even better when you have a deks with the desktop build quality of UPLIFT."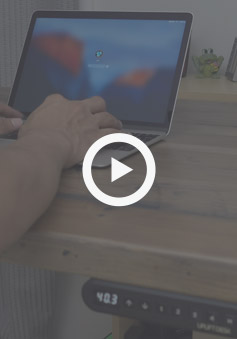 " UPLIFT Desk could be exactly what you're looking for... Start basic, expand as you grow used to it, and never look back."
" I've used this for a few weeks now in my home office and will never look back... The flexibility of this desk helped me endure and shorten a back-pain episode."






I have had my UPLIFT desk for 3 months, and absolutely love it! It's solid and reliable, and has ample working room! Great product!
Ty Schieber

I LOVE my desk! Best decision I've made about a desk ever. They made it so easy for me. AND I was super concerned about putting it together... no handy person... but they have awesome videos that brought me through each step. LOVE. LOVE. LOVE. I did it all by myself. #nohusbandneeded :)
lane kennedy-levy

Excellent adjustable desk. This desk has a larger work surface than others we purchased from a different manufacturer. Easy to adjust. Smooth operation. Great price point.
Pattie Thompson

I have had an UPLIFT desk for six months now. Before I began to utilize it, my neck, back and shoulders were uncomfortable every day. Sitting all day was not a pleasant way to work. My employer bought a couple sit/stand desks for a floating office, and I tried one. The difference was remarkable. Since I work primarily from home, I bought one for myself, and have not regretted it for a minute. The desk is fully adjustable and I find my neck, back and shoulders are all now pain free at the end of even a 12 hour day. I also recently purchased an UPLIFT Motion Stool and it is the perfect compliment to my desk, allowing me to perch/lean while on a long call on in a meeting....
John Levesque

Great product. Easy to assemble and works as described. I was impressed with the build quality and affordable price. We purchased 17 adjustable hgt bases and were able to easily mount 30" x 8'-0" long desk tops to these legs! We are extremely happy with our purchase.
$$-Ryan Rademacher
I love my @UPLIFTDesk from @HumanSolution - So well made, so easy 2 go from sit 2 stand n secs. Now I gdgt tweets when I move desk
@photorectoby
Using @UPLIFTDesk was a great idea.
@dbsmasher
Finally pulled the trigger on a stand up @UPLIFTDesk for work. Love it already!
@BFish100
I'm really loving my new @UPLIFTDesk. Getting standing time in feels good. I'm at a client today and really missing it. #TooMuchSitting
@duanenewman
Love @UPLIFTDesk! How did I not find this BEFORE busy season!
@EileenRSassCPA
Just finished building my new standing desk. Base from @UPLIFTDesk and bamboo top from @IKEA. Love it.
@elorest
New stand up desk from @UPLIFTDesk ... I'm liking it so far! Good for the body & good for the mind!
@justintarte
I just used my @UPLIFTDesk to crack a pecan, because I could.
@fienen
thrilled with the @UPLIFTDesk.
@tacoapp
Digging the new @UPLIFTDesk. Bonus: cedar top makes my office smell awesome.
@kriscargile
Count us among ur many fans @UPLIFTDesk!
@fluidstance
Got an @UPLIFTDesk a year ago. I love it! Do it!
@angelmurf
I had a custom @UPLIFTDesk made, & I LOVE IT!!
@darthspader747
My @UPLIFTDesk has ruined me for all other desks.
@eliweir
First official day working with my new @UPLIFTDesk. Love this thing!
@benjordan
We LOVE our @UPLIFTDesk setups, have them at the office + home for most team members! Life changing.
@brandonreink
Customer Support Champions
When it comes to helping our customers find the best ergonomic gear on the planet, Human Solution goes above and beyond to deliver work-transforming products to offices everywhere. From the moment you decide you want a more ergo-friendly workstation, to when an order is placed, to delivery of a product to its final home, we're here every step of the way