Adjusting the angles of the traditional desk shape for the better, enjoy more versatility in a desk with the cutting-edge 120 Degree Sit-Stand Workstation by UPLIFT Desk.
Designed for the ever-evolving office, 120 degree desks work great in groups of threes, which gives your team an ergonomic home base with plenty of personal space, while still being within a conversation's reach of colleagues for easy communication and idea facilitation. Build the Flexible Office your company deserves quickly and easily with a fleet of these 5-sided desks.
When you require a workstation that allows you to mount your monitors on left and right sides for ideal ergonomic positioning, this revolutionary desk allows you to do just that. Or mount your monitor(s) back and center thanks to the pre-cut grommet holes on the back corner of the desk. This dedicated base also lets users install a wire or power grommet, so routing cords and powering your devices is easier than ever.
A center cutout on the workstation lets users reach much more of their workspace, which lets users task within their neutral reach zone and cuts down on the risk of repetitive stress injuries. Work better with a desk that allows you to task at your most comfortable with the 120 Degree Sit-Stand Workstation by UPLIFT Desk.
Dual motors in the base, one in each leg, make the desk quieter, safer, stronger, and more reliable than desks with a single motor.
You don't have to worry about harsh chemicals and wood sealants - we take the time and care to only use the most environmentally friendly and health-conscious finishes to protect both your computer desk and your air quality. Our laminate desktops are GREENGUARD Certified, letting you know you're updating your office ergonomics without bringing dangerous chemicals or materials into your work area.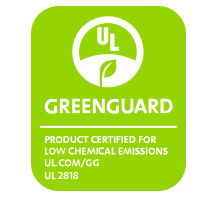 Like the style of this desk but want another size? Try out selection of UPLIFT Height Adjustable Sit Stand Desks, like our GREENGUARD laminate, eco curve, bamboo, reclaimed wood, or premium solid wood sit-stand desks.
UPLIFT height adjustable desks meet or exceed all applicable section requirements of ANSI/BIFMA X5.5-2008 Desk Product Test Standards, which means that your desk conforms to the safety and durability requirements set forth by BIFMA. Download our test results here.
Sit to Stand Desk Features
Height adjustable from 24.4" to 50.0" (without desktop thickness). Our 120 degree desktops are 1" thick. Our 3-stage columns offer 25.6" (650mm) of vertical travel
Three-stage frame is 33% quicker to adjust than a two-stage frame
Dual motors, one in each leg, make desks safer, stronger, quieter, and more reliable
Hall effect sensor in the frame senses resistance and reverses frame direction for safety
Allows for more versatility and flexibility when planning ergonomic spaces
Five-sided desktop with center cutout allows users to reach more of their workspace
Dual grommet holes give users dedicated space to route cords or power devices
Ergonomic design makes mounting monitor arms for ideal viewing easier than ever
Constructed out of 45 lb density particle board with a 3mm PVC edge
Specifications
Height range
24.4" - 50.0" H (without desktop thickness)
Desktop thickness
1"
Travel speed
1.5"/second (varies - slowest with maximum load) with soft start/stop actuator motors
Noise level
50 decibels during motion
Base width
Adjustable from 42.25" - 70" W
Desktop dimensions
41.3" wide x 23" deep x 1" thick
Full length - 71"
Full depth - 39.5"
Weight capacity
355 lb
Keypad
Advanced 1-touch digital memory keypad* is available
Push and hold up/down keypad comes standard
Adjustable foot leveling studs
3/8" adjustment for uneven flooring
Voltage
Input: 110 V
Output: 31 V
Transformer power
200 W (0.2 W on standby)
Power supply current
5 amps
BIFMA/ANSI X5.5-2008 Certified
Yes - completely meets all requirements of BIFMA/ANSI X5.5-2008 Test Sections 4.3, 4.5, 5.2-5.5, 6.0, 7.0, 8.0 & 15.0.
Environmental certifications
ISO 14001, RoHS & CE compliant
Safety certifications
Lifting Column - TUV (Canada and U.S.)
Control Box - TUV (Canada and U.S.)
Power Cord - UL/CSA (Canada and U.S.)
Warranty
7-year warranty on the entire desk base, which includes the motor, frame, controller, keypad, electronics and mechanisms. Optional extended warranty available when selecting desk options
Shipping dimensions
Frame - 11'' W x 10'' H x 41'' D, 61 lbs
Desktop - 41'' W x 3'' H x 75'' D, 49 lbs
* Using the advanced 1-touch digital memory keypad is as simple as the push of a button. Four programmable buttons let you choose and set the best sitting and standing heights for you, even for multiple users. Or simply use the up/down buttons to get to that sit-to-stand sweet spot.
F.A.Q.
I'm researching into purchasing a standing desk workstation. Will this desk work for me?

Yes! The 120 Degree Sit-Stand Workstation by UPLIFT Desk was designed to offer users a supremely ergonomic working experience thanks to a center cutout that allows you to task closer to your work. Open office floorplans, single users, and everyone in between can benefit from this revolutionary standing desk.

What is this desk's lifting capacity?

The 120 Degree Desk features a 355 pound lifting capacity, which is the standard weight limit for our 2-leg desk bases. If you require a desk that has a heavier capacity, check out our selection of 3-leg and 4-leg desks.

Is this laminate?

Yes, but this isn't your grandma's laminate table. We source only the highest quality and eco-friendly laminate desktops, so you can rest assured you're getting quality and durability you need to work your best.

Do I get to choose the color of my frame?

Absolutely! You'll be able to build the desk you've always wanted in a trio of frame color options - black, white, gray, and new metallic.

Does this desk come with grommets?

The 120 Degree Sit-Stand Workstation by UPLIFT Desk comes with two pre-installed grommet holes at the rear of the desk, which allows users to install bolt-through monitor arms at the ergonomically ideal viewing position.

How difficult is it to put this desk together? Will I need more than one person?

You should be able to assemble the desk frame by yourself, as well as attach the frame to the desktop. However, you will need two people to safely turn the desk over and onto its legs after you're done assembling it. Check out our assembly video to see just how easy it will be to assemble your desk.

Can I install the accessories I already own on this desk?

Yes, if you already own a keyboard tray, monitor arm, and/or CPU holder, you can add these favorite accessories to your desk. We recommend that you double-check the manufacturer's instructions to make sure that your accessory is compatible with the thickness of the desktop, one inch. Keep in mind that the crossbar on the UPLIFT Desk may run across the center of the desk, depending on the size of your desktop, and may obstruct the space for your keyboard tray or CPU holder.

What if I live outside of the United States; will this desk work with my outlets and voltage?

All of our desks are designed to run on the US electricity standard of 120V. If you're ordering an UPLIFT Desk from outside the United States (excluding Canada), you'll most likely need to plug your desk into a step down transformer, otherwise you run the risk of overloading your desk's control box, which is not covered by warranty. Please contact our support team if you have any questions.

Does this desk have to remain plugged in, or can I unplug it when I'm not using it?

The UPLIFT Desk frame should be plugged in at all times. A low-draw power supply will minimize electricity consumption.

Which control box does this come with?

You can check to see which version of control box you have on your UPLIFT Desk by glancing at the silver label on it. If that says v4.1, v4.2, or v4.3, you know you have the newest version of UPLIFT Desk's control box!

What new features are on the version 4 control boxes?

We're glad you asked. UPLIFT Desk's version 4 control boxes come with a handy new safety feature: Collision Sensitivity. This feature lets users set the sensitivity for their desks, so the desk stops when it touches an object when adjusting for height, stopping accidents before they happen in your work area. Keypad Lockout is another new function users will love. Easily keep unwanted hands and children from adjusting your 120 degree workstation when this feature is activated. And users will be able to toggle quickly between One-Touch and Constant-Touch modes with just a few buttons, in addition to being able to switch between inches and centimeters on the keypad.

Does this come with a three-stage frame?

Yep, all UPLIFT Desk frames are three-stage vs the less versatile two-stage desk frames on the market today, which means these desks are 33% faster to adjust thanks to using 3 spindles in each leg instead of 2. Users then have a higher range of adjustability so desks fit shorter users and kids, all the way up to very tall users or those who plan on adding a treadmill to their setups later.

What are dual motors?

All UPLIFT Desks come with a dual-motor design, so each leg gets its own motor. This makes these desks quieter to adjust, stronger and more reliable, and safer than desks with just a single motor.

Can I add grommets to my desk after I have already received it?

If you change your mind and want a different type of grommet for your desk, you may always order Wire Grommets or Power Grommets separately.

What happens if my desk stops working after the warranty period ends?

That is no problem, we offer replacement parts for all UPLIFT Desk models so if your desk malfunctions after the warranty period has ended, you can still keep your desk in working condition.
This product comes standard with a 7-year limited warranty.
Return Information
We offer a 30-day trial on all single-item UPLIFT Desk brand orders, with the exception of solid wood and custom laminate desktops. If for any reason you're not satisfied, return the item with no outbound shipping or restocking fees.
Return windows close 30 days after you receive your item. You are responsible for obtaining a Return Merchandise Authorization (RMA) within this time.
All items must be disassembled and returned in "Like new" condition in their original factory packaging. Items not returned in this condition may be subject to additional fees. You are responsible for return shipping costs.
To start a return, or to view the full returns policy, click here.