New chairs are always a fun thing when they hit the market. The function is always the same but the little bells and whistles keep it interesting. The latest flavor to grace the world of ergonomic chair options is the Steelcase Series 1 Chair. It's a task chair, it's a drafting chair, it has a headrest or it doesn't. All of this depends on you and what you want. But regardless of your stylistic tastes, the Series 1 comes with a few of the aforementioned bells and whistles that keep it from being dull.
Tall and short people alike will be happy to know that the Series 1 does include a seat depth adjustment for your legs as well as a height-adjustable cylinder. Having this feature allows you to flip a lever and adjust the seat either up or down easily. You'll know your chair is at the right height when your body is comfortable and the chair allows you to keep your feet flat on the floor with a roughly 90 degree bend at the knee. The base of the chair comes with casters for mobility but you also have the option of glides if you don't anticipate having to relocate your chair often.
Moving up the chair, you'll notice the arms. Or maybe you won't - as the option for a Series 1 without arms is totally a thing. They have the full range of motion that's fairly common among the Steelcase chairs. You can adjust the arm width within a 4" range and the depth within a 2" range, giving you support in the forearms and allowing you to retract the arm to get a little closer to your worksurface. You also get the 40 degree pivot of previous models so you can swivel the arms in or out depending on your preferences.
The back of the chair also has some adjustability. The lumbar has a range of 2.25" to deliver personalized lower back support where you need it. The main back support does not adjust height but it does have the ability to tilt back. How far back depends on your preference as there is a locking mechanism that restricts just how far your chair can recline. Finally, you have the option of adding a headrest if you like the extra support for your neck and head.
The introduction of the Steelcase Series 1 is a welcome addition to the ergonomic chair family and with several fabrics and colors to choose from, you'll be able to style it to suit your tastes. If you ever need help configuring the chair that's right for you, you know who to call. Our reps are on standby at (800) 531-3746.
*Features currently only available on two-leg and three-leg frames That mysterious black box that's hanging around on the underside of your UPLIFT Desk is kind of like a brain. And just like your brain, your UPLIFT Desk's brain can do all kinds of neat things. It can't quote Shakespeare or pontificate the meaning of life, but it doesn't need [...] Read More »
In the world of affordable ergonomic chair options, the Raynor Ergohuman has been a popular one for years. They come with a lot of the standard ergonomic adjustments and are probably one of the better-known options for mesh upholstery. In fact, their only real downside is the lack of options for aesthetics. While black is a [...] Read More »
If you've ever seen a rat's nest, it's kind of a hodge-podge of mess. A few bits of fur here, a few pieces of grass there, and all of it pulled together by a tasteful wad of mystery material that somehow through the power of rat magic is stronger than steel. It's impressive in its own way but aesthetically, [...] Read More »
I'm forty-years-old, a single father of four awesome kids, employed with a great company that treats me well, and have an amazing girlfriend. I have a lot for which to live. About two months ago, I was jogging on a trail in Maryland and just wanted to stop and walk. I knew, though, that the desire was not rooted in real [...] Read More »
If there are two things we love here at Human Solution, it's sustainability and desk converters. We have no shortage of either as you can see when perusing our Eco Laminate and Reclaimed Wood desktops or our plethora of Sit-Stand Desk Converter options. We love sustainability and desk converters so much that we've added a [...] Read More »
Consider the cubicle. Three and a half walls that act as an employee's little work cave in which all the magic happens. The idea being that, while in their little job cave, employees will be super productive because they won't have any distractions. The problem is that the cubicle doesn't always work out that way and, in fact, it [...] Read More »
Baby, it's cold outside. Or at least it will be. Unless you live in Florida. Then again, you can often spot people wearing jackets in 80 degree weather so it seems that cold is relative and everyone's about to experience it because as the saying goes, "Winter is coming." And nothing says winter like white. The color of ice, [...] Read More »
In the old days Apollo was a god of sunlight, truth, music, art, and a ridiculously long list of other things. Among those things he was also a god of prophecy. So do you think he saw the Apollo II coming? Yeah we're tying this back into a chair. It's a furniture and ergonomics blog. Even if you aren't [...] Read More »
You know those 3D puzzles that you find occasionally at the bookstore, or more likely online in the suggested buys section of whatever website you're browsing? No, I don't mean the ones that actually build something. I mean the weird convoluted ones that turn something as simple as an apple or a star into some sort of puzzle box [...] Read More »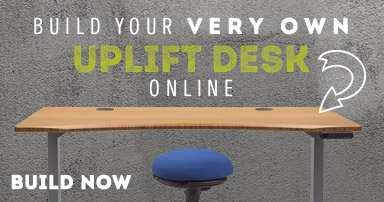 Interested in ergonomics?
Subscribe to our blog mailing list