Please note that all Conset desks and desk bases ship via freight. If you think this will be an issue, please click on the banner above and consider purchasing an UPLIFT Desk.
The sit-to-stand desk building experience. When the time comes to upgrade your ergonomics in the office and you want a sturdy but lightweight standing desk to bring your work to the next level, start from the bottom with the Conset 501-27 Electric Sit-Stand Desk Base, and add your choice of tabletop to make it your own.
It's capable of lifting up to 275 pounds of gear and monitors, and boasts a generous height range of 25.75". Work in a better stance and feel the difference one change can do to improve your health and productivity.
Features
Boasts a lightweight construction
Heavy-duty lift capacity, up to 275 lbs
Ample height range to fit a wide array of users
Electric motor height adjustments are smooth
Built-in cable tray
5 year warranty on the frame and metal parts and a 2 year warranty on the motor
Specifications
| | |
| --- | --- |
| Height range | 21.25" - 47" (without desktop) |
| Weight capacity (including worksurface) | 275 lbs |
| Travel rate | 1.1" per second |
| Power supply | 80 W AC transformer |
| Color | Silver powder-coat |
Base Color
The Conset 501-27 Electric Sit-Stand Desk Base is only available in silver.
Base Size
This ergonomic desk frame is available in several sizes. All bases have a height range from 21" to 47", before a desktop is added.
| | |
| --- | --- |
| [084] | 32.9'' W x 18'' D |
| [129] | 50.9'' W x 18'' D |
| [144] | 56.7'' W x 18'' D |
| [152] | 59.8'' W x 18'' D |
| [172] | 67.75'' W x 18'' D |
Casters
The caster set consists of 4 turnable wheels - all with wheel locks. The wheels are easily mounted using a threaded hole and come with all the necessary fittings. The size of the wheels (75mm diameter) ensures that the table is easy to move.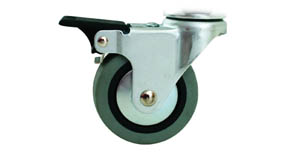 As noted by others, the desk is not rock steady and typing generates motion in the monitors, which in my case are attached to a Humanscale M8 monitor arm. If I'm walking on the treadmill it doesn't matter much, as it feels like everything is in motion, but it can be occasionally irritating in standing mode. If I move the desk all the way down to sitting height it is much more stable, but that is not my preferred mode for this desk, as I have a sitting desk and my cpu carrier impacts the bulge on my treadmill about an inch higher than optimum.

I've used a butcher block from Ikea as a desktop, which is lovely, but is a budget piece of wood. No reflection on this desk, but don't expect a flat piece of wood if you go this route. A solid core door would perform better.

All in all, I'm pretty happy with the set up, have no problem with the two button safety set up, and would recommend this unit to anyone.

The installation was great and easy and the design is great. I was very excited to get this table and to replace my Ikea table. But to my surprise it is not very stable, either at a lower position and high position. And I was told that this was the "heavier" model, stable one. I was wondering if I should return it, but in the end I will have to accommodate to the shaking monitor every time I have some move on my Wacom tablet. I am doing graphic design work, so nothing really shaky.

Great Desk - Minor Things

The desk works and being able to stand is great. The minor things are: 1) You have to push two switches are the same time to move the desk up or down. It would be much better it is was one one switch or a switch for up and one for down. 2) I wish the desk would go about an inch lower. It is true to the specs just a wish.

The desk moves up and down smoothly.

Human Solution Comment: The UpLift 444 switch designers thought that having 2 buttons on the switch improves safety. We aren't sure about that though as we sell both types of switches and both are safe. Most folks get used to simply pushing both buttons in fairly quickly so it's a bit strange for a day maybe until you get used to it. We can do a one button switch if requested, it's a slight upcharge on this desk. Please contact us if you'd like the different switch.

Used a solid core door as the desk top. Works great.

Great desk but a bit loud

Desk works perfectly for me and even though it doesn't look as nice as the Uplift 800 series it is less expensive so it was in my budget. My only complaint is the sound which is louder than the Uplift 800 series. All electric desks make a sound but this Uplift 444 desk is louder than the 800 series when you raise it and not quite as smooth. It also moves a bit more side to side compared with the 800 series when I pushed on them. But like I said, it was the right price for me. Thanks for having me into your showroom to check them out! You guys are the experts!
This product comes standard with a 5-year warranty on the frame and metal parts, and a 2-year warranty on the motor.
Return Information
Return windows close 30 days after you receive your item.
You are responsible for obtaining a Return Merchandise Authorization, the cost of shipping, and potential restocking fees, if the item has been opened.
To start a return, or to view the full returns policy, click here.