Who knew an office chair could be this intuitive? With the introduction of the Humanscale Diffrient World Chair to your workstation, you can have the supportive, flexible mesh back chair of your dreams, sans adjusting locks and levers.
Using your weight and natural body movements, the chair reclines without the need for cumbersome levers, and its unique form-sensing mesh back and seat allows you to sit in comfort for hours of tasking.
The Diffrient World Chair's mesh back and seat flex with your movements and back your lumbar region, delivering reliable, all-day support where you need it.
Customize the features of the World Chair for an ergonomic chair that enhances your comfort and your office's style with a single chair addition.
Note: This listing is for the standard Humanscale Diffrient World Chair; nonstandard configurations can increase your order's shipping and handling time. Please contact us if you need your chair shipped to you quicker.
Features
Weight-sensitive recline system delivers customizable back and seat support without manual adjustments or locks
Tri-panel form-sensing mesh back offers customizable lumbar support
Seat depth adjustment allows user to shift seat back and forth and lock it into place
Available with adjustable or fixed armrests that attach to the chair back and move with you during recline
Lightweight construction lowers susceptibility to damage over time and means less environmental impact
Available in a number of different mesh, seat fabric, and frame color options
Listing is for the standard chair, non-standard configurations can add extra shipping and handling time to your order
Made in the USA
Specifications
| | |
| --- | --- |
| User weight rating | 300 lbs* |
| Chair weight | 26 lbs |
| Shipping weight | 37 lbs |
| Recycled content | 0.34 |
| Recyclable content | 0.97 |
| Warranty | 15 years |
* Human Solution recommends this chair for users up to 220 lbs for optimum comfort
Promotional Item
FREE Goldtouch Adjustable Keyboard GTN-0033
This keyboard's split design promotes a more natural and ergonomic typing position.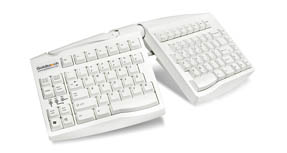 FREE UPLIFT Single Monitor Arm
Mount a monitor weighing between 4.5 lbs - 17.5 lbs, and adjust the height, depth or lateral position with easy fingertip adjustment.
Arms
The Humanscale Diffrient World Chair is available with the following arm options:
Fixed height arms with Duron pads
Adjustable arms with Duron pads
Armless
Frame Color
The frame of the Humanscale Diffrient World Chair is available in black, white, or gray.

Backrest Mesh
The backrest of the Humanscale Diffrient World Chair is available in the following mesh styles. Please note that certain meshes may cause a longer lead time than others. To check lead time on a certain configuration, please give us a call at 1-800-531-3746 before placing your order.
Dash
Dash is one of the newest meshes available in the Humanscale line. It is characterized by its strength and durability.
Monofilament Stripe
The luminous quality of each individual monofilament strand creates a translucent effect, while also providing strength and durability.
Silver Check
This brilliant weave of monofilament strands and silver-coated yarns offers resiliency combined with a low abrasion factor.
Pinstripe
Pinstripe offers a simple stripe pattern in a variety of enlivening colors.
Catena
Catena offers a unique pattern in a variety of modern colors.
Seat Fabric
Dash Mesh
Dash is one of the newest meshes available in the Humanscale line. It is characterized by its strength and durability.
Catena Mesh
Catena offers a unique pattern in a variety of modern colors.
Pinstripe Mesh
Pinstripe offers a simple stripe pattern in a variety of enlivening colors.
Corde 4 - Grade 1
Constructed from cotton, Corde 4 includes a four-way stretch and a small, modular weave. The result is a dimensionally ribbed surface on the face of the fabric that remains soft to the touch.
Lotus - Grade 1
This four-way stretch textile is water repellant and easy to clean, making it an ideal textile for healthcare and hospitality environments. Its polyurethane finish with nylon backing boasts a soft texture while offering exceptional durability. It exceeds all standards for contract upholstery and healthcare tests.
Sensuede - Grade 3
Sensuede was developed to be the best and most luxurious engineered suede available. The faux suede's soft touch comes from the use of breathable and wrinkle resistant recycled microfibers that are finer than a human hair but are extra-strong, resulting in a very resilient fabric. This material also was selected because of its environmentally sensitive content and manufacturing process.
Seat Height
The Humanscale Diffrient World Chair is available in your choice of three cylinder heights. Seat heights are measured from the floor to the compressed front center of the seat cushion:
| | |
| --- | --- |
| Standard | 16'' - 21'' H |
| Low | 15.25'' - 19.5'' H |
| Return to height | 17.7'' - 19.9'' H |
Casters
The Humanscale Diffrient World Chair is available with your choice of standard casters, soft casters for hard floors, or stationary glides.
| | |
| --- | --- |
| Standard Hard Casters | 2 1/2'' double-wheeled for carpeted floors |
| Soft Casters | 2 1/2'' soft double-wheeled for hard floors |
| Glides | Non-rolling glides for fixed location use |
Best chair I've ever experienced.

This the best chair that I've ever had the chance to use. Sadly, it's just a loaner chair, but it really is amazing. I wish I had one for both my office and home use.

Pros:
Beautiful.
The only buttons on it are below the seat so that you can choose to raise it or lower it. Only noticeable when you look for them.
The seat feels as if you are sitting in a cloud, or possible air, while also giving plenty of support.
It fits my smaller frame. I am light and most chairs are harsh on both size and also harshness of support. This fits perfectly.
The automatic recline adjusts to any level that I decide when I sit back. It doesn't just fall backwards like someone previously suggested.

Cons:
It's too expensive for me to buy one for my home.

18 months of using this chair

I began experiencing back pain shortly after starting to use this chair, I thought there is no way it's the chair, I took extreme measures to find out every other possible source of my pain, I thought it was tendonitis, my mattress, any other possible thing after all this is the "BEST" chair since sliced bread, well came to find out after months and month that is in fact the chair, it offers no upper back support the self recline just goes to full recline it's got no resistance to give support, forcing the user to lean forward when using a PC, lead to serve back pain to the point of nerve damage

I'm very pleased with this chair; it's quite attractive and equally comfortable for both the seat and back. All details appear to be well designed, and it arrived within days in the color/configuration as ordered. Only time will tell, but I believe it will hold up well under daily use.

A bit expensive, but a fine chair nonetheless.
This product comes standard with a 15-year warranty.
Return Information
Return windows close 30 days after you receive your item.
You are responsible for obtaining a Return Merchandise Authorization, the cost of shipping, and potential restocking fees, if the item has been opened.
To start a return, or to view the full returns policy, click here.