Features
LiveBack technology in the chair's back supports your entire spine
Exceptional breathability due to thermal comfort fabric and slats in the back
Adjustable seat depth delivers a custom fit for larger users
Curved seat edge supports legs ideally without hindering circulation
Higher weight capacity and wider seat design
Versatile arm positioning
Natural seat glide promotes spinal health by allowing the seat to glide forward as you recline
Upper and lower back controls let users set the amount of resistance
The Leap Plus
Wider, larger, and closely related to the Leap Chair, the Leap Chair Plus by Steelcase is the heavy-duty ergonomic chair for the ages.
Using state-of-the-art LiveBack technology, this dynamic chair comforts and conforms to your body where you need it most - your back - and supports up to 500 pounds easily. The Steelcase Leap Plus works by way of a uniquely-supportive back that recognizes the independent movement of your upper and lower back, which is ideal for a wide range of sitting postures. With a 18% larger seat cushion and a 18% larger back, you'll have the chair that supports ideally, fitting to you and never forcing you to fit in it.
The end result is a seating experience that changes as you shift positions throughout the day, leading to more comfortable work you have to feel to believe.

Free Ship, Free Return!
We're excited to announce the return of our Steelcase Free Ship, Free Return promotion.
Try your Steelcase products for thirty days -- if you're not completely satisfied, return them for free. There's no restocking fee, and we'll send you a pre-paid FedEx shipping label. This is a great way to try Steelcase products risk-free for thirty days! Some restrictions apply. See below for full details.
We're a Steelcase Authorized Retailer
In your search for the ideal ergonomic gear to add to your office, you might come across Steelcase products that seem cheaper than they should be. Most of these chairs and accessories are refurbished, giving you a not-so-new seating solution that can be open to mechanical flaws and defects sooner than a new chair might be.
Human Solution is an authorized Steelcase retailer, delivering to you the newest and most up-to-date ergo-friendly products from Steelcase, featuring full manufacturer warranties, protecting them from wear and tear, and giving you recourse if something ever does go wrong with your office chair, ergonomic desk, task lighting, or monitor arm in the future. We stand by our products and will work tirelessly to help you find the perfect ergonomic product to assist you in working better.
Specifications
| | |
| --- | --- |
| Overall chair height | 38.75" - 42.5" |
| Seat height | 15.5" - 19.5" |
| Back height from seat | 24.5" |
| Seat width | 22.75" |
| Back width | 20" |
| Width between arms | 20.5" - 24.5" |
| Weight limit | 500 lbs |
| Warranty | 12 years |
Promotional Item
FREE UPLIFT Single Monitor Arm
Mount a monitor weighing between 4.5 lbs - 17.5 lbs, and adjust the height, depth or lateral position with easy fingertip adjustment.
Frame Color
The Steelcase Leap Chair Plus is available in your choice of a black or platinum.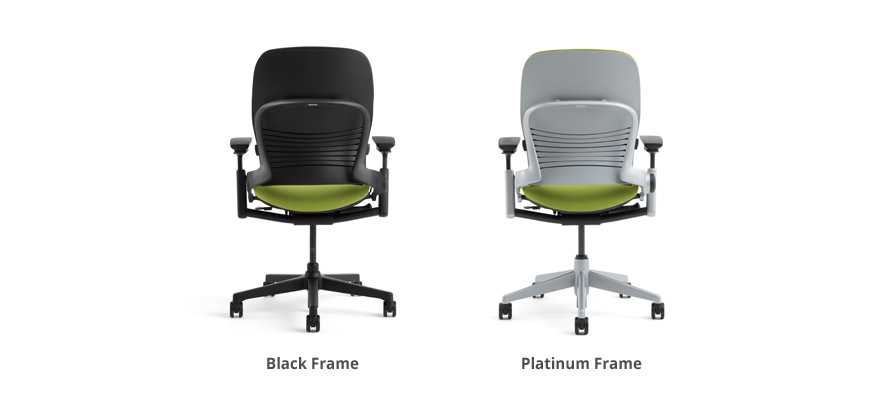 Fabric
Buzz2 - Grade 1
Buzz2 is Steelcase's standard fabric, and is composed of antimony free polyester. This material features an abrasion rating of 100,000 double rubs.
Connect - Grade 2
Cogent: Connect is a bold knit fabric available in many colors. This fabric choice is environmentally friendly as it is composed of antimony free polyester. This durable fabric offers an abrasion rating of 100,000 double rubs.
Chainmail - Grade 2
Chainmail is composed of 100% Post-Consumer Recycled Polyester and features a dobby weave. This textured fabric offers an abrasion rating of 100,000 double rubs.
Leather
Steelcase leather is a classic choice for your executive chair. This 100% leather hides are piece dyed in mute color choices. Though the leather is not as soft as Elmosoft leather, it is still a great choice.
Elmosoft Leather
Elmosoft leather is 100% leather, and the softest of the leather options. The piece dyed hides are available in a wide array of colors. Elmosoft leather offers a soft, buttery feel and is a great addition to your executive chair.
Arms
The Steelcase Leap Chair Plus is available with or without arms. There are some applications where arms get in the way of tasks. For computer users we recommend Steelcase arms because they're some of the best on the market and they can lower to about thigh level. The highly adjustable arms move in and out, forward and back, up and down and pivot, so you can find the exact position for optimal support and comfort.
Casters
Select hard casters for carpeted floors or soft casters for hard floors, including concrete and tile.
Ergonomic Training Video
This chair purchase includes a free half-hour Ergonomic Training Video with an ergonomic pro. This video will help you learn how best to use ergonomic tools and make the right choices for your workstation. Anyone interested in building an ideal workspace for their own unique needs should take advantage of this offer. The video will cover valuable ergonomic essentials such as:
Understanding the biomechanics of sitting
Setting up a workstation to maximize efficiency
Adjusting a chair to promote neutral posture
Learning exercises to reduce stress and fatigue
Yea, it's a LOT of money for a chair. But $500 for the last one rated 50lbs more than i needed was trash inside 2 months and it took 8 weeks to get a replacement part.

the service from the human solution was phenominal as well.

now - the chair. I LOVE IT. it's got more options than a 20 year microsoft employee and very well built. well worth the money. i notice an improvement in my back and shoulder pain and that alone makes this chair worthwhile.

and look at it - it seems to be smiling at you!

jerry
This product comes standard with a 12-year limited warranty.
Return Information
Return windows close 30 days after you receive your item.
To start a return, or to view the full returns policy, click here.