Features
Offers strong lumbar support to ensure your lower back doesn't strain
Reactive LiveBack technology contoured back flexes as you move
Seat depth is adjustable for long-term comfort
Intuitive dial on the left side of chair adjusts upper back force
Adjust lower back firmness for more lumbar support
Natural Seat Glide moves forward as you lean back, promoting spinal health
Adjustable arms are easily tailored to the user
Progressive back slat system improves chair airflow
The Leap Chair
Award-winning, one-of-a-kind, and ready to use, your productivity will reach new heights as you sit in the Steelcase Leap Ergonomic Office Chair.
Starting with the Leap's superior lumbar support, which will keep you tasking without all of the back strain that comes with sitting in front of a computer a majority of the day, thanks to built-in LiveBack technology.
Fine-tune the chair's LiveBack technology, which allows the chair's back to flex with your movements, providing superior support to the places that need it most. The office chair's padded back and seat cushion are soft and supportive; customize yours to your liking with a collection fabric options for an ergo-friendly seating solution to keep you working comfortably.
Designed to deliver to each individual that perfect level of spinal attention, the Leap Chair is also well-loved for providing full back support, and allows you to recline effortlessly via its Natural Glide System. A back-saving design promotes healthy postures while also supporting disc walls, combating back pain, fatigue, and major spinal issues in the process.
Last but not least, the Leap features a sleek profile with complete ergonomic adjustability for users ready to take their work to the next level.

Free Ship, Free Return!
We're excited to announce the return of our Steelcase Free Ship, Free Return promotion.
Try your Steelcase products for thirty days -- if you're not completely satisfied, return them for free. There's no restocking fee, and we'll send you a pre-paid FedEx shipping label. This is a great way to try Steelcase products risk-free for thirty days! Some restrictions apply. See below for full details.
We're a Steelcase Authorized Retailer
In your search for the ideal ergonomic gear to add to your office, you might come across Steelcase products that seem cheaper than they should be. Most of these chairs and accessories are refurbished, giving you a not-so-new seating solution that can be open to mechanical flaws and defects sooner than a new ergonomic chair might be.
Human Solution is an authorized Steelcase retailer, delivering to you the newest and most up-to-date ergo-friendly products from Steelcase, featuring full manufacturer warranties, protecting them from wear and tear, and giving you recourse if something ever does go wrong with your office chair, ergonomic desk, task lighting, or monitor arm in the future. We stand by our products and will work tirelessly to help you find the perfect ergonomic product to assist you in working better.
Specifications
Overall chair height
38.5" - 43.5" H
Seat height
Standard: 15.5" - 20.5" H
High: 17" - 24" H
Back height from seat
25" H
Seat width
19.25" W
Seat Depth
15.75"- 18.75" D
Back width
18" W
Arm Width
15" - 20" W, pivot adjustment adds 2.25" for total range of 12.75" - 20" W
Weight Limit
400 lbs.
Warranty
Limited Lifetime
F.A.Q.
The Leap and Amia seem pretty similar. Should I spend more on the Leap?

The Leap and Amia share many great traits, like Steelcase's fabulous adjustable arms. The Leap offers a little more flexibility in the backrest, and some find it to have a more natural "arc." The adjustable backrest could make it worth the extra money to upgrade to the Leap. However, many customers (and our employees) actually prefer the Amia.

How does LiveBack differ from standard lumbar support?

LiveBack just refers to the back of the chair and not the lumbar itself. The back of the Leap Ergonomic Chair features slats that dynamically support your spine. An adjustable lumbar lever allows you to move the lumbar support up or down to provide support where it is needed.

Can I add the headrest after buying the chair?

No, the headrest cannot be added to the Steelcase Leap Chair after the fact.

Can I get a discount on the Leap if I buy it with an UPLIFT Desk?

Give our knowledgeable Sales Pros a quick ring and they'll be able to tell you about the most current Steelcase deals and discounts.

How closely do the fabric colors shown on your website match the actual fabric colors on the chair?

Computer display settings can affect how you view colors on your monitor, and there is no guarantee that your color settings are showing the precise shade of color on any fabric. You can submit a request for color swatches through our Sales Pros so that you can accurately assess the color before ordering.

What if I change my mind after I receive my custom chair from Steelcase?

Steelcase offers free returns for the first 30 days. They will even pay for return shipping! So if you get your chair and it is not what you wanted, by all means return it and try something else.
Promotional Item
FREE UPLIFT Single Monitor Arm
Mount a monitor weighing between 4.5 lbs - 17.5 lbs, and adjust the height, depth or lateral position with easy fingertip adjustment.
Frame Color
The Steelcase Leap Chair is available in your choice of a black or platinum or polished aluminum frame: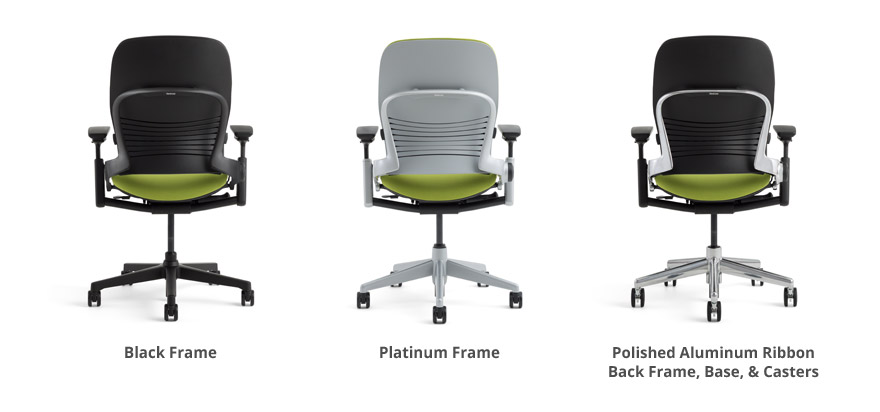 Fabric
Buzz2 - Grade 1
Buzz2 is Steelcase's standard fabric, and is composed of antimony free polyester. This material features an abrasion rating of 100,000 double rubs.
Connect - Grade 2
Cogent: Connect is a bold knit fabric available in many colors. This fabric choice is environmentally friendly as it is composed of antimony free polyester. This durable fabric offers an abrasion rating of 100,000 double rubs.
Chainmail - Grade 2
Chainmail is composed of 100% Post-Consumer Recycled Polyester and features a dobby weave. This textured fabric offers an abrasion rating of 100,000 double rubs.
Leather
Steelcase leather is a classic choice for your executive chair. This 100% leather hides are piece dyed in mute color choices. Though the leather is not as soft as Elmosoft leather, it is still a great choice.
Elmosoft Leather
Elmosoft leather is 100% leather, and the softest of the leather options. The piece dyed hides are available in a wide array of colors. Elmosoft leather offers a soft, buttery feel and is a great addition to your executive chair.
Arms
The Steelcase Leap Chair is available with or without arms. There are some applications where arms get in the way of tasks. For computer users we recommend Steelcase arms because they're some of the best on the market and they can lower to about thigh level. The highly adjustable arms move in and out, forward and back, up and down and pivot, so you can find the exact position for optimal support and comfort.
Seat Height
The Steelcase Leap Chair is available in two seat heights, standard or tall.
| | |
| --- | --- |
| Standard | 15.5" - 20.5" H |
| High | 17" - 24" H |
Headrest
The Steelcase Leap Chair is available with or without a headrest. The headrest provides additional support to the head and neck and provides an easy height adjustment.
Casters
Select hard casters for carpeted floors or soft casters for hard floors, including concrete and tile.
Ergonomic Training Video
This chair purchase includes a free half-hour Ergonomic Training Video with an ergonomic pro. This video will help you learn how best to use ergonomic tools and make the right choices for your workstation. Anyone interested in building an ideal workspace for their own unique needs should take advantage of this offer. The video will cover valuable ergonomic essentials such as:
Understanding the biomechanics of sitting
Setting up a workstation to maximize efficiency
Adjusting a chair to promote neutral posture
Learning exercises to reduce stress and fatigue
i have both leap and aeron.
they are both pretty equal comfort and ergonomics. the leap gets a nod because it is more adjustable and the headrest is not available on aeron. GET THE HEADREST when you order if you think of reclining in the chair.

Dig the chair and can't believe how fast it got here. My chair arrived in a week after placing order: ordered it on a Monday and it shipped on Friday, arrived the following Monday. The adjustable lumbar support works great- there's a pretty wide range on the amount of support. Fiddled with it for a couple days and think I won't need to adjust it again. didn't like the additional wire you can use to add extra support in my back. I just pushed it down out of the way. Overall, looks fantastic in my work space and is by far the most comfortable chair I've ever owned.

This is my second Leap chair, and you will not find a more comfortable or accommodating chair. Loaded with adjustments to adhere to your personal settings, you can't go wrong. It's the Perfect Chair!
This product comes standard with a limited lifetime warranty.
Return Information
Return windows close 30 days after you receive your item.
To start a return, or to view the full returns policy, click here.