Never underestimate the power of a clutter-free workspace. We took the best in organization and combined them to make the UPLIFT Advanced Wire Management Kit.
The complete system comes with wire management tray, six-outlet surge-protecting power strip, desk-to-wall cord organizer, handy under-desk hook, and adhesive mounts with cable ties. Stow your cords, wires, and power strip within the 3.6 inch wide under-desk tray that mounts securely with wood screws or double-sided adhesive.
Never trip over another cord again with our discreet and hidden cord management system. The surge protector's cord is a lengthy 15 feet long, allowing you to power your workstation without snagging cords when you raise and lower your desk.
It fits perfectly in the wire management tray and an included 5 foot long cable organizer allows corded accessories such as your computer, monitor, or phone to travel up and down with your desktop without unsettling connections.
It's organized ergonomics in one bundle.
Features
Wire management tray, 6-outlet power strip, desk-to-wall cable organizer, under-desk hook, and 10 self-adhesive cable mounts with re-adjustable ties are included in kit
Cable organizer houses wires in a neat, 5' long bundle

Six-outlet surge protector outlet strip provides protective features and flexibility, with 180J of surge protection, an integrated 15-amp circuit breaker switch, and ABS-resistant housing (UL safety listed for the U.S. and Canada)

This accessory is also compatible with non-UPLIFT desks
Specifications
Tray dimensions
24" W x 3" D x 4.5" H
Cable Coil length
5'
Included surge protector power strip cord length
15'
Included surge protector power strip features
180J of surge protection
Integrated 15 amp circuit breaker switch
ABS-resistant housing
Flat head plug
Included surge protector certifications
UL (U.S and Canada)
Optional additional USB surge protector clamp size
Compatible with desktops up to 1 3/8" thick
Optional additional USB surge protector capacity
1400J of surge protection
Shipping dimensions
5" W x 25" D x 4" H , 4 lb
F.A.Q.
Do I really need this?

If you want your desk to look clean and organized, then yes! The UPLIFT Desk Wire Management Kit is a great way to manage your wires and keep them out of the way of your desk as it operates.

What exactly is included in the Wire Management Kit

The Wire Management Kit includes a cable consolidation coil, under desk adhesive zip ties, 6-outlet surge-protecting power strip, wire management tray, and an under desk hook. You can even add on a surge protector that clamps easily onto desktops up to 1 3/8" thick. All of these accessories work in harmony to achieve organized perfection underneath your desk.

How long is the wire management tray?

The wire management tray is 2 feet long.

How does the wire management tray attach to my desk? Does it just stick on like the adhesive zip ties?

No, you will need to screw the wire management tray into the bottom of your desktop using wood screws.

Are the components of the UPLIFT Wire Management Kit available separately?

Yes, the tray, cable organizer, hook, and cable mounts are available separately if you want to expand your cord management system.

Can I use this with other desks?

Yes, this accessory is compatible with UPLIFT and non-UPLIFT desks.
Clamp-on Surge Protector
Add the UPLIFT Clamp-on Surge Protector for access to six outlets and two USB ports at the edge of your desktop. It features 1400J of surge protection, comes with two clamps, and is compatible with desktops up to 1 3/8" thick. Or clamp the surge protector onto desk frame ends for use with thicker tops, such as the UPLIFT Solid Wood Desktop.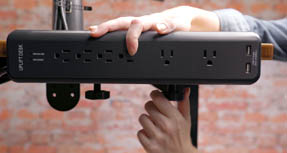 Expedited Production
Receive your accessories even sooner! Just add our expedited production option to your order.
Place your order by 3 pm Central on a business day and we guarantee to start production and ship your order the same day. If placed after 3 pm, your order is guaranteed to ship the following business day.
Note: Expedited production is different from expedited shipping. If you're interested in adding expedited shipping to your order, please contact us directly.
great for cord management

This kit was made for me. I hate the spaghetti jumble of wires that is so ubiquitous with modern day technology and the associated power that is needed for the various devices. I have 2 monitor arms which each have 2 USB outlets, and 2 grommets (1 with dual power outlets). Then I have a small box computer, and an external hard drive on my desk, plus a desk lamp. So I have a lot of wires just from my set up. Then under my desk, I have an APC battery back up surge protector. There are also wires going to the wall outlet for the network line. There are wires to the printer and the router on the bookshelf next to my desk. So the kit helps, but there are still visible wires under my desk.

The kit does not make the issue go away completely. The black tray I ended up just using the adhesive tape to stick to the underside of my desk, which seems to work just fine. I've had everything shoved in there for about 3 months and nothing has fallen down yet.

Looking back, I might have chosen the modesty panel instead. This is for a my home office, and my desk is placed against a wall, so it's not a modesty issue. But the modesty panel is basically a panel of fabric which loops/hangs down which might have also worked fine to hide/hold the wires. Food for thought for other shoppers. I don't envision getting another set up for myself, so I will just use this.

UpLift Advanced Wire Management Kit

Awesome! I have all my wires run well and this kit makes it easy. Most desk companies don't show you a real setup; they just show you a laptop unplugged sitting on the desktop. The fact is that wires are a part of a computer desk. So I recommend buying this and it makes all the power wires, monitor wires, pc wires, and phone wires a snap to hide.
UPLIFT Desk Warranty Policy
We stand firmly behind the quality of our products. All UPLIFT Desk products come with a 15 Year Warranty, visit the UPLIFT Desk Warranty page for the full policy.
Return Policy
Free Returns with Free Return Shipping within 30 days, visit the UPLIFT Desk Returns page for the full policy.