The UPLIFT Height Adjustable Standing Desk with L-Shaped Top has been discontinued. For a similar product, please visit our sister site UPLIFTDesk.com and view the Adjustable Height Standing Desks page.
When you need a spacious work surface that can elevate and uplift your work style, the UPLIFT Height Adjustable Standing Desk with L-Shaped Top is more than ready for the challenge.
This heavy-duty corner desk features a generous 530 pound weight capacity, giving you an expansive and sturdy new home for all of your desktop gear - monitors, keyboard, and mouse platform - with plenty of room to spare. This extra space allows you to desk spread to the max, positioning your CPU, screens, and accessories precisely where you need them.
Work on your level. Quiet, yet tenacious motors in each leg of the base do the heavy lifting of raising and lowering your sit-to-stand desk to your preferred levels within seconds. A three-stage frame stands above competitors' two-stage frames, and adjusts for height a whole 33% faster. Keep your body and workstation moving, giving you more energy and productivity while staving off negative health effects from sitting like fatigue with one major office annexation.
Choose between 1" thick carbonized bamboo, genuine rubberwood solid wood, or laminate tops for an ergonomic upgrade that fits with your unique office style. A versatile width-adjustable frame lets you have the option of changing desktop sizes if you ever need to, while a hidden telescoping crossbar stabilizes the standing desk without cutting into precious legroom underneath.
Don't work with office products that contain harsh chemicals and wood sealants. We take the time and care to only use the healthiest, eco-friendly, and health-conscious finishes to protect your standing desk and office air quality. Every UPLIFT Laminate desk is UV-cured, powder-coated, and constructed with recycled wood composite core, making it qualify for LEED credits. Our laminate desktops are also Greenguard-Gold Certified (pdf), letting you improve your workspace's ergonomics without incorporating dangerous chemicals into your workstation.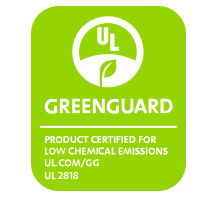 Accessorize your desk to suit your particular work style and see what one ergo-friendly office augmentation can do to alter your work for the better.
UPLIFT height adjustable desks meet or exceed all applicable section requirements of ANSI/BIFMA X5.5-2008 Desk Product Test Standards, which means that your desk conforms to the safety and durability requirements set forth by BIFMA. Download our test results here (pdf).
Features
Sit Stand Desk is fully height adjustable from 24.4" to 50.0" (without desktop thickness). Our 3-stage columns offer 25.6" (650mm) of vertical travel
Three-stage frame is 33% quicker to adjust than a two-stage frame
Fits users of nearly all heights
Heavy-duty steel base features a weight capacity of 530 lbs for lifting large desktops with accessories and equipment
Laminate and bamboo desktops are 1" thick and rubberwood tops are 13/16" thick to provide a stable, reliable, and roomy work space
Telescoping crossbar is positioned directly underneath the desktop for maximum support, creating more legroom and a clean, minimal design
Frame comes with a motor in each leg so desks are safer, stronger, quieter, and more reliable
Hall effect sensor in the frame senses resistance and reverses frame direction for safety
Soft start/stop electric motor allows for precision adjustments of desk height
Choose a standard up/down keypad or upgrade to the advanced digital memory keypad, featuring 4 programmable presets and an LED desk height readout in inches
Advanced Keypad features one-touch and constant-touch capabilities
Desk is assembled in Austin, Texas, and parts are sourced both globally and within the USA
Note: Bamboo desktop color may vary due to the unique and natural variations in bamboo
Specifications
Height range
24.4" - 50.0" H (without desktop thickness)
Desktop thickness
Laminate & Bamboo - 1"
Rubberwood - 13/16"
Travel speed
1.5" per second (varies - slowest with maximum load) with soft start/stop actuator motors
Noise level
45 decibels during motion
Weight capacity
530 lbs
Keypad
Advanced 1-touch digital memory keypad* is available
2-button up/down keypad comes standard
Adjustable foot leveling studs
3/8" adjustment for uneven flooring
BIFMA/ANSI X5.5-2008 Certified
Yes - completely meets all requirements of BIFMA/ANSI X5.5-2008 Test (pdf) Sections 4.3, 4.5, 5.2-5.5, 6.0, 7.0, 8.0 & 15.0.
Environmental certifications
ISO 14001, RoHS & CE compliant
Safety certifications
Lifting Column - TUV (Canada and U.S.)
Control Box - TUV (Canada and U.S.)
Power Cord - UL/CSA (Canada and U.S.)
Warranty
7-year warranty on the entire desk frame, which includes the motor, frame, controller, keypad, electronics and mechanisms. Optional extended warranty available when selecting desk options
Shipping dimensions
Frame Box 1 - 11'' W x 10'' H x 41'' D, 61 lbs
Frame Box 2 - 15'' W x 6'' H x 41'' D, 41 lbs
Desktop dimensions will vary depending on selection
* Using the advanced 1-touch digital memory keypad is as simple as the push of a button. Four programmable buttons let you choose and set the best sitting and standing heights for you, even for multiple users. Or simply use the up/down buttons to get to that sit-to-stand sweet spot.
F.A.Q.
How did you come up with desktop sizes for the corner shaped desks?

Our customers wanted an L-Shaped Desk that would ship quickly, and we delivered. These desktops are made from our stock rectangular 30" depth desktops that have been put together to form a corner desk. If you want a more custom corner desk and don't mind waiting, check out our custom laminate and solid wood corner desks.

Can I order this desk with an Eco Desktop?

The Eco Desktop comes pre-drilled with metal inserts that only line up with the UPLIFT Desk 2-leg Frame. Therefore, the Eco Desktop cannot be configured into a corner desk with the UPLIFT Desk 3-leg Frame. Take a look at the UPLIFT Eco Corner L-Shape Sit-Stand Desk for an L-shaped black or white Eco desk

How does this ship?

Your L-Shaped Corner Desk will ship via a freight carrier. Freight delivery includes curbside delivery.

Can I order an L-shaped Laminate Desk in a custom size?

Yes, of course! Just visit our Custom Laminate L-shaped Desk listing and take a look at the different laminate colors. Then contact one of our Sales Pros, who will be happy to write up a quote for the pricing of a custom sized top.

Are there any more color choices than the ones offered here?

We can custom make a laminate desktop in your desired color choice. Just contact one of our Sales Pros for a price quote and assistance.

How do I clean my corner desk?

The laminate top has a degree of chemical resistance and therefore it is okay to use a Lysol wipe. For bamboo and rubberwood desktops, it is best to use a soapy, damp rag to clean up any spills. Just be careful to not leave any water sitting on the desktop, as this can damage the wood's finish.

How much space is there between the two pieces?

The two desktop pieces will stay together with a pair of support brackets. The holes for the support brackets come pre-drilled into the underside of the desktop so that the two desktop pieces will be flush when your desk is assembled properly.

Is there any way for me to get the grains in the bamboo to go the same direction on both pieces of my L-shaped desk?

Unfortunately, we do not have the ability to match the grains at this time. The grain on all of our rectangular bamboo desktops run lengthwise with the desktop.

Will I get added strength if I use a 4-leg frame on my L-shape desk?


A 4-leg frame would be able to support 710 lbs compared to the 530 lb carrying capacity of the 3-leg frame. However, we do not recommend the 4-leg frame because it would be hard to ensure that the entire load of the desk is even supported across all 4 legs of the desk with this corner-shaped desktop.

Can I get a curved corner?

If you want l-shaped desk with a curved corner cutout check out our Custom Laminate Corner Desk or the UPLIFT Eco Corner L-Shape Sit-Stand Desk.

Does the advanced keypad offer one-touch height adjustment?

Yes! You can enjoy one-touch height adjustment when you order your l-shaped desk with the Advanced Keypad.

Are these the same as the Custom L-Shaped Laminate desks?

No, we use different laminate for the quick-ship desktops versus the custom desktops. The laminate on this desk is the same Greenguard-Gold Certified laminate found on our quick ship rectangular desks.

Which is more durable, rubberwood, bamboo or laminate?

Bamboo, rubberwood, and laminate are all very durable and it is hard to say that one is more durable than the other. Laminate is more resistant to moisture and spills if that is a top priority to you. Bamboo is pressed into a solid surface and you don't have to worry about it splitting over time. Rubberwood is strong enough to support most desk setups. If you have any questions at all, please call us and our Sales Pros can help you decide which top is right for you.

Can I get a sample of the bamboo, rubberwood, or laminate desktops before I buy?

We do not offer samples of our bamboo, rubberwood, or laminate finishes. You can see all of our desktops on display at our Austin, TX showroom.

Where does the bamboo come from?

Our desktops are crafted from Thai and Chinese Bamboo, that is pressed together to form a durable desktop. We carbonize the bamboo, which gives it a beautiful honey-caramel finish that you're sure to love for years of stylish tasking.

How hard is this desk to assemble?


Assembly of our corner desks are slightly more involved than assembly of our two-leg desks because you have more pieces to deal with. However, our instructions are very detailed and will walk you through the process. You can also check out our 2-Leg Desk Assembly video to get a good idea of the process.

What's the deal with UPLIFT Desk's three-stage desk frames?

UPLIFT Desk frames are three-stage frames vs the traditional two-stage desk frames on the market these days, which means their desks are 33% faster thanks to using 3 spindles in each leg instead of 2. This means you have a higher adjustability range so desks fit shorter users and kids, and even very tall users or those who plan on adding a treadmill to their setups later.

How many motors does this come with?

All UPLIFT Desks come with a motor in each leg. Three-leg desks come with a trio of motors so frames are stronger, quieter, safer, and more reliable than desks that work with a single motor.

I bought the advanced keypad. When I touch one of the presets my desk only moves a fraction of an inch - is there something wrong with my keypad?

Your memory presets are probably working just fine! You probably just have an older control box. To recall your preset heights, you have to press-and-hold the memory setting until your desk reaches standing height. This is for safety, since the older UPLIFT 3-Leg Frame did not have the ability to sense an obstruction and stop. If you see the number 99.046.14.0070 printed on the sticker located near the power socket, then your control box is capable of one-touch memory preset function and may need to be reset - see our Programming Your UPLIFT Desk PDF for instructions on locking the keypad, changing the memory presets from one-touch to press-and-hold, and setting new lower or upper height limits.

I live outside of the US, will this desk work with my outlets and voltage?

All UPLIFT Desks are designed and made to run on the United States electricity standard of 120V. If you're ordering one of their desks from outside the United States (excluding Canada), you'll most likely need to plug your desk into a step down transformer first, otherwise you run the risk of overloading your desk's control box, which is not covered by the UPLIFT Desk warranty. Please reach out to our support team if you have any questions about voltage and your desk.

How do I tell what kind of control box is on my desk?

You can quickly check to see which version of control box you have by glancing at the silver label on it. If that sticker says v4.1, v4.2, or v4.3, then you have the newest version of UPLIFT Desk's control box, which boasts a few new features.

What are some of the features on the new control boxes?

The latest version of UPLIFT Desk's control boxes comes with several exciting new safety features, like Collision Sensitivity, Keypad Lockout, and the new ability to toggle between One-Touch and Constant-Touch modes with only a few buttons. If you want more info, you can read about what new features come with these boxes and how to use them on our blog post about the subject!

How do I use the Keypad Lockout feature?

For safety, UPLIFT Desk designed their latest version 4.1 control boxes to be able to be locked so children and unwanted users cannot adjust it when this feature is activated. To lock the keypad, press the "M" button for 5 seconds until the LED switches to "LOC", then press and hold the the "M" button to turn on the lockout feature. To unlock it, just press the "M" for 5 more seconds.