Workplace injuries are no joke - switch up your mousing style and feel the benefits of ergonomic living instantly with the help of the Airobic Quill Mouse.
Designed to keep your hands in a neutral position for comfortable computer work, the Quill Mouse by Airobic is one accessory that'll save you from arm and wrist strain before it starts.
Features
USB connectivity
No need for special drivers (Mac drivers are available)
Optical tracking allows for low maintenance and high accuracy
3 button mouse design
Scroll wheel
CD included offers PS/2, driver and other informative material
Specifications
| | |
| --- | --- |
| Connectivity | USB |
| Tracking | Optical |
| Buttons | 3 button mouse design with scroll wheel |
| Warranty | 2 years |
Airobic Quill Mouse
Choose Model
The Airobic Quill Mouse is available in a right or left-handed model.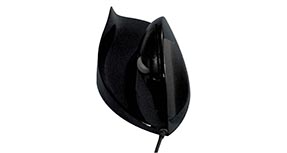 Quill-Well Extra Large Mouse Mat
Add Mat
The Quill-Well Mouse Mat has a surface that works with the special material of Aerobic Quill's high glide feet. This mat requires less effort to move the mouse, and it provides ample workspace to use with your Quill Mouse.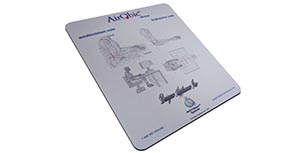 Product Reviews
Write Review
Showing reviews 1-5 of 16 | Next
LOVE this mouse

Posted by Sue on Jul 3rd 2014

as soon as I started using this mouse pain in my shoulder, neck, arm and hand literally went away! I've been using this mouse exclusively at work for 5 years and my second mouse just died. The only reason I don't give it a 5 star is that they are expensive and should last a little longer than 2 1/2 years. Absurd! and really? it still has a wire?

Airobic Quill Mouse

Posted by Jeffrey on Oct 10th 2012

I have not been able to use this third mouse much since over time because my computer began not recognizing as a USB device and hence the mouse stops working. When the mouse was initially working it did not respond that quickly or smoothly. The mouse failed to make small precise movements as it either over shot or undershot where I was trying to move the cursor to and a natural response to grip it tighter made my wrist pain worse.

Although the hand position was nearly perfect for me, it did make the heel of my hand sore after several hours. The biggest drawback I believe is the poor quality of the components used to make it since my first two didn't last. The first two mice didn't last long because something plastic inside broke.

The company owner was very nice and offered to replace it for a discount, but neither I nor my employer are willing to pay for another one. For $100 one deserves to get a quality mouse or a decent multi-year warranty. The company had a great idea, but skimped on the construction and materials quality.

Relief from wrist pain

Posted by Karen on Jul 28th 2012

I started using the Airobic mouse a little over a year ago along with an egonomic curved keyboard. It has not totally eliminated wrist pain, but there has been a significant reduction. I too am on the computer 8-10 hours a day. I have these items both in my home office and at work. It has been well worth the investment! I did have an issue with the mouse about 2 months after purchase, but the company sent me a new one, and it has worked perfectly since. It does take some getting used to at first. The tendency is to more too fast because you are using larger muscle movement. And you do still try to use the wrist at first. It's all a matter of re-training yourself to use it properly!

Airobic Quill Mouse

Posted by Jay on Jan 18th 2012

I have used the mouse for over 2 years. It has eliminated the pain I had in my arm and wrist. I use the mouse for 7-10 hrs every day.

Relief from Pain

Posted by Karen on Jul 18th 2011

I received my AirObic mouse a little over a week and and have already seen noticeable reduction in my wrist pain. I agree with one of the other writers about the top button being a little tight, but you can compensate for that by keeping the finger straight and tilting the arm slightly to click. Once you get used to how to move the mouse and use the whole finger to click, it is easy to use. I absolutely recommend it.
Showing reviews 1-5 of 16 | Next
Warranty Information
This product comes standard with a 2-year warranty.
Return Information
Return windows close 30 days after you receive your item.
You are responsible for obtaining a Return Merchandise Authorization, the cost of shipping, and potential restocking fees, if the item has been opened.
To start a return, or to view the full returns policy, click here.
Your Cost
$85.99
List Price: $129.99
Ships Free (US48)
Ships the same business day
Are you sure you're finished customizing this product?
Bulk Deals
In many cases, we can offer bulk quantity discounts for purchases or smaller orders made over an extended period of time. Bulk deals are based on anticipated volume and the products you've selected. We can also provide you with brochures and swatches to assist in your purchasing decisions.
If you would like to request a quote, we can be reached via phone (800-531-3746), email (info@humansolution.com), or live chat from 8am - 7pm Monday - Friday and from 10am - 6pm Saturday.
Swatch Request Form
Sending....
Thank You!
Please allow 1-3 weeks for delivery.