Times are changing, and workplace accessories are evolving too, starting with the Backapp Smart Stool.
With the introduction of the Backapp Smart Stool into your current work situation, you can have a stool that allows you to sit and work in a more active posture, allowing your body to gently sway side to side in a circle, resting your feet on the attached circular base and giving your body a more engaging sitting experience than ever before. The best seat in the house, the Backapp Smart Stool, is height-adjustable and gives you the chance to sit with an open hip angle, increasing comfort at work instantly.
Get ready for 360° rotation at your swiveling stool, allowing you to get to that sitting sweet spot easily. Add the wheeled base for a portable solution to subpar seating.
Features
Tilt resistance is controlled by turning the red ball
Height of the stool is adjustable to user preferences
Add or remove the optional wheeled base
Assemble your stool in a few easy steps without any tools
Invigorate your core muscles while you sit at your workspace
This style of sitting can burn more calories than standing
Specifications
| | |
| --- | --- |
| Height to contour of cushion | 21.4" - 30.3" H |
| Height to top of cushion | 26.2" - 35.1" H |
| Seat dimensions | 18.6" W x 15" D |
| Base diameter | 23.75" |
| Back App 360 dimensions | 20" W x 14.2" D x 2" H |
Note: The Backapp Smart Stool has a minimum height of 21.4 inches, as measured from the floor to the midpoint of the saddle cushion. This height may not be compatible with many fixed desk heights. Please check the height of your desk prior to ordering to be certain that you can comfortably sit while still maintaining ergonomic alignment.
Seat Fabric
Nordic Wool
Nordic wool is composed of 88% wool and 12% polyamide. This durable fabric is antistatic and won't attract dirt. To keep your seat in great condition, gently vacuum weekly. For spot cleaning, use lukewarm water with a neutral detergent.
Skai Palma Synthetic Leather
Skai Palma is a durable, synthetic leather composed of 89% PVC-compound and 11% CO/PES knitted fabric. This breathable material is flame-retardant, lightfast, and tear-resistant.
Alcantara
Alcantara is a composite material that is soft to the touch as well as aesthetically pleasing. Composed of 68% polyester and 32% polyurethane, Alcantara is a soft, suede-like material that won't disappoint.
Base
The standard base of the Backapp Smart Stool is made of 99.9% die-cast aluminum. The unique design of this stool allows you to rest your feet on the wide, circular base. The underside of the base features a slight curve to the ring-shaped cushion, so that the stool is in a gentle state of motion while you are seated. If you want to add mobility to your saddle stool, try out the wheeled base. Simply place the Backapp Smart Stool on the removable base when you want to roll your stool out from under your desk or around the office. You will still be able to sit on the stool while the wheels are in place.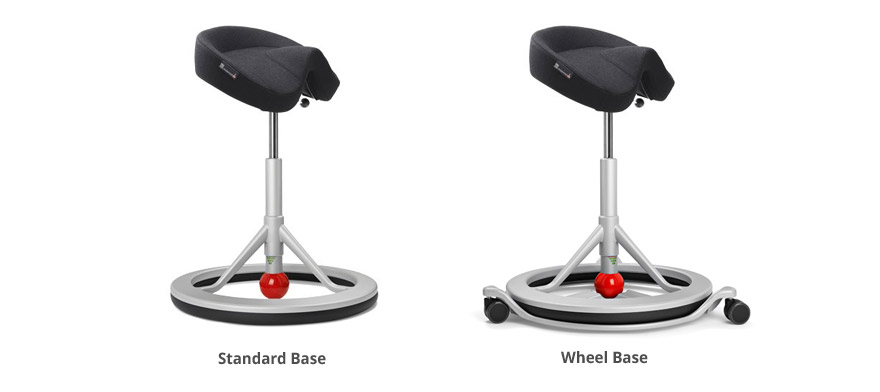 Balance Board
Add the balance board accessory to your Backapp Smart Stool for a complete, core-engaging work station package. The Back App 360 Balance Board has an oblong design that provides enough room for you to comfortably stand with both feet. It features the same ring-shaped cushion that provides 360 degrees of movement while you balance on top of the board. Unlike its competitors, this balance board is completely adjustable! Simply turn the red knob on the underside of the balance board to adjust the tilt resistance, making it easier or harder to stay upright.
This product comes standard with a 5-year limited warranty.
Return Information
Return windows close 30 days after you receive your item.
You are responsible for obtaining a Return Merchandise Authorization, the cost of shipping, and potential restocking fees, if the item has been opened.
To start a return, or to view the full returns policy, click here.