Bring the mouse to you and feel the difference in both posture and productivity. The Chair-Mounted Mouse Platform from Dexterity is the useful accessory that attaches to most armrests using Velcro for closer, more ergo-friendly mousing.
Features
Adjustable arms easily slide out to accommodate almost any chair arm
Position adjustability allows you to swing your pad closer or further away from you to fit the length of your arms perfectly
Pad can be moved out of the way when not in use
Mousing platform features a soft, neoprene pad and a raised rim so your mouse and pad won't slide off
Two models options available - the Standard model or the Deluxe Dexterity mousing platform with padded wrist rest
Specifications
| | |
| --- | --- |
| Mousing surface | 6.5" W x 7" L |
| Dimensions | 11" W x 21" L |
| Fits arms | 1" - 5.75" |
| Warranty | 30 days |
Dexterity Chair-Mounted Mouse Platform Model
Standard
The standard model does not include a wrist rest.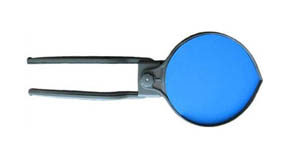 Deluxe
The deluxe model comes standard with a padded wrist rest for extra comfort.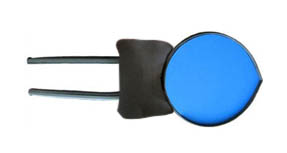 The system for attaching this thing to your chair arm worked well for my regular chair. It may not work so well for some chairs, but that should be obvious to anyone from reading the description of how the thing is attached. I definitely recommend paying a little extra for the bean bag. Indeed, I don't think I'd like this product nearly as much if it did not have the beanbag to cushion the wrist.

Good product for trackball, GREAT after mods

I purchased the Dexterity Platform with the optional wrist support bean bag. I wanted something to put my Logitech Marble Mouse USB non-wireless trackball on besides my desk or lap.

This review looks long, but mostly it tells how I permanently installed the platform to my computer chair.

I have been using this same model trackball for over 8 years.

I am using one of those nice computer chairs that goes up and down and has 3 levers on the side, and both armrests raise and lower and are supported by a thick piece of metal coming up from underneath.
It worked great when I first got it adjusted to my liking and the Velcro tightened down. But slowly, I noticed the pad slowly "un-velcro-ing" from the weight of my wrist. If they had straps that had a different attachment system this might not be a problem, but I could not take it. I actually stopped using it for half the day because adjusting it is too much work too often.
So I then attached the Dexterity with the long skinny supports that are supposed to tighten against the chair's armrest sides INSTEAD THIS TIME JUST UNDERNEATH the armrest and adjusted it to be in a comfortable position. Then I drilled two holes, one closest to the front and one closest to the rear of the chair, all the way through the Dexterity, then through the armrest, and then through the other side of the Dexterity. It only drilled through plastic, no metal. Make sure your drill bit is bigger or just about the same as your screw. I then put 2 long round top machine screws through all the layers (with the head on the inside of the chair to avoid scrapes) and a self locking nut on the outside end. 2 nuts could be substituted for 1 self locking nut. The size will vary with your chair and I just used bolts from around the house, so they were sticking out and I ground them down after I had the nuts on tight. They ended up being 3 3/8" each for my application.

Now I removed the Velcro and it's not ever going to change position!

The "point" of the teardrop should have a gap in the raised rim for a cord, I think. My trackball fits perfectly but that's where the cord comes out and I didn't want to stress it, so I put the Dexterity in a vice and cut a nice "U" out of the point.

I had been using the Dexterity with the close edge of the trackball raised about a half inch on a foam wrist rest, also where my wrist rests. This keeps my wrist at a more natural angle.

The bean bag attaches to the underneath side with vercro, and the "male" part of the velcro can be pulled off (it's really strong adhesive though!) and readjusted. I adjusted it to go farther back so my foam can be my wrist rest and the bean bag bridges the gap to the armrest but now the adhesive isn't as good and I might need to super glue or epoxy it.

Overall this is saving me from a lot of pain so I definitely recommend it to anyone who uses the computer a lot. I can now lay back, put my feet up, have my arms on the armrest and the "table" and trackball lean back with me! Yay!!

Also, the product is very solid and thick ABS plastic. I did not expect it to be as sturdy as it was. I can still raise and lower my armrest height, I made sure to give it enough clearance that I could work the lever. I did notice that when I had the locking nuts cranked down too hard, that the armrest height adjustment lever would engage, and I couldn't keep the armrest high. The nuts don't really need to be very tight, since all the weight is on the side of the screws.

My next project is to get a wireless USB hub, hook it up to a battery pack and attach it to the chair so I don't have to keep putting my trackball on the desk to avoid tripping on the cord!

I hope this can help somebody!

email tgenterprises@hotmail.com for a photo!

dexterity chair arm mousing platform

Love the bean bag for wrist support.

Dexterity Chair Arm-Mounted Mousing Platform

I bought this to replace one side of a Mobo ergonomic workstation that had broken. I received it and it installed very easily in about 5 minutes. Unfortunately the mouse part itself was about half the size I would like and has very high sidewalls. Also, the armrest portion has nothing to cover the straps which irritated my arm. It has decent construction and can be very sturdy if you tighten the straps enough.

In the end I ordered another Mobo to replace my old one and this product is sitting in a corner gathering dust. thehumansolution.com has a return policy,you have to ship it back to them at your expense for a refund minus 10% restocking fee.

I would recommend this product so long as you are fully aware of just how small this thing is.

I highly recommend adding the bean bag for wrist support. The straps need to be secured tightly to avoid slippage. I swing the pad back and forth a lot so I have to tighten the knob from time to time. Overall, this product has made a huge improvement in my wrist, shoulder and neck.

Reasonably satisfied with the product. It does provide some support for my wrist, although I had to supplement the"bean bag" with an additional support. Unit does slip down and requires occasional adjustments.

I have been very pleased with this mouse platform. My only issue was that the platform kept sinking when I'd put pressure on it, but we solved this by 1) rearranging the straps, and 2) adding a strap at the very end that just goes around the ends of the platform arms and the bottom of the chair arm, holding the platform in a slightly elevated position. I've had no other issues since then, and the platform has definitely remedied the pain I had in my right hand and wrist.

Mousing efficiency at its best

This product is very beneficial. The convenience of having a mouse pad that travels with your chair movements is unparalleled. Since the installment of the Dexterity Chair Arm-Mounted Mousing Platform, my mousing needs have been more than satisfied. I highly recommend this product to anyone who seeks to improve their computer navigation efficiency.

The strapping system simply does not hold and continually slips off the chair arm. Good idea, but very poor design.
This product comes standard with a 30-day warranty.
Return Information
Return windows close 30 days after you receive your item.
You are responsible for obtaining a Return Merchandise Authorization, the cost of shipping, and potential restocking fees, if the item has been opened.
To start a return, or to view the full returns policy, click here.