Why Is My Order Shipping Via Freight Carrier?
If you're reading this page, you've probably received an email from us that says your order is going to ship by freight carrier. Some shipments must be delivered via freight carrier due to their size and weight. This includes orders that contain solid wood tops, 120 degree desktops, custom laminate desktops, L-shaped desks, teak credenzas, slide out storage cabinets, treadmills, some ergonomic chairs, some 80" laminate desktops, and a majority of orders containing 4 or more desktops.
This page is designed to clarify the freight shipping receiving process and give you our requirements for accepting freight deliveries at your home or business.
What Should I Expect When Receiving My Order?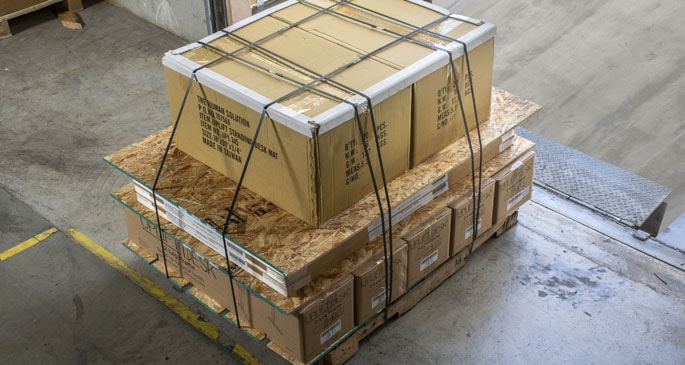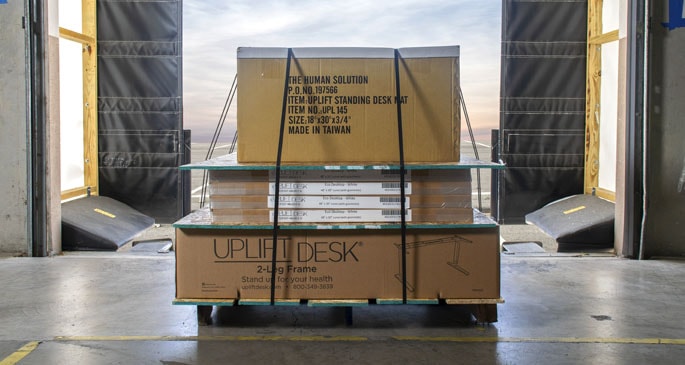 The shipping experts at our warehouse will band together the boxes of your order and secure them on a pallet. Larger orders will be shrink-wrapped to better hold your order together and protect it while it is being shipped to you.
On the day your order is ready, it will be picked up by our freight carrier. A member of their scheduling team will then reach out to you directly to set a 4 hour delivery window. Important: Someone must be present to receive the pallet and sign for the delivery on the Delivery Receipt.
Your order will arrive on a 53-foot trailer. If you think this will be an issue, call us and let our order processors know. We will reach out to the freight carrier and request that they send your order on a shorter trailer. Note: This is not always an option with some freight carriers. If the road leading up to your address has sharp turns, cul-de-sacs, tight driveways, or narrow/winding roads, please let us know. We will work with the freight carrier to make special accommodations for you.
Three Steps for Receiving Freight Deliveries
Accepting a freight delivery from Human Solution is simple! We just ask that you:
Be punctual for your delivery window

The freight carrier's driver cannot deliver your package without a signature, and we ask that you set aside enough time to thoroughly check over your package prior to signing the Delivery Receipt. The driver will make every attempt to be on time, but life happens and sometimes delays do, too. If shipping to a residential address, the driver will drop your pallet off either on the street or in your driveway if they are able to reach it safely. They will attempt to deliver it as closely to your office or house as possible. This is up to the discretion of each driver, as most freight drivers cannot cross threshold due to potential liability. If you are at a commercial address, the driver will bring your pallet to your building's loading dock if you have one or use a liftgate for easy curbside delivery.

Check over the entire pallet and note any and all damage to packaging and products

Once the pallet is unloaded from the truck, thoroughly inspect it and make a note of any damage to the packaging or product on the Delivery Receipt. While nearly all of our packages arrive without damages, sometimes they can occur. Take photos of damage, e.g. damage to desktops, tears in the shrink wrap or boxes, etc. If your shipment was damaged during shipping, it must be recorded on the Delivery Receipt. We will need any and all damages listed to be able to effectively file a claim with the freight carrier and solve the issue. We will require photographs from you to begin this process.

Bring your brand new products inside your home or office

After your delivery has been unloaded from the truck and signed for, you're responsible for transporting it across your building's threshold, i.e. into your house, carport, or garage. If you need additional help with this process, please reach out to us to arrange White Glove Delivery or Installation. Most of our packaging is recyclable, and you are responsible for disposal, including the wood pallet.
---