Memory foam seat, mesh back, and gel lumbar support are three main reasons why the Nightingale CXO Mesh Chair with Headrest Option 6200 & 6200D change the game as far as office chairs are concerned.
The Nightingale CXO 6200 Chair and Nightingale CXO 6200D Chair with Headrest deliver modern styling and work-altering comfort in the form of a chair. Cooling airflow from the mesh back complements the cushioned, memory foam seat and gel lumbar support so you can sit the way you want comfortably. It aids in all-day tasking, giving your lumbar region and body the support it needs.
This ergonomic beauty sweeps the category for its superior design, having earned Design Journal's ADEX PLATINUM Award for design excellence.
Stylish, award-winning, and ideal for anyone from designers to executives, you'll be sitting pretty in ergonomic comfort in no time.
Features
Contoured mesh back comes in black or gray finish
Mesh back improves breathability on your back
High-density, high resiliency Enersorb memory foam contours to your body
Stretch-knit fabric on seat on the CXO 6200D chair and headrest provide better airflow
Adjustable height and depth lumbar back support with gel pad
CXO 6200D Chair includes the ratchet headrest adjustment filled with Enersorb memory foam for individual comfort
Knee-tilt swivel mechanism has infinite position tilt-lock, pneumatic seat height adjustment, and tension control
Easy to use, finger-tip height- and width-adjustable arms
Specifications
Dimensions
Without headrest: 27-29.5" W x 36.5-41" H
With headrest: 27-29.5" W x 47.5-55" H
Seat dimensions
20" W x 19-21.5" D x 16-21" H
Back width
22" W
Weight limit
350 lbs
Warranty
Limited Lifetime: All non-moving metal parts
10 years: Control mechanisms, casters, pneumatic cylinders, self-skinned urthane parts, and plastic shells
2 years: Upholsteries
Headrest
The Nightingale CXO Chair 6200 can be ordered with or without a headrest. This headrest has been completely redesigned to be easier to maneuver.
ENERSORB foam provides the ultimate cushion upon which to rest your head and reduce stress on your neck and shoulders
On-the-spot attachment allows you to add or remove the headrest later if you change your mind
User-friendly adjustment mechanism makes it easy to find the perfect spot to rest your head
Four-way stretch fabric or matching leather will complete the look of the CXO chair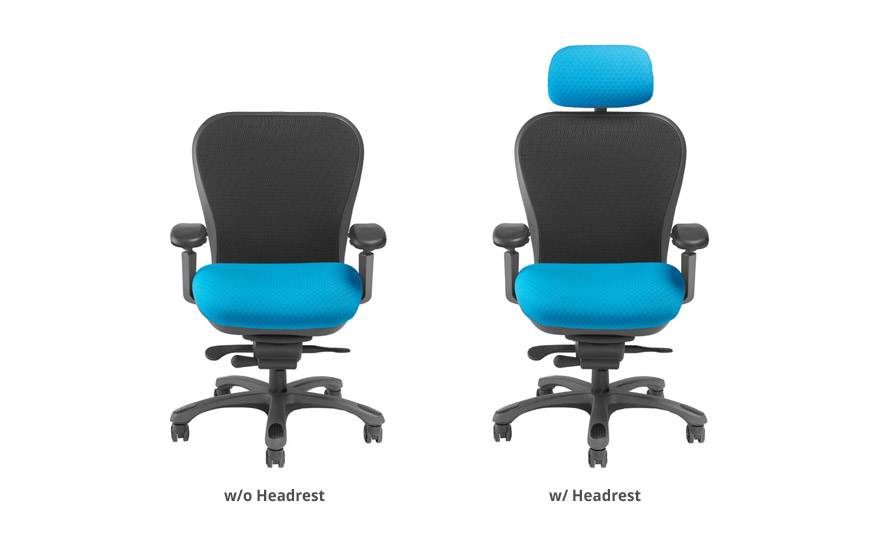 Fabric
Nightingale CXO Chairs are available in fabric or leather upholstery on the seat, headrest, and lumbar support. The fabric used for the seat on the Nightingale CXO mesh back chair is 100% polyester and has the WS cleaning code. It can withstand 100,000 rubs and will hold up for years. We recommend the standard fabric as it has 4-way stretch and offers maximum comfort with the Enersorb foam seat, plus a woven fabric will decrease the give of your seat.
Back Mesh Color
Choose between black or silver for the back mesh of the Nightingale CXO 6200 chair.
Arms
4D Adjustable Arms
Nightingale's 4D Adjustable Arms offer the most adjustability. The arm pads pivot inward or outward 30 degrees.
| | |
| --- | --- |
| Height adjustment | 4.5'' H |
| Width adjustment | 3.5'' W |
| Depth adjustment | 4'' D |
Please Note: Non-pivoting or Width and Height Adjustable Arms are also available, but we recommend the 4D Adjustable Arms for the most ergonomic adjustment options.
Frame Color
Opt for a standard black frame or upgrade to a polished aluminum finish to complement the styling in your work space. The black frame comes standard on the Nightingale CXO Chairs. The polished aluminum frame upgrades the finish on the base, arm triggers, back trim and casters.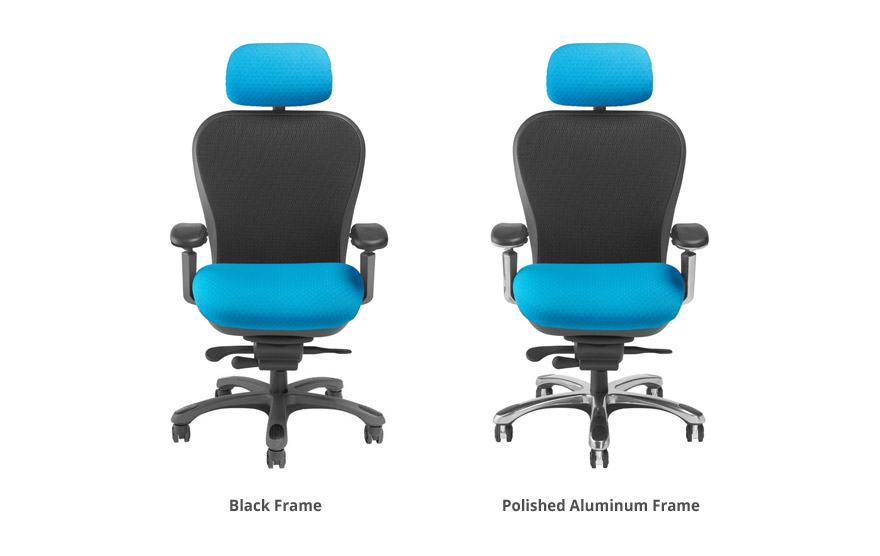 Casters
Select hard casters for carpeted floors or soft casters for hard floors, including concrete and tile.
Location Delivery Type
There is a fee for shipping to any location that doesn't have a loading dock, this is because these chairs ship freight.
Good, not great. Not worth the money.

Pretty nice chair overall but not worth $1,000. The seat is very nice for working long hours and the back support is acceptable, but doesn't compare with Herman Miller Embody's or SteelCase leap's.

Adjustability is alright. I would like the lumbar support to go a bit higher but that's just me.

My main problem is with the arm rests and head rest. The arm rests are too far away. Even at their farthest back position they are too close to my desk, preventing me from getting close enough to use my keyboard and mouse without slouching, so I just push them down and don't use them. At their farthest forward position, my fingers rest on the back...

The head rest, even at the highest position, pushes against my lower neck. You can't actually rest your head on it unless fully reclined, anyway...and by then you're staring at the ceiling.

Also, after only 3 days, the left arm rest started creaking on the rare occasion I do use it.

Pros: Comfortable seat, can sit in for a long time. Decent back support.
Cons: Arm rests are too far away to use properly with a desk despite adjustments. Head rest is useless and pushes against lower neck / upper back.

I've had the chair for a couple of months now and use it every day in my home office. I'm 6ft 1in and 240lbs and sit in front of a computer or on the phone all day. I also have pretty regular back pain that keeps me from being able to use a non-ergo chair for very long. So, about this particular chair:

Pros: It is a very solid chair - heavy and obviously well built. Overall it is comfortable with plenty of adjustment variation. Armrests are nice and wide and I can always get them right where I want them. The seat cushion is nice and plush and the back of the chair is well formed. The headrest comes in handy when I'm on the phone and want to stretch back a bit with some support. And I like that the back is tall - I really liked the Aeron as well but the thing that kept me from purchasing one is the fall off at the top of the seat - I was always searching for more upper back support in the Aeron. Also I wanted an option for a headrest that was OEM.

Cons are few but, I feel, significant: I'm not sure if it's the angle of the area where the back meets the seat or the shape of the back/seat, but even with the lower back support pushed all the way in toward my body, I still would like more support in that area. I'm not sure if what I'm looking for is a broader support area rather than the horizontal foam pad... it just seems to not work as well as I'd like. The chair seems to allow me to slide down a bit as time goes on, adding pressure to my lower back. I still step away at the end of the day with some lower back pain which did not happen with the Aeron. It's not terrible but just something to consider if you have similar issues.

Overall it is a very nice chair and I do not regret spending the money on it. It may not be what I would purchase if this one was broken but it's a good unit.

The Human Solution had an expert (forgot his name) that showed me this chair and how it would help my back. I gave it a try and can say that this is by far the most comfortable chair I've ever owned. I sat in many ergo chairs but wanted a chair with good cushion. This is it.

Thank you for this chair!

I almost bought an Aeron but Kara said that the seat and lumbar on the Nightingale CXO is a lot more comfortable. I've sat in an Aeron before and Kara was so right. Thank you for suggesting the CXO because I'm a happy camper.
This product comes standard with a limited lifetime warranty on all non-moving metal parts, a 10-year warranty on control mechanisms, casters, pneumatic cylinders, self-skinned urthane parts, and plastic shells, and a 5-year warranty on upholsteries.
Return Information
Return windows close 30 days after you receive your item.
You are responsible for obtaining a Return Merchandise Authorization, the cost of shipping, and potential restocking fees, if the item has been opened.
To start a return, or to view the full returns policy, click here.