Features
Intuitively-adjusting chair adapts to support healthy movement and technology
360° arms mimic the human arm's natural movements
Flexible 3D LiveBack design allows the chair's back to conform to a variety of users and their postures
Unique core-equalizer system increases or decreases lumbar support when reclined or upright
Alterable back stop system creates a tension-adjustable recline system
Flexible seat edges minimize pressure against thighs
Seat slider offers quick seat depth customization for users of different heights
Optional adjustable lumbar support provides extra support for the lower back with 4" height-adjustment
The Gesture Chair
If you're prone to using multiple devices at work throughout the day, how does your chair support you? When you're seated in the Steelcase Gesture Chair, the answer will be "in every which way."
Designed to fit the widest range of users and tasks while taking up the least amount of space, the Gesture is the infinitely-adjusting chair that ensures you're always sitting with the right amount of support. After years of studying the alternative postures that people prefer sit in when they engage with their tablets, phones, and devices, Steelcase's designers made it happen, creating the ideal ergonomic chair for the future that delivers much more flexibility at work, starting with its arms.
Set toward the back of the chair, 360° rotating arms (which raise, lower, and pivot) support healthy movement, and remain at the correct ergonomic angle whether you're upright or reclined. No matter what device or task you have at hand, the Gesture's arms are there to offer steadfast support, and can even be moved out of the way when you don't need them.
Then there's support your lower back; LiveBack Technology automatically adjusts to imitate your spine's natural movement, working through a series of synchronized interfaces, and providing personalized lumbar support that'll keep you focused and working comfortably. The core-equalizer works with your body to stabilize back and abdominal muscles while the height-adjustable lumbar support fits even the tallest of users.
Paired with adjustable back tension, a variable back stop, and an optional height-adjustable lumbar support, the Steelcase Gesture Chair will change the way you think (and feel!) about office seating forever.

Free Ship, Free Return!
We're excited to announce the return of our Steelcase Free Ship, Free Return promotion.
Try your Steelcase products for thirty days -- if you're not completely satisfied, return them for free. There's no restocking fee, and we'll send you a pre-paid FedEx shipping label. This is a great way to try Steelcase products risk-free for thirty days! Some restrictions apply. See below for full details.
We're a Steelcase Authorized Retailer
In your search for the ideal ergonomic gear to add to your office, you might come across Steelcase products that seem cheaper than they should be. Most of these chairs and accessories are refurbished, giving you a not-so-new seating solution that can be open to mechanical flaws and defects sooner than a new ergonomic chair might be.
Human Solution is an authorized Steelcase retailer, delivering to you the newest and most up-to-date ergo-friendly products from Steelcase, featuring full manufacturer warranties, protecting them from wear and tear, and giving you recourse if something ever does go wrong with your office chair, ergonomic desk, task lighting, or monitor arm in the future. We stand by our products and will work tirelessly to help you find the perfect ergonomic product to assist you in working better.
Specifications
| | |
| --- | --- |
| Chair dimensions | 22.375" - 34.625" W x 39.25" - 44.25" H |
| Seat depth | 18.25" |
| Functional seat depth | 15.75" - 18.5" |
| Seat dimensions | 20" W x 15.75" - 18.5" D |
| Back height from seat | 24.0625" H |
| Seat height | 16" H - 21" H |
| Back width | 16.25" W |
| Arm width | 10.25" W - 22.5" W |
| Weight limit | 400 lbs. |
| Warranty | Limited lifetime |
F.A.Q.
What is the difference between this and the Leap?

The Gesture features different arms, padding and styling from the Steelcase Leap.

Does this come with a headrest?

Yes, the Gesture Chair is available with a headrest on a separate listing.

Can I add the headrest at a later time?

No, the headrest cannot be added at a later date. If you want a headrest, you will need to purchase the version with the headrest.

Is this chair available without arms?

The arms are integral to the design of this ergonomic chair. The Gesture Chair cannot be ordered without armrests.

Can I add the adjustable lumbar support after I purchase my Gesture?

No, the adjustable lumbar support cannot be retrofitted to the chair. If you want the adjustable lumbar support, you'll need to add it when you first purchase the Gesture Chair.
Promotional Item
FREE UPLIFT Single Monitor Arm
Mount a monitor weighing between 4.5 lbs - 17.5 lbs, and adjust the height, depth or lateral position with easy fingertip adjustment.
Frame Color
The Steelcase Gesture chair is available in multiple frame color combinations: black with black accents, Sterling dark frame with Merle accents, Platinum frame with Merle accents, or a Platinum frame with Seagull accents.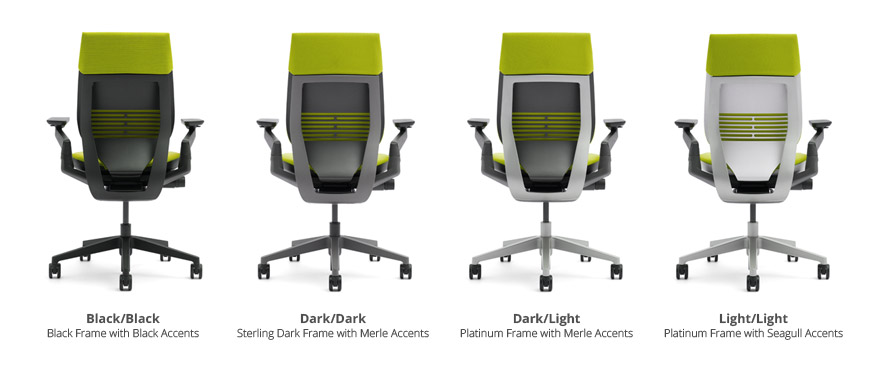 Back Style
The Steelcase Gesture chair can be ordered with a hard plastic shell back or a partially upholstered ''wrapped'' back style.
Fabric
Connect - Grade 2
Cogent: Connect is a bold knit fabric available in many colors. This fabric choice is environmentally friendly as it is composed of antimony free polyester. This durable fabric offers an abrasion rating of 100,000 double rubs.
Leather
Steelcase leather is a classic choice for your executive chair. This 100% leather hides are piece dyed in mute color choices. Though the leather is not as soft as Elmosoft leather, it is still a great choice.
Elmosoft Leather
Elmosoft leather is 100% leather, and the softest of the leather options. The piece dyed hides are available in a wide array of colors. Elmosoft leather offers a soft, buttery feel and is a great addition to your executive chair.
Base Color
The base of the Steelcase Gesture is colored to match the chair's frame. A polished aluminum base can be selected as well.

Seat Height
The Steelcase Gesture Chair is available with three cylinder heights to fit various body types.
| | |
| --- | --- |
| Standard | 16'' to 21'' H |
| Short | 14.5'' to 18.25'' H |
| Tall | 17'' to 22.5'' H |
Lumbar Support
The Steelcase Gesture Chair can be ordered with or without a height-adjustable lumbar support. This optional support allows for 4'' of height adjustment for added support in the lower back.
Casters
Select hard casters for carpeted floors or soft casters for hard floors, including concrete and tile. Plastic glides are also available for users who would prefer for their chair to stay stationary.
Ergonomic Training Video
This chair purchase includes a free half-hour Ergonomic Training Video with an ergonomic pro. This video will help you learn how best to use ergonomic tools and make the right choices for your workstation. Anyone interested in building an ideal workspace for their own unique needs should take advantage of this offer. The video will cover valuable ergonomic essentials such as:
Understanding the biomechanics of sitting
Setting up a workstation to maximize efficiency
Adjusting a chair to promote neutral posture
Learning exercises to reduce stress and fatigue
I have never had a more comfortable chair

Generally speaking, I am averse to writing product reviews, but I feel responsible to share with people that this is the absolute most comfortable desk chair I have ever sat in. In fact, sitting down for the first time was nearly a religious experience. Being six-foot-four and lanky, I have always looked at desk chairs with dread, knowing they wouldn't fit my body and I would be uncomfortable. Now things are different. Every part of my body that should be supported by a good chair is supported. Having just received the chair, I can't say anything as to its durability, but knowing Steelcase offers a fantastic warranty, I'm sure that checks out too. Buy the chair if you've got the cash!

Steelcase Gesture Chair - Petite/Low Profile

I didn't think I could get excited about a chair but I am here to tell you that this is fantastic!!!

I've been waiting and saving for almost two years in order to purchase this chair. I'm petite 5'2" with short legs/short arms and I've been uncomfortable for years in a variety of standard office chairs. I couldn't find anything that would fit my body type and provide optimum ergonomics until I found the Steelcase Gesture Chair, with it's low-profile short version it goes low enough to the floor that I can comfortably sit with my feet touching the ground.

I love the adjustable seat depth, finally a chair that doesn't cut into the back of my knees and legs causing me to hurt and my legs to go numb! The arms adjust inwards to fit my narrow frame and move up easily to provide support. I was developing shoulder issues and poor posture from the lack of arm support with my previous chair.

I think it has a nice design and love all of the color options. It's really comfortable, and now I can put in a full 8 hours from my home office. I have spent more time sitting at my desk in the last month than I have in the last four months. I'm catching up on all of my work. It's amazing what not being in pain or uncomfortable does for your focus and productivity!

If your feet don't touch the ground in a regular chair and you are tired of perching at the edge, putting your feet on a foot rest, feeling restless, fidgety and all of the back pain, neck pain, and frustration that comes with it... I would definitely recommend checking out the Steelcase Gesture Chair - Low Profile and get the lumbar support.

It's frustrating that there is a short person tax, that I can't go out and buy a comfortable chair for $300-600 dollars. However, I am glad to have this chair now, my productivity has greatly improved, and I'm in a lot less pain. I hope the chair is durable enough to last for many years.

Solid construction and very adjustable.

Have only had the chair a week, but already find it supportive and comfortable. Just wish that you could lock the arms in place somehow once you got them adjusted. Overall, would highly recommend this chair!

This chair has done wonders for my back. Can sit in it for any period of time without soreness or pain. Feels like it should last a long time. If you can afford it and the aesthetics are to your liking, it's worth having. I'm not going to get into too much detail because there's already enough info out there about this chair, too much to get into here. I researched a lot of chairs and decided this was the one for me. So far it seems worth every penny. With the uplift desk combo it was cheaper here than anywhere else.

Pros:
-Comfortable
-Adequate adjustments
-Solid and sturdy construction
-All materials feel premium
-No loose or noisy parts

Cons:
-Very pricey for being made in Mexico
-First unit arrived with major condition issues (returned and replaced almost hassle free and they cross shipped the replacement)
-Made of more plastic materials than I expected (it does admittedly feel like high quality plastics but there are still solid metal pieces in the construction)
-Wish the arms were a bit more adjustable. You get about 5 levels of height, 5 levels of side tilt to the arm pads, and the side to side rotate motion of the whole arm, while adequate, could have been wider. Also would have been nice if the entire arm had the ability to slide from front to back to some extent. The arm pads do however slide front to back about maybe 3 inches.
This product comes standard with a limited lifetime warranty.
Return Information
Return windows close 30 days after you receive your item.
To start a return, or to view the full returns policy, click here.