Features
Dual-energy lumbar uses two embedded springs to dynamically support the spine's natural movement
Integrated LiveBack system with back flexors track your spine's shape and adjust accordingly
Advanced weight-activated mechanism moves fluidly with you as you recline and intuitively adapts resistance to your weight
Tension setting has been modified to make it easier for more petite users to recline
Adaptive bolstering technology uses cored pockets in the seat foam, so the seat "hugs" your legs for comfort
Flexible seat edge reduces pressure on your legs and promotes better blood flow
Integrated dual-energy lumbar support can be adjusted up and down
Padded 4-way adjustable armrests can be moved vertically, horizontally, forward and backward, and pivoted inward
The Think Chair
Enjoy the perfect combination of flexibility, support, and mobility that keeps you focused and productive with the Think Chair from Steelcase.
This ergonomic chair might look simple, but don't be fooled by its sleek, minimalist styling. The Think functions together to support the entire back, spine, neck, and shoulders for hours of supportive sitting. An advanced weight-activated recline mechanism with adaptive bolstering technology allows the seat cushion to conform to your shape for all-day support. Keep your attention on your work and not your comfort levels; the Think ensures you have all of the adjustment options to keep you working.
Designed to provide consistent upper and lower back support, its integrated dual-energy lumbar uses two embedded springs to dynamically support the natural movement of your spine. In layman's terms, this quick-responding lumbar system flexes with you throughout a wider range of motions, from typing at your keyboard to swiping at your tablet.
The Think's seat cushion is supportive and sized to suit a broad range of sitters, while a collection of cored pockets in the seat foam allow the Think to mold itself to your body, "hugging" your legs to deliver unparalleled support without restricting movement. Petite sitters will love the modified tension setting, which makes it easier for them to recline in the Think.
Take a seat right away; the Think ships fully assembled and comes backed by a full manufacturer's warranty. When you want a seating no-brainer, look no further than the Think Chair by Steelcase.

Free Ship, Free Return!
We're excited to announce the return of our Steelcase Free Ship, Free Return promotion.
Try your Steelcase products for thirty days -- if you're not completely satisfied, return them for free. There's no restocking fee, and we'll send you a pre-paid FedEx shipping label. This is a great way to try Steelcase products risk-free for thirty days! Some restrictions apply. See below for full details.
We're a Steelcase Authorized Retailer
In your search for the ideal ergonomic gear to add to your office, you might come across Steelcase products that seem cheaper than they should be. Most of these chairs and accessories are refurbished, giving you a not-so-new seating solution that can be open to mechanical flaws and defects sooner than a new chair might be.
Human Solution is an authorized Steelcase retailer, delivering to you the newest and most up-to-date ergo-friendly products from Steelcase, featuring full manufacturer warranties, protecting them from wear and tear, and giving you recourse if something ever does go wrong with your office chair, ergonomic desk, task lighting, or monitor arm in the future. We stand by our products and will work tirelessly to help you find the perfect ergonomic product to assist you in working better.
Specifications
| | |
| --- | --- |
| Chair Dimensions | 37.25" - 42" H x 28.5" W x 22" - 24.25" D |
| Seat height adjustment | 16.5" - 21.5" H |
| Seat depth | 15.5" - 18" D |
| Seat width | 20.25" W |
| Lumbar height from seat | 6" - 10.25" H |
| Arm height from seat | 7" - 11" W |
| Arm width | 14" - 21.25" |
| Weight capacity | 300 lbs. |
| Warranty | Limited lifetime |
F.A.Q.
This looks a little different than my coworker's Think Chair. Why?

This is the New Think, version 2.0, and it's ready to support more users throughout a broader range of motions and tasks. From typing to swiping, the Think supports you for a healthier and more productive workday, even when you're seated. The chair has a few updated features, such as a new double synchro ratio (3:5:1), whereas the Original Think worked by way of a 7:1 ratio. Steelcase added a half inch of seat depth and width to fit a wider range of users, and the new Think comes in three finishes instead of the Original's two. We think you'll love the changes!

Is this available with a mesh back?

Yes, the Think Chair with 3D Knit Back features a breathable mesh back.

I got this in a light color, how can I clean it?

Any non-bleach upholstery cleaner will clean up the upholstery of your Think Chair. Just test an inconspicuous area of the chair first.

I ordered this chair but I don't like it, what are my options to return the chair?

The Steelcase Think Chair can be returned free for the first 30 days of ownership. You won't even have to pay for return shipping!

How much assembly is required for this chair?

The Think Chair is a fully assembled ergonomic chair. Just unbox it and sit back in comfort!

How is the standard lumbar support different from the fixed lumbar support?

The standard lumbar support is adjustable so that you can control where that pressure hits your back. The fixed lumbar support cannot be moved.

What kind of lumbar support is in the Think's back rest?

Lumbar support comes comes standard, and the New Think's dual-energy lumbar uses two embedded glass resin springs to dynamically support the natural movement of the spine.
Promotional Item
FREE UPLIFT Single Monitor Arm
Mount a monitor weighing between 4.5 lbs - 17.5 lbs, and adjust the height, depth or lateral position with easy fingertip adjustment.
Frame Color
The Steelcase Think chair is available in your choice of black, platinum, or seagull frames.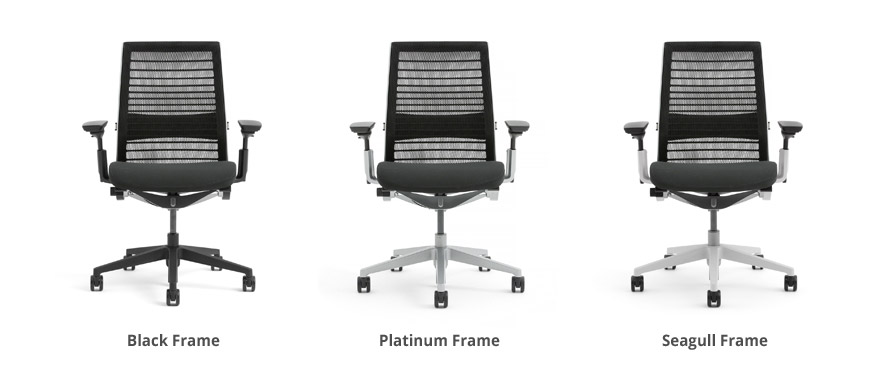 Fabric
Buzz2 - Grade 1
Buzz2 is Steelcase's standard fabric, and is composed of antimony free polyester. This material features an abrasion rating of 100,000 double rubs.
Connect - Grade 2
Cogent: Connect is a bold knit fabric available in many colors. This fabric choice is environmentally friendly as it is composed of antimony free polyester. This durable fabric offers an abrasion rating of 100,000 double rubs.
Chainmail - Grade 2
Chainmail is composed of 100% Post-Consumer Recycled Polyester and features a dobby weave. This textured fabric offers an abrasion rating of 100,000 double rubs.
Leather
Steelcase leather is a classic choice for your executive chair. This 100% leather hides are piece dyed in mute color choices. Though the leather is not as soft as Elmosoft leather, it is still a great choice.
Elmosoft Leather
Elmosoft leather is 100% leather, and the softest of the leather options. The piece dyed hides are available in a wide array of colors. Elmosoft leather offers a soft, buttery feel and is a great addition to your executive chair.
Arms
Select from 4-way adjustable arms, height-adjustable arms, fixed arms, or no arms for your Think chair.
Note: We highly recommend the 4-way adjustable arms above all other options available for the Think. They adjust up and down, as well as slide left, right, forward and backward, with a 30° pivot in each direction.
Base Color
Black, Platinum, and Seagull frame chairs come standard with a matching base. Choose to upgrade your Think Chair to a Polished Aluminum frame for a bright, reflective finish.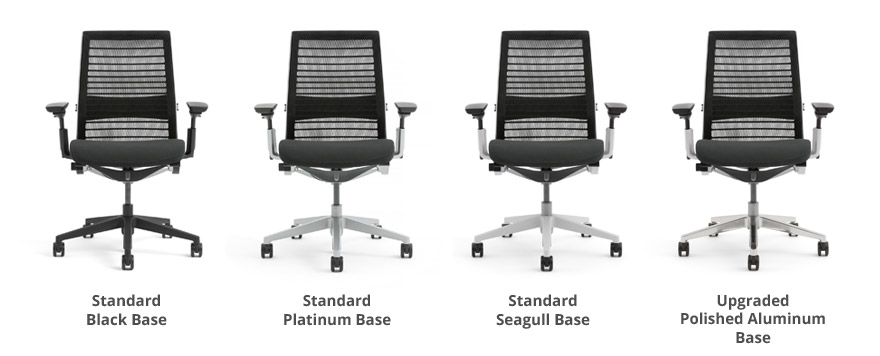 Seat Height
The Steelcase Think Chair is available with a three cylinders.
| | |
| --- | --- |
| Standard | 16.5'' - 21.5'' H |
| Tall | 18'' - 25'' H |
| Low | 15'' - 18'' H |
Headrest
A headrest option is available for any Steelcase Think chair with a black frame and base. The headrest is available in black vinyl and provides additional head and neck support to the user.
Lumbar Support
The Steelcase Think Chair can be ordered with a fixed lumbar support or an adjustable lumbar support. The adjustable lumbar support pad slides up and down so you can find the perfect spot for your lumbar support.
Casters
Choose between standard hard carpet casters or soft casters. Soft casters are designed to prevent damage to hardwood floors and to roll more slowly so that your chair doesn't slip out from under you when you stand up.
Greatest Chair On the Planet

I had a great job with people I adored, but this chair was still one of the top 5 reasons to go to work every morning. I knew that no matter how many times I changed positions throughout the day, this chair would support me and my delicate lower back. I could sink low and use the head rest (I'm 5'9" so easier for me than some of the taller reviewers I've seen) and be just as comfortable as I was sitting tall and proud. Easily adjustable and impossible to replace, I miss this chair every day. My new chair pales in comparison and likely has an inferiority complex after all the time I've spent talking about how much I miss my old chair. Sorry new chair. You just aren't the Steelcase Think Chair. And you never will be.

I have been a bookkeeper for many years. As one can imagine - sitting in a chair for hours just plain hurts after a while and Goodwill and other non-profits have benefited from all my rejected chairs over the years. I gave up for a while and then realized when I hit a certain point and unless I could take an early retirement - which I can't, I would have to solve this. I went to a warehouse to get a gently used chair - tried several and then sat on one of these. My body felt right at home. As it turned out, that one was sold so I went online and found The Human Solution. The customer service was excellent and I was able to pick all of the features and styles that I love. Granted, it's an expensive chair (although not as much as some). BUT after several months I can say that this chair is the most comfortable that I've ever had. I would never trade it for another. I eventually also invested in a sit/stand desk and I find that I don't need to use the stand feature often because my back doesn't hurt but if I want to - I can. So my experience with this company has really been perfect. Thanks!

Best chair to fit my back

I sat in this chair during a product design competition. And I sat in a lot of famous brands even Herman Miller's.
But this Goldilocks moment was because that it fits the small of my back perfectly. I naturally have an arm in my back because of my posture. I love spring/resistance when I lean back.
I love the adjustable arms.
I am a fidgety person, constantly changing positions when on a computer for 10+ hours and this chair moves with me. Best investment.
And I googled it, HumanSolution currently is the cheapest place to get this chair even with the architecture/designer discount.

Great Chair, Terrible Headrest

If you are 6'2" or taller don't get the optional Headrest - it won't fit your head. It ends up being a neck rest instead of a headrest. The headrest doesn't go high enough for your torso length.

The chair is great, except that the back can not be adjusted completely upright to fully support the back. This results in only support of the lower back when working at a desk.

I bought this after hearing about how wonderful it was from the experts at The Human Solution. I agree. Call them as they really do offer expert advice and didn't lead me wrong. Great looking chair too but most importantly it's really comfortable. Thanks!
This product comes standard with a limited lifetime warranty.
Return Information
Return windows close 30 days after you receive your item.
To start a return, or to view the full returns policy, click here.