Take your office storage to a new level of multifunctionality with the 2-Drawer Rolling File Cabinet with Seat by UPLIFT Desk.
With this revolutionary new storage and seating solution, you can have the secure, portable, and comfortable file cabinet you never knew you needed. Yes, you heard that right. This file cabinet doesn't just come with two locking drawers to help you keep your workspace clean. It also features a unique padded cushion that can be added to the top, which can be used as a side seat for last-minute meetings at your desk.
You'll be able to move the cabinet to future workspaces easily without needing to remove its contents, and lock it in place where you want it. The top drawer features a soft-close function, so drawer slamming is not an issue in your office. Enjoy more fulfilling storage with the 2-Drawer Rolling File Cabinet with Seat by UPLIFT Desk.
Features
Gives users a mobile storage option for their workstations
Both drawers lock for a safe spot to store personal items
Locks with a single key and comes with a spare key for backup
Bottom drawer adapts to hold letter and legal size paper and folders
Large drawer comes with hanging bars to adapt to your needs
Removable tray in top drawer organizes smaller items around the office
Soft-close feature on the top drawer stops the it from slamming shut when closing
Adhesive padded seat cushion for comfortable sitting or foot resting
Can be used without the cushion
Available in white, black, and gray color options
Specifications
| | |
| --- | --- |
| Overall dimensions | 15.75" W x 19.7" D x 19.75" H (with casters) |
| Weight | 55.375 lbs |
| Weight capacity | 225 lbs |
| Warranty | 7 years |
| Shipping dimensions | 23'' W x 20'' H x 24'' D, 54 lbs |
| ANSI/BIFMA X5.9-2012 Certification | Compliant with sections 4, 7.1, 7.2, 7.3, 9.5, 9.7, 11, 12, 13, 14.2, 14.4, 15.2, 20 |
F.A.Q.
Why would one need a file cabinet?

If you find that you have a collection of clutter on your desk or if you work at a standing desk without proper storage, you could use a file cabinet that doubles as a side seat or footrest that fits right under your desk.

Does this come in any color options?

At this time, the 2-Drawer File Cabinet with Seat comes with three color choices - black, white, and gray.

How much security can I expect from this file cabinet?

You'll love the 2-Drawer File Cabinet with Seat because of its super secure, locking drawers. Keep valuables, store your purse, and shelter anything you want locked away in one spot.

What kinds of things will this cabinet hold?

The question, "What won't this hold?" is more like it. You'll be able to store paper (legal and letter), folders, snacks, purses, photos, decor, and almost anything in your workspace that could use a more fitting home that's not on your desk.

Do I have to install anything myself?

Just the casters. Your package will come with a collection of screws and a small wrench for the job, and most users complete installation of their 5 casters in just a few minutes. After that, all users have to do is stick the seat to the cabinet with the adhesive strip to make it suitable for use as a side seat.
Color
Tidy up your desk, safely store your items, and utilize an extra seat or footrest with the 2-Drawer Rolling File Cabinet with Seat by UPLIFT Desk. This filing system comes powder-coated with a black, gray, or white finish to match your UPLIFT Desk. Powder-coating provides a seamless finish over the sturdy, steel construction of the file cabinet.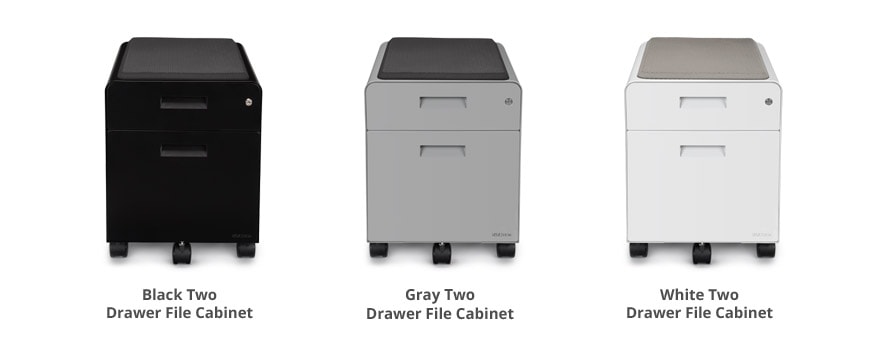 Expedited Production
Receive your accessories even sooner! Just add our expedited production option to your order.
Place your order by 3 pm Central on a business day and we guarantee to start production and ship your order the same day. If placed after 3 pm, your order is guaranteed to ship the following business day.
Note: Expedited production is different from expedited shipping. If you're interested in adding expedited shipping to your order, please contact us directly.
This product comes standard with a 7-year limited warranty.
Return Information
We offer a 30-day trial on all single-item UPLIFT Desk brand orders, with the exception of solid wood and custom laminate desktops. If for any reason you're not satisfied, return the item with no outbound shipping or restocking fees.
Return windows close 30 days after you receive your item. You are responsible for obtaining a Return Merchandise Authorization (RMA) within this time.
All items must be disassembled and returned in "Like new" condition in their original factory packaging. Items not returned in this condition may be subject to additional fees. You are responsible for return shipping costs.
To start a return, or to view the full returns policy, click here.