Store, lock, and roll your way to a more organized desk situation with the 3-Drawer File Cabinet by UPLIFT Desk.
Imagine having a workspace that has a place for everything and everything in its place. This is now possible with this rolling, locking file cabinet by UPLIFT Desk. Lock personal items safely within the cabinet's three drawers, giving you one less thing to worry about at work.
And let's talk about portability. The 3-Drawer File Cabinet was designed to move wherever you need it, with locking casters to keep it in place once it finds its home. That means if you ever need to move to a different workspace, you don't have to unload your whole cabinet to do it.
Get the secure storage your workstation deserves with the 3-Drawer File Cabinet, Rolling by UPLIFT Desk.
Features
Increases storage space at sit-stand workstations
Drawers lock via a single key for security for personal items and comes with extra key
Top two drawers hold a removable, non-sliding pencil tray to organize loose items
Bottom drawer comes with removable file hangers that hold letter and legal size paper
Top drawer comes with a soft-close function to stop drawer slamming
Casters allow for easy mobility and can be locked for stability
Available in black, gray, white, and industrial style color options that match UPLIFT Desk frames perfectly
Specifications
| | |
| --- | --- |
| Overall dimensions | 15.75" W x 19.75" D x 24.5" H (with casters) |
| Weight | 51.4 lbs |
| Warranty | 7 years |
F.A.Q.
Why would one need a file cabinet?

If you have a buildup of desktop items that you rarely use or if you work at a standing desk without any storage, you could do well with a handy file cabinet that fits right under or next to your desk, right where you need it.

Does this come in any color options?

At this time, this comes with three powder-coated color choices - black, gray, and white.

How is this "secure"?

We love the 3-Drawer File Cabinet because of its super secure, locking drawers. Hold valuables, store your purse, and keep sensitive documents locked away in one easy-to-reach spot.

What will this hold?

We're glad you asked! "What won't this hold?" is a more fitting question. Paper (legal and letter), folders, snacks, purses, photos, décor - you name it! You can fit it all within the three handy drawers on this mobile file cabinet.

Does this come with file holders or bars?

Yes, this file cabinet holds both letter and legal sized paper, and comes with removable hanging folder bars that can be inserted into the bottom drawer to adapt it to hold your folders.

Do I have to assemble anything myself?

Getting your cabinet assembled and set up is easy, all you have to do is attach the casters to the cabinet. Your box will come with a collection of screws and a small wrench for the job, which allow you to secure your wheels on tightly. Most users complete this step in just a few minutes.
Color
The 3-Drawer File Cabinet by UPLIFT Desk is available in three color choices: black, gray, and white. This mobile storage unit fits in well with the color scheme of your UPLIFT Desk. Store it under your UPLIFT Desk and banish desktop clutter for good.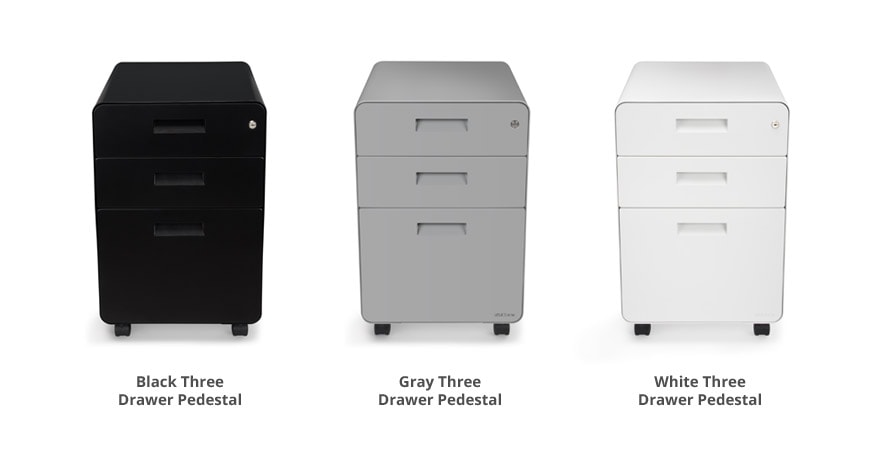 Expedited Production
Get your accessories shipped to you quicker by adding our expedited production option.
Order your desk by 3 pm Central on a business day and we guarantee your order will ship the same day. If placed after this time, your desk is guaranteed to ship the following business day.
If your selected item is not in stock, it will ship per the above guidelines as soon as it arrives.
This product comes standard with a 7-year limited warranty.
Return Information
We offer a 30-day trial on all single-item UPLIFT Desk brand orders, with the exception of solid wood and custom laminate desktops. If for any reason you're not satisfied, return the item with no outbound shipping or restocking fees.
Return windows close 30 days after you receive your item. You are responsible for obtaining a Return Merchandise Authorization (RMA) within this time.
All items must be disassembled and returned in "Like new" condition in their original factory packaging. Items not returned in this condition may be subject to additional fees. You are responsible for return shipping costs.
To start a return, or to view the full returns policy, click here.