Features
Dynamic range of motion promotes frequent activity
Center dip and round seat cushion reduces pressure
Rock, spin, and tilt on a 360-degree seat
Lightweight and easy to move
Textured mesh fabric for breathability
Expansive base adds stability
Supports up to 220 lbs
Tilt angle for this seat is 10 degrees per side, left or right or front or back
E3 Donut Stool
Searching for the missing piece to complete your ergonomic workstation? The E3 Donut Stool is fun supplemental office seating that gets you out of your office chair and into more active perching positions. Sitting is a necessity when you have a desk job, but sitting still too long can affect your health. Give yourself seating options by incorporating a sit stand stool into your daily routine. The E3 Donut will give you the freedom to lean, shift, and stretch out when you're feeling a little more energetic. And the cushion's unique "donut" shape and center divot provide relief for your lower back and legs that can be positioned as you need it. Energize your day, improve your circulation, and enjoy a more active lifestyle in the office.
Don't Sit Still
The Donut's dynamic seat will prompt you into more active sitting before you know it. One amazing feature of this stool is its pivot point, located underneath the seat. The stool angles and tilts from this point, allowing you freedom of motion while keeping the base flat on the ground. It adjusts as you do, engaging your back, legs, and core as you move. Varying your posture throughout the day will do wonders for your body, and the E3 Donut Stool works best when used in conjunction with a traditional, lumbar-supporting chair, so you can switch regularly as you feel the need.
Collaborate in Comfort
The E3 Donut Stool's seat is upholstered in mesh fabric that's both breathable and supportive. The mesh texture creates friction to keep you from any unwanted sliding while you're tilting and moving on the seat. Now take a seat; the cushion itself boasts a curved edge and the pronounced center dip that gives the Donut its name. These features help to keep pressure off your glutes and tailbone, allowing you to maintain optimal circulation. Lastly, collaborate comfortably with your visiting colleagues; the swivel seat rotates a full 360 degrees so you don't have to twist awkwardly to talk to your coworkers.
Seating Anywhere
Don't confine active seating to the office. At just over 10 lbs, the E3 is lightweight for easy portability. Bring it into the kitchen or living room as spare seating. With an extensive height range of 24.2" - 30.1", even shorter users will find it a great fit at the table or bar. You can take advantage of the Donut's active support wherever you go!
Specifications
| | |
| --- | --- |
| Seat diameter | 14" |
| Base diameter | 15.25" |
| Height adjustment | 24.7" - 30.6" H |
| Recommended user heights | 5'1" to 6'3" |
| Weight capacity | 220 lb |
| Fire safety | CA117 |
| Seat pivot | 360 degrees |
| Product weight | 10.75 lbs |
| Warranty | 15 year |
| Shipping dimensions | 15.7" L x 8.3" W x 16.5" H, 13 lb |
F.A.Q.
Why do I need a sit stand stool?

Because an ergonomic chair is only half of a solution. A soft cushion and lumbar support are incredibly important, but ergonomists also recommend that you change your posture regularly throughout the day. That means standing up. If you find yourself getting tired while standing, that's where a good stool comes in. Lean or perch on an active stool while you're on your feet, to help you engage your legs while taking a little pressure off them by perching on a supportive seat.

Does this stool work with a height adjustable desk? What is its height range?

Yes, the E3 Donut Stool by UPLIFT Desk is the perfect companion to use with your adjustable height desk. This stool adjusts from 24.2" to 30.1", making it suitable for a wide range of users and sit-stand desks.

Is this stool too short for me?

As long as you are under 6'3" tall, this stool should be a good fit for you. It is designed to be comfortable for most people.

Can I use this instead of a regular chair?

We generally recommend using sit stand stools in conjunction with a normal office chair. Traditional chairs offer back and lumbar support that stools generally do not. Use the E3 Donut Stool to work a little activity into your day, and settle back into more standard seating when you get tired.

Is the Donut Stool good for children?

These stills are designed for users from 5'1" to 6'3", so depending on their height, this stool might work well for middle school and high school aged children. Most kids are likely to find the Donut a little bit tall, however. If you're looking for a sit stand solution for one of your little ones, check out our children's stools.

What is the tilt angle of the seat on this stool?

The tilt angle is 10 degrees per side, left or right.
Color
The E3 Donut Stool comes with a black base and your choice of two fabric color choices: red or gray.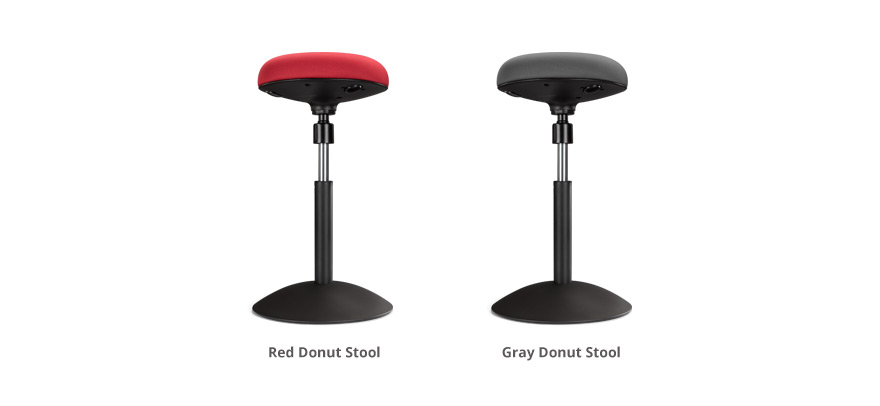 Expedited Production
Get your accessories shipped to you quicker by adding our expedited production option.
Order your desk by 3 pm Central on a business day and we guarantee your order will ship the same day. If placed after this time, your desk is guaranteed to ship the following business day.
If your selected item is not in stock, it will ship per the above guidelines as soon as it arrives.
LOVE this stool. Perfect with my UpLift desk and walking under desk treadmill. Chair took up too much space and this tucks out of the way. Good for sitting or stand-ish. Nice thick and firm cushion. Easy to put together, well packed. light enough to move around and carry as needed to another space. very happy with it. Thanks Andy for your help deciding.
UPLIFT Desk Warranty Policy
We stand firmly behind the quality of our products. All UPLIFT Desk products come with a 15 Year Warranty, visit the UPLIFT Desk Warranty page for the full policy.
Return Policy
Free Returns with Free Return Shipping within 30 days, visit the UPLIFT Desk Returns page for the full policy.