Goldtouch V2 Adjustable Keyboard for PC and Mac - GTU-0088
Goldtouch V2 Adjustable Keyboard for PC and Mac - GTU-0088
Choose Your Video
Goldtouch Ergonomic Keyboard Review

02:30

The New Simple, Part 1: Goldtouch Overview

01:04

The New Simple, Part 2: Setting up your Goldtouch Keyboard

01:00
When keying in comfort is the goal, you have keyboard options. Splitting, tenting, and adjusting makes work so much more efficient with the help of the V2 Adjustable Keyboard for PC and Mac by Goldtouch.
Soft touch keys and intuitive design round out the features of this ergonomic desk accessory, making the art of typing so much more enjoyable.
Features
Plug and Play for both PC and Mac
Adjustable horizontal "split" and vertical tenting reduces strain on hands, wrists, shoulders, and back
Soft, low-force key touch and key travel distance reduce risk of "bottoming out"
Patented lever locking system allows keyboard to adjust to fit a range of body types
Compact size brings mouse and other peripherals closer, reducing reach and shoulder abduction
Keys feature both Windows and Mac hotkey shortcuts
Compatible with Windows 2000, XP, Vista, Windows 7, Windows 8, and Windows 10, as well as Mac OS 10.4 and newer
Specifications
| | |
| --- | --- |
| Dimensions (closed) | 16.25" W x 6.75" D x 1.8" H |
| Weight | 3.3 lbs |
| Key travel distance | 4 mm, +/- 0.5mm |
| Average activation key force | 40g - 45g |
| Horizontal plane adjustment range | 0° - 30° |
| Vertical tenting adjustment range | 0° - 30° |
| USB cord | 6' |
| Warranty | 1 year |
Goldtouch V2 Adjustable Keyboard
Ergonomic Mouse
The right-handed Goldtouch Ergonomic Mouse is offered for $15.00 with this keyboard bundle (regularly $59.00). The popular Goldtouch Ergonomic Mouse treats and prevents repetitive stress injuries caused by traditional mice by decreasing hand fatigue and discomfort for users with its unique, contoured shape. The body of the mouse supports a neutral wrist angle of 20° - 30° as shown in the image below. The Goldtouch Mouse design also offers longer buttons with a low click force, allowing users with different sized hands to comfortably use the same mouse while minimizing the pressure needed to click the buttons. You may also choose the left handed version for a discounted price of $39.00.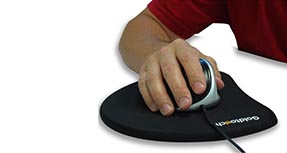 Goldtouch V2 Adjustable Keyboard
Free Ergonomic Mouse Pad
The Humanscale Ergonomic Mouse Pad provides both a smooth, soft mousing surface and puts a great ergonomic workstation reference right at your fingertips. Purchase the Goldtouch V2 Adjustable Keyboard for PC and Mac - GTU-0088 and receive an ergonomic mouse pad, absolutely free!
Product Reviews
Write Review
Showing reviews 1-5 of 7 | Next
1970's keys/buttons - Archaic.

Posted by Kyle on Jul 28th 2017

I was looking at this for my mac. Macs keyboard being completely flat and fully rectangular is a freaking torture device. It may fit some fancy pants designers notion of "stylish" but it literally sucks to work on all day. I do however love the very flat keys that are a soft touch and minimal travel as well as not clackity clacking through my typing. The keys on this are designed by an era gone by geek that just can't let go of DOS. Giant valley's between them, long, long travel and noisy. The fact that it doesn't separate into separate halves, independent of each other is another serious limitation.

Feels OK, could be better

Posted by Corinna on Sep 22nd 2014

I am a grad student with bad repetitive stress pain in forearms and fingers, and bought this keyboard to bring with me when I work in the archive. Portability is great, fits in a mid-sized messenger bag along with a tablet. It works well with both an Ipad or a MacBook Pro, although the connection drops occasionally. For my needs, the keyboard does not tent to a sharp enough angle. I work with the keyboard in my lap, but it would be much better with a wider range of vertical motion. Key height is also too shallow for me. My home split keyboard feels like a soft pillow in comparison. However, it seems like the best product on the market and definitely made my research possible this year.

missing wrist pads

Posted by David Fronval on Sep 21st 2014

It is a great keyboard,
However holding your fists up for a long time makes it tedious for the shoulders.
tall gel wrist pads help compensating this flaw.

Goldtouch V2 Adjustable Keyboard Mac - GTU-0088

Posted by Angela (The Netherlands) on Nov 12th 2013

The adjusrment is allright, good & perfect.
The keyboard is compatible with Mac OS X, also with the new upgrade Mac OS X Mavericks, but not every keys function are suported and have to do a study about which key and where.
But I am satisfied with this keyboard.
As far as I know this is the only ergonomic keyboard compatible with a Mac computer.

Only one problem

Posted by TomZ on Mar 30th 2013

It is adjustable so I can get it the way it feels best to me. The small keys are easy and smooth.

But the wider keys like shift, ctrl, enter, etc are somewhat sticky if you press them off center. They feel like they slip-grab-slip-grab as you depress if you are off center. I am working at learning to hit the center.

In spite of this criticism, it is still better than most keyboards that I have used.
Showing reviews 1-5 of 7 | Next
Warranty Information
This product comes standard with a 1-year warranty.
Return Information
Return windows close 30 days after you receive your item.
You are responsible for obtaining a Return Merchandise Authorization, the cost of shipping, and potential restocking fees, if the item has been opened.
To start a return, or to view the full returns policy, click here.
Your Cost
$96.00
List Price: $115.00
Ships Free (US48)
Ships the same business day
Are you sure you're finished customizing this product?
Bulk Deals
In many cases, we can offer bulk quantity discounts for purchases or smaller orders made over an extended period of time. Bulk deals are based on anticipated volume and the products you've selected. We can also provide you with brochures and swatches to assist in your purchasing decisions.
If you would like to request a quote, we can be reached via phone (800-531-3746), email (info@humansolution.com), or live chat from 8am - 7pm Monday - Friday and from 10am - 6pm Saturday.
Swatch Request Form
Sending....
Thank You!
Please allow 1-3 weeks for delivery.