Effective 11/15/2021, Humanscale will require a signature upon delivery for all FedEx shipments.
The Humanscale CPU555 CPU Holder has been discontinued. For a similar product, please visit our sister site UPLIFTDesk.com and view the CPU Holders page.
Our durable and reliable Humanscale CPU555 CPU Holder keeps your computer and all of its data safe and where you need it. It easily accommodates a wide range of CPU sizes, from as small as 3'' wide by 12'' high, up to 9.5" wide and 22" high. Combine that with its impressive 70 pound weight capacity, and you'll see why this is a favorite of gamers who need to safely mount larger gaming PCs.
Secure your precious cargo on your under-desk for smooth sitting to standing transitions every time. Keep your data off the floor and protected from accidents like CPU tip overs and floods with one handy desk accessory.
It comes with the added bonus of easy access to your CPU's ports, cables, and drives and stores out of sight when not in use.
Features
Adjusts to fit CPUs 3" to 9.5" wide and 12" to 22" tall
Made from cold-rolled, powder-coated steel
Designed to easily support CPUs weighing up to 70 lbs
Slides smoothly on nylon glides on 16" track using easy grasp handle
Rotates a full 360° for complete access to cables and ports
Remove CPU easily without tools using the optional quick track front bracket
Optional security features available to reduce theft of your hard drive, memory, processors and other computer components - security nuts and screws can only be removed with special tools
Specifications
| | |
| --- | --- |
| Required CPU width | 3" - 9.5" W |
| Required CPU height | 12" - 20" H |
| Weight Limit | 70 lbs |
| Color | Black |
| Warranty | Lifetime Warranty |
Humanscale CPU555 CPU Holder
Quick Track
The Quick Track for the Humanscale CPU55 allows for easy removal of your CPU holder with no need for tools. This is a great option for IT professionals that need to be able to swap CPU's quickly in the field. The Quick track comes in three depths to fit the depth of your desk:
11'' track length
16'' track length
22'' track length
Humanscale CPU555 CPU Holder
Security Feature
The additional security feature locks your CPU in place to prevent theft or tampering.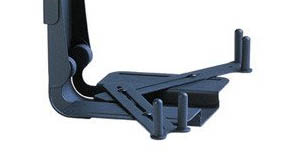 Heavy duty, durable, secure

Mounts very securely to the underside of your desk, fits very large towers, durable construction.

Best Gamer (large) PC desk mount there is! :-D

Love this thing! It fits my huge PC tower and it frees up space on top of my desk and below it. It also makes my keyboard, mouse, and monitor cables and cable management easy to deal with. I love that it keeps my PC off the ground and improves case airflow. I love that you can rotate the PC 360 degrees and also push or pull it along the track. Slides pretty easily.

My desk is a four leg and I had other things like cable management tray, headphone hook, and monitor mount mounted to the underside of desk so even though my OCD didn't like that it wasn't at a right angle, I forced myself to install this PC holder at an angle so that it fit and moved the PC to where I'd like it or further away from me if I was sitting. Really glad I did it this way for my particular setup. So just an idea for others.

This also holds my wife's smaller (regular size) PC case as well.

I highly recommend it!

Very strong, excellent quality just like all the other products from The Human
Solution.

My gigantic alienware town unit is hanging from this thing. The cpu holder is BOMBER strong. It it adjusts to very large cpus.
Warranty Policy
Visit our Warranty page for the warranty policy for this particular product.
Return Policy
Visit our Returns page for the return policy for this particular product.