The much-loved Humanscale Diffrient World Chair is now available with a "quick ship" option, giving you an ergonomic seating solution when you need it.
This chair comes in your choice of fabric and mesh combinations, a black frame, supremely-adjustable Duron arms, and a standard cylinder and casters to get you to that working sweet spot quicker. The Diffrient World Chair delivers supreme ergonomics in a sleek package that boasts some of the utmost in comfort-inducing features on the market today, making this a real solution to subpar seating in offices everywhere.
Features
Quick ship configuration features a black frame, standard cylinder and casters, adjustable Duron arms, and your choice of several quick ship fabric combinations
Weight-sensitive recline fully supports at all points without manual adjustments or locks
Tri-panel form sensing mesh back offers custom lumbar support sans adjusting levers and knobs
Upholstered seats provide padded support
Made in USA
The Design Story
Tailors take a three dimensional approach when designing men's suits, and that inspired Niels Diffrient to apply that same methodology. The result is the World chair, a minimal mesh task chair with a back that automatically conforms to the user. He collaborated with textile designer Elizabeth Whelan, to design a flexible but strong non-stretch mesh, so the chair's backrest takes on the shape of the sitter. The result is the Diffrient World chair, a task chair that is simple but beautiful, and supports the user instantly.
"If every chair was made the way the World Chair was, we would cut in half all the material used for task chairs."
Niels Diffrient, Designer
Specifications
| | |
| --- | --- |
| User weight rating | 300 lbs* |
| Chair weight | 27 lbs |
| Shipping weight | 38 lbs |
| Recycled content | 0.34 |
| Recyclable content | 0.97 |
| Warranty | 15 years |
Promotional Item
FREE Goldtouch Adjustable Keyboard GTN-0033
This keyboard's split design promotes a more natural and ergonomic typing position.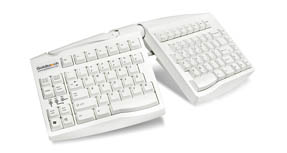 FREE UPLIFT Single Monitor Arm
Mount a monitor weighing between 4.5 lbs - 17.5 lbs, and adjust the height, depth or lateral position with easy fingertip adjustment.
FREE $100 gift certificate toward an UPLIFT Desk
There's no better time to make the switch to a height-adjustable desk! Gift certificate is good toward full two and three-leg UPLIFT Desks; excludes scratch and dent models. (Please note: There is a limit of one gift certificate or coupon per desk order.)
Back Mesh
The Humanscale Diffrient World Chair is available in a limited number of quick-ship configurations. The following mesh is available in three colors for quick shipment.
Monofilament Stripe
The luminous quality of each individual monofilament strand creates a translucent effect, while also providing strength and durability.
Fabric
Vellum - Grade 1
Constructed from a blend of nylon, Cordura and elastic yarn, this four-way stretch textile offers a pleasing texture, while providing the extreme durability required for long-term use.
Corde 4 - Grade 1
Corde 4 is high-performance nylon and polyurethane woven into a four-way stretch fabric. This fabric will move and stretch and is ideal for ergonomic chairs.
This product comes standard with a Limited 15-year warranty.
Return Information
You are responsible for obtaining a Return Merchandise Authorization, the cost of shipping, and potential restocking fees, if the item has been opened.
To start a return, or to view the full returns policy, click here.