Features
Take the pressure off your feet and stay active throughout your workday, with a sit-stand stool that makes switching between sitting and perching natural and easy
Get more motion into your day with 10 degrees of tilt in all directions from the base's center, and make collaboration easy with 360 degrees of seat rotation
Portable, lightweight frame and ergonomic handle add mobility
Reduce pressure on the back of your legs with the waterfall seat edge
Liven up your office with a variety of vibrant seat colors
Wide circular base gives you stability so you can tilt and swivel with confidence
Fast, tool-free assembly
Starling Stool by UPLIFT Desk
If you've been looking for more energy and more focus at work, you know that sitting all day isn't good for you, but standing all day wouldn't be comfortable either. A sit stand stool can help you find a middle ground, allowing you to switch between sitting, standing, and supported standing, known as "perching," throughout the day.
In addition to tilting to 10 degrees in any direction to take pressure off your feet, the Starling Stool aligns your spine into a neutral position to prevent the discomfort that comes from long sitting or standing with poor posture. Its waterfall seat edge won't impede circulation to your legs like other flat-front seats can, and the natural perching motion gently engages your back, legs, and core muscles for a healthier, more energized workday. The Starling Stool also swivels 360 degrees for collaboration with coworkers around you - or just to introduce a bit of fun motion into your day.
Swivel and Rock Out
Rock and tilt 10 degrees in any direction on the Starling Stool, and swivel 360 degrees from a pivot point at the base, for movement that will keep you focused and balanced. Collaborate with your colleagues beside and behind you with easy rotation. This comfortable side seat makes an excellent compliment to your lumbar-supporting office chair.
Soft Comfort Meets Cutting Edge Style
The Starling Stool's soft fabric seats come in a variety of colors to liven up your office decor. Choose the pop of color that best adds character to your space. If the high-contrast look isn't for you, that's okay! Classic gray is also available, for a dignified traditional office aesthetic.
Switch between sitting and perching throughout the day, using the Starling Stool's adjustable height to ensure you can always keep your feet on the ground - and your knees at right angles, not in your chest--keeping your core and your mind engaged. Rest your feet without having to noisily roll chairs around. And this seat is designed to keep you comfortable - its waterfall front prevents the stool from cutting off circulation to your legs, even if you sit on the edge.
Light and Portable
Need to stay focused and stretch your legs in a long meeting? Bring the Starling Stool with you to the conference room using the ergonomic handle on the back. Weighing in at only 11 lbs. 6 oz., it's a breeze to carry, and the flat circular base's wide surface area means you won't have to sacrifice stability for mobility.
Easy Assembly
Forget drills and complicated instructions. The Starling Stool is designed to assemble in just a matter of minutes, with no tools required. Get up and active in no time!
Specifications
| | |
| --- | --- |
| Weight capacity | 297.6 lb |
| Weight | 11.4 lb |
| Seat pivot | 360 degrees |
| Seat size | 14.9" W x 14.2" D |
| Seat height | 23.6" - 33.2" |
| Overall height | 24.5" - 34.1" |
| Overall width | 22.1" |
| Overall depth | 15.5" |
| Warranty | 15 year |
| Shipping dimensions | 16" L x 9" W x 20" H, 14 lb |
F.A.Q.
Can I adjust the height of my stool?

Yes you can! You can adjust the seat height of the Starling Stool from 23.6" - 33.2". Most users can sit or perch comfortably in this range.

"Perch"? What's that?

Perching is a supported standing position in which you rest your seat on the chair, but distribute some weight forward to your legs and feet. This is a natural position that encourages a neutral spine and a more open hip angle than ordinary sitting, helping relieve pressure on your hips and back, so you can feel better at the end of the workday.

But I can still sit on this stool, right?

You most certainly can! The Starling Stool is height adjustable, so you can lower it to sit with your feet on the ground, and pick it back up when you want to perch.

What colors can I get?

The Starling Stool is available in a selection of vibrant colors, including Myrtle Green, Orange, and Blue. If your office is more traditional, or you just have classic taste, try Brown or Gray to suit your decor.

Is the Starling Stool the only office chair I need?

The Starling Stool is quite comfortable, and you can both sit and perch in it, but it is not meant to fully replace your ergonomic office chair with full lumbar support. When sitting for several hours a day, most people require support for their backs to guard against aches and fatigue. Try one of our ergonomic office chairs to help with all day back support.
Brighten Up Your Office
Add a splash of color to your office with Myrtle Green, Brown, Gray, Orange, and Blue fabric options on your Starling Stool.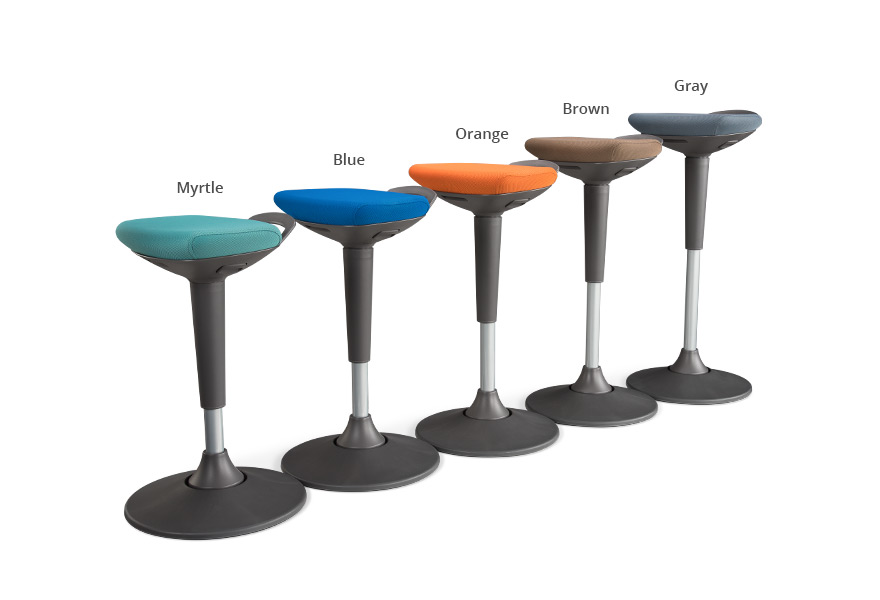 Expedited Production
Get your accessories shipped to you quicker by adding our expedited production option.
Order your desk by 3 pm Central on a business day and we guarantee your order will ship the same day. If placed after this time, your desk is guaranteed to ship the following business day.
If your selected item is not in stock, it will ship per the above guidelines as soon as it arrives.
My department was looking for a light stool that we could carry with us to someone's cubicle or even a meeting. I was first recommended a different stool, but then came across this one. It was easy to put together, I loved the color varieties to chose from and is super light. The stool is comfortable and easy to adjust to your needs. My department and myself LOVE this stool. In fact, other departments when they come by and use them love them too.

Quality product, meets expectations, is as advertised

I was hesitant to purchase this because I couldn't find any reviews (there has since been one other). Overall I'm very happy with this purchase. It was very easy to assemble which was a relief because I'm terrible at putting stuff together (10 minutes tops). The stool moves exactly as it does in the video (not sure the issue the other reviewer is having). I did quite a bit of research on this style of seating and a common theme is that people seem to want to fool themselves into thinking something like this will be as comfortable as a comfortable, traditional office chair (myself included). It's obviously not going to be the same but it's pretty comfortable. The seat has enough cushion to where my butt doesn't get sore (which I think is a common complaint on others). The nature of the style of seating will promote switching between sitting/standing throughout the day, which is kind of the idea. It has a lot of up and down range, I'm 6'1" and the top height is at least a few inches too tall for me (I'd guess it can accommodate up to 6'4" or 6'5" but note that's just a guess, I didn't measure). I'm also 225 lbs and I fit on it just fine. So yea, overall I'm really happy with this purchase. I don't usually write reviews but this product was well made and earned my review.

I might not know how to use this stool, could it be that I am not heavy enough?
So far I do not see the benefit of it vs. another simple stool: I cannot bend it like the video was showing, so I have to make a strong conscious effort to stay straight and use my abs, which I will do with a standard stool.
It is a nice object and not too present in a room so I will keep it in my home study room, but I wish I hadn't bought it for home. Because it is light and easy to move, also it is easy to modify its height, I am still pleased to have this fancy-used-as-conventional-stool for the office.
UPLIFT Desk Warranty Policy
We stand firmly behind the quality of our products. All UPLIFT Desk products come with a 15 Year Warranty, visit the UPLIFT Desk Warranty page for the full policy.
Return Policy
Free Returns with Free Return Shipping within 30 days, visit the UPLIFT Desk Returns page for the full policy.