Features
Height-adjustable LiveLumbar technology supports the lower back and is easy to fine-tune
Back tension can be locked in place while allowing for full-range motion
Seat depth is adjustable for maximum comfort, flexible seat edge relieves pressure
Standard armrests are fully adjustable by height, depth, and width
Available in a collection of different fabrics
Comes assembled and ready to use
The Amia Chair
If you're in search of a back-saving ergonomic chair with all of the necessary ergonomic features, look no further than the Amia.
The Steelcase Amia Chair boasts revolutionary LiveLumbar technology, which promotes a healthy posture by flexing with you as you move, delivering unequaled comfort simultaneously. Adjust the mechanism higher or lower to find that supportive sweet spot that keeps your back comfy and your mind happily productive.
This popular, affordable ergonomic chair also comes with an adjustable lumbar support pad, fully adjustable arms, intuitive seat depth adjustment, and supportive cushioning in the seat and back for all-around support you can customize to your needs.
Large, tall, petite - you'll feel right at home in this office desk chair. Designed to fit a surprisingly wide range of users, the Amia comes fully assembled and ready to use, freeing up time for more important work.

Free Ship, Free Return!
We're excited to announce the return of our Steelcase Free Ship, Free Return promotion.
Try your Steelcase products for thirty days -- if you're not completely satisfied, return them for free. There's no restocking fee, and we'll send you a pre-paid FedEx shipping label. This is a great way to try Steelcase products risk-free for thirty days! Some restrictions apply. See below for full details.
We're a Steelcase Authorized Retailer
In your search for the ideal ergonomic gear to add to your office, you might come across Steelcase products that seem cheaper than they should be. Most of these office chairs and accessories are refurbished, giving you a not-so-new seating solution that can be open to mechanical flaws and defects sooner than a new Steelcase chair might be.
Human Solution is an authorized Steelcase retailer, delivering to you the newest and most up-to-date ergo-friendly products from Steelcase, featuring full manufacturer warranties, protecting them from wear and tear, and giving you recourse if something ever does go wrong with your office chair, ergonomic desk, task lighting, or monitor arm in the future. We stand by our products and will work tirelessly to help you find the perfect ergonomic product to assist you in working better.
Specifications
Overall chair height
37.25" - 42.5" H
Seat height
Standard: 16" - 21" H
Tall: 17" - 24" H
Back height from seat
23.38" H
Seat width
19.25" W
Seat Depth
15.5"- 18.5" D
Back width
18" W
Arm Width
13" - 19.5" W
Weight Limit
400 lbs.
Warranty
Limited Lifetime
F.A.Q.
The Leap and Amia seem pretty similar. Should I spend more on the Leap?

The Leap and Amia do share many great traits. The Leap provides a slightly more supportive backrest; however, many customers (and THS employees) actually prefer the Amia Ergonomic Chair. You really can't go wrong with either, but the Amia is a very comfortable chair at a great price.

How much assembly is required?

Your Steelcase Amia will come to you fully assembled.

Does this chair come with a headrest?

The Steelcase Amia is not available with a headrest.

Is the Amia suitable for shorter people?

Yes, the Amia will fit both short and tall users comfortably! One associate here is 5'1" and she said the Amia is the most comfortable chair she has ever sat in!

How should I clean my Amia chair?

If you spill anything on your chair, soak up the stain quickly before it sets. Use upholstery cleaner for a water-based stain or dry cleaning solution for an oil-based stain. Leather is the hardiest upholstery option, as most stains will wipe up with mild soap and a damp cloth.

How does the 30-day guarantee work?

If you don't like your Amia for any reason, you can return it to Steelcase hassle-free within the first 30 days. You won't even have to pay for shipping. Just contact our Support Team to set up the return.
Promotional Item
FREE UPLIFT Single Monitor Arm
Mount a monitor weighing between 4.5 lbs - 17.5 lbs, and adjust the height, depth or lateral position with easy fingertip adjustment.
Frame Color
The Steelcase Amia chair is available in your choice of Black, Platinum, or Platinum with Merle frames, with or without a polished aluminum base.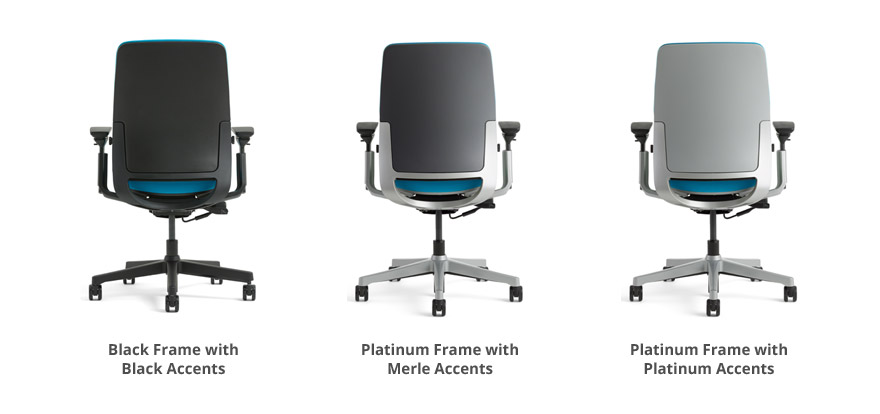 Fabric
Buzz2 - Grade 1
Buzz2 is Steelcase's standard fabric, and is composed of antimony free polyester. This material features an abrasion rating of 100,000 double rubs.
Connect - Grade 2
Cogent: Connect is a bold knit fabric available in many colors. This fabric choice is environmentally friendly as it is composed of antimony free polyester. This durable fabric offers an abrasion rating of 100,000 double rubs.
Chainmail - Grade 2
Chainmail is composed of 100% Post-Consumer Recycled Polyester and features a dobby weave. This textured fabric offers an abrasion rating of 100,000 double rubs.
Leather
Steelcase leather is a classic choice for your executive chair. This 100% leather hides are piece dyed in mute color choices. Though the leather is not as soft as Elmosoft leather, it is still a great choice.
Elmosoft Leather
Elmosoft leather is 100% leather, and the softest of the leather options. The piece dyed hides are available in a wide array of colors. Elmosoft leather offers a soft, buttery feel and is a great addition to your executive chair.
Base Color
Choose a standard base to match the frame color of your Steelcase Amia chair, or upgrade to a polished aluminum base.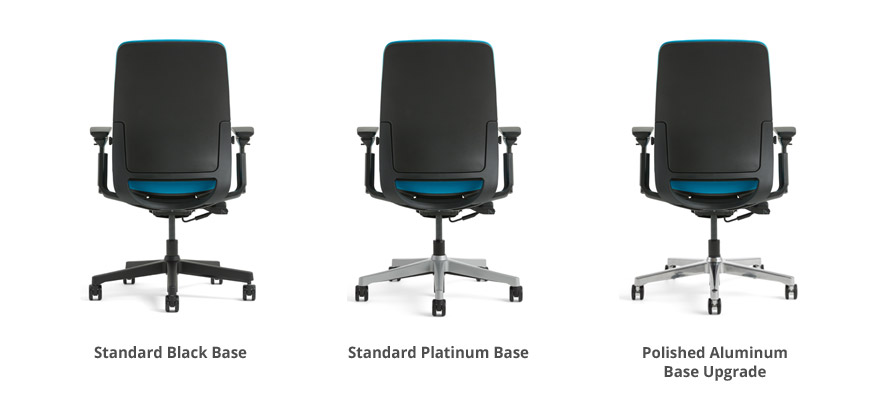 Arms
The Steelcase Amia Chair is available with or without arms. We highly recommend Steelcase arms because they're some of the best on the market. The highly adjustable arms move in and out, forward and back, up and down and pivot, so you can find the exact position for optimal support and comfort.
Seat Height
The Steelcase Amia Chair is available in two seat heights, standard or tall.
| | |
| --- | --- |
| Standard | 16" - 21" H |
| Tall | 17" - 24" H |
Casters
Select hard casters for carpeted floors or soft casters for hard floors, including concrete and tile.
Pluses: The durability is great. Loved the 4-way arm adjustments. Back support good. However, I had trouble getting the chair to fit me. At 5'2", the seat and arm rests did not go low enough. (The ergonomic tool on this site recommends a seat at 15", and this one only goes down to 16"). The arm rests are also short, so I didn't feel supported. After just one day in the chair, I had terrible wrist/hand pain. The fabric ran hot, and the cushion was hard. I offered it to my husband (5'10"), and he didn't like the chair enough to keep it either. He wanted a firmer back, but that's his personal preference. If you're an "average" sized person, you might like this chair. I don't recommend it for petites though.

Replaced an Aeron chair with this and love it!

I have had an Aeron chair in my home office for 16 years and have sat it in it every day, from 2 hours to 14. That's a great testimonial to it's quality and durability. However, over the past year I have had issues with "mouse arm" resulting in tendonitis and rotator cuff injury and a sore lower back to boot - all from bad ergonomics. My Aeron chair, perhaps due to a bad cylinder, was too low, but 16 years was enough and I wanted something new. Meanwhile I got a new chair at work. It didn't look like much, but I could not help noticing how great it felt and that, in contrast to home, I felt so much better at work. As I started my shopping research, I noticed quite a few super fancy chairs like the Aeron, but then took a closer look at my work chair - it was a Steelcase Amia! While the Human Solutions rep on the phone seemed to push me to a Leap, the reviews were a little mixed, the cost difference significant, and even Human Solutions has a published write up, from the CEO, comparing the two with a slight nod to the Amia. So I ordered it, but it is a little bit fancier than my work chair including the option for more height adjustment, platinum frame and an upgrade in fabric (Cogent). Within minutes of using this at home I felt relief due to better options in adjustment and positioning. Maybe I would like the Leap too, but since I already knew I liked this chair, why not go with it? Some of you may be tempted in thinking a great chair has to look super cool and, like the Aeron, be a candidate for a museum piece of innovative industrial design (that's where my head was at), but please try to step back and think about what is most important - your comfort. With a 30 day no charge and no shipping return policy on Steelcase, this chair should be near the top of the list of things to try.

Pros:
Adjustment options and simplicity (I still don't fully understand my Aeron adjustments after 16 years!!!)
Simple clean look
Comfort
Swivels like a dream - smooth as silk
Cost, though this is relative compared to $1000+ plus chairs

Cons: Perhaps some concern about the long term durability of the fabric and arm padding, but I could be wrong.
Arm rests could be a little longer, but this is a quibble

I LOVE THIS CHAIR! I work from home and had been using a mid-level office chair from Staples. I was always reluctant to spend the money on a true ergonomic chair. I finally pulled the trigger and I am so glad that I did. You definitely get what you pay for. This Amia chair is awesome and I wish I would have bought it sooner. I am comfortable and definitely seated in a better position at my desk.

First chair in my life that is this comfortable for me

I am petite and in my late 60's. How I wish I had come across this Amia chair before! There are no words to express the comfort this chair has provided for me since I bought it. I highly recommend it. Great company to work with too, when I called they were very helpful.

I am loving this chair. I am in my chair 75% of the day. The other staff members are hoping to get new chairs now that this one has arrived. I find I still need a footrest in order to get in to a good ergonomic position with my desk, chair and floor. I love the back position, the arm position and the seat. So excited I didn't have to put it together as well! I am very happy with this purchase.

not small enough for the very small under 5' tall person

I am very disappointed in the seat depth and chair height adjustment--I am 4'10" and have chronic low back issues from sitting in chairs that are too big for me, which is why I ordered this chair. I can't put my feet flat on the ground. Same problem with the seat depth. The lumbar adjustable feature in the back is nice, which is why I give this 3 stars, but overall I would NOT recommend this for anyone my height, particularly if you have lumbar issues.

The padding on the seat is not good enough if you plan to sit for hours straight. But they say it is not healthy to sit for hours straight, so maybe that's a good thing. Overall I give it four out of five stars for comfort.

I have suffered from lower back and sciatic nerve issues for years. I was to the point where I was taking vicodin for a while to see if that'd help. At the same time I started researching new office chairs, and I came across the usual suspects (Herman Miller, Steelcase, Humanscale). I was lucky to be able to test-lounge on both the Leap and Amia at a just-opened showroom in my area. I can agree with some other reviewers that have said the Amia is just a tad more comfortable than the Leap. Sure, the Amia's back isn't as flexible, but I do not notice any ill-effects from this. I negotiated a great price during an Amia sale and I couldn't be happier with the result. For those of you who have back issues and previously wouldn't have thought of spending $500+ on an office chair... I was like you. But I can tell you, it's the best investment I've ever made. I don't have back or nerve issues anymore and my posture is 10 times better now, even when I am sitting somewhere other than my Amia. You won't be disappointed with this chair.

This chair is turning out to be a very good investment for me. It is very comfortable, has good adjustability and arrived completely assembled. Anybody who spends at least a couple hours a day (probably most of us) sitting in their chair, should look into getting a nice ergonomic chair such as this. I'm certainly glad I did, and so are my back and legs. The options for this chair made available from the human solution allow you to fit this chair to your style preferences and/or surroundings. Most people don't mention one of the best things about it... Made in the U.S.
This product comes standard with a limited lifetime warranty.
Return Information
Return windows close 30 days after you receive your item.
To start a return, or to view the full returns policy, click here.