When your desk needs complete wire management and a little modesty under the top, the Ultimate Wire Management Kit from UPLIFT Desk checks off the boxes necessary to create the fully functional and organized workstation you deserve.
With this kit you'll get it all: a 29-inch wide modesty panel that attaches to the back of your desk, which hides and shelters cords while offering you increased privacy underneath your desk. Six-outlet surge-protecting power strip, desk-to-wall cord organizer, under-desk hook, cable management clips, screw-in cable mounts with reusable cable ties and cable mounts round out the kit, giving you tools to help organize your cords and cables, giving them a home where they won't get snagged when you raise and lower your desk. Add the clamp-on surge protector for steady clamp-on power that won't leave you with fried electronics.
Don't settle for a desk that doesn't aid you in achieving your best work. A more organized workspace is an easier-to-work-in workspace; give the UPLIFT Ultimate Wire Management Kit a try for better desk organization.
Features
Organizes and reroutes cables at your desk
Comes with a 29" Modesty Panel with Wire Management, and everything included in the Basic Wire Management Kit - a 6-outlet power strip with surge protection, cord organizer, under-desk hook, cable management clips, reusable cable ties, screw-in cable mounts, and cable mounts
Option to add on a clamp-on surge protector with 2 USB ports
This accessory is also compatible with non-UPLIFT desks
Specifications
| | |
| --- | --- |
| Modesty Panel with Wire Management dimensions | 29.5" W x 15" H |
| Cord spiral length | 5' L |
| Surge protector power strip cord length | 15' L |
| Warranty | 5 years |
F.A.Q.
How does this kit help me organize my desk?

The Ultimate Wire Management Kit by UPLIFT Desk provides you with handy tools that are designed to optimally organize your desktop. Route your cords, hang your cables and headphones, and tuck all your wires away neatly within the 29" wide Modesty Panel with Wire Management.

How is this the "ultimate" wire management kit?

The ergonomic experts at UPLIFT Desk took the best in desktop organizational accessories and combined them in this kit! Don't shop around for all of these things separately - let us give you an affordable all-in-one solution that helps you keep your desk clean and copacetic.

How is this different from the Basic Wire Management Kit by UPLIFT Desk?

In order to optimize your storage, UPLIFT Desk added the 29" Modesty Panel with Wire Management to offer even more places to store your cables so they're sheltered and tucked away from view. An added bonus? It also gives you a little more privacy under your desktop.

Will this fit on my desk?

Yes, the Ultimate Wire Management Kit was designed to fit between the standard grommet holes on UPLIFT desks, and will work with most other desks that are at least 29" wide.

Can I use this with other desks?

Yes, this accessory is compatible with UPLIFT and non-UPLIFT desks.
Clamp-on Surge Protector
Add the UPLIFT Clamp-on Surge Protector to your Ultimate Wire Management Kit for ultimate power at your desk. The surge protector clamps on to desks that are up to 1 3/8" thick and features six outlets and two USB ports. If you have a thicker desk, such as the UPLIFT Solid Wood Desk, then you can conveniently clamp the surge protector to the UPLIFT frame.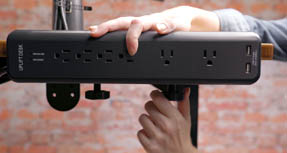 Expedited Production
Receive your accessories even sooner! Just add our expedited production option to your order.
Place your order by 3 pm Central on a business day and we guarantee to start production and ship your order the same day. If placed after 3 pm, your order is guaranteed to ship the following business day.
Note: Expedited production is different from expedited shipping. If you're interested in adding expedited shipping to your order, please contact us directly.
This product comes standard with a 1-year limited warranty.
Return Information
We offer a 30-day trial on all single-item UPLIFT Desk brand orders, with the exception of solid wood and custom laminate desktops. If for any reason you're not satisfied, return the item with no outbound shipping or restocking fees.
Return windows close 30 days after you receive your item. You are responsible for obtaining a Return Merchandise Authorization (RMA) within this time.
All items must be disassembled and returned in "Like new" condition in their original factory packaging. Items not returned in this condition may be subject to additional fees. You are responsible for return shipping costs.
To start a return, or to view the full returns policy, click here.