It's time to rethink the concept of what an ergonomic office chair should be. The stylish and ergonomic UPLIFT Motion Stool has what your body needs for any type of perch-standing at your desk.
The functional, weighted base keeps the stool standing tall when not in use, while rubber treading on the underside of the base won't slip as you sit, stand, perch, or tilt. The UPLIFT Motion Stool is just what you need to add to your sit-stand desk to keep you motivated throughout the day.
This isn't your average sit-stand stool. Soft fabric on the seat gives you maximum breathability for even the warmest environments, while the padded convex cushion with waterfall edges reduces pressure points all over.
The Motion Stool by UPLIFT Desk is a winning combination your body will appreciate from the first perch.
Features
Easy-to-push buttons allow for 10" of height adjustment, for a fully adjustable sit-stand stool
Weighted base with center of gravity stability encourages a full range of motion, from active sitting to perching
Molded rubber base provides friction throughout movement so you won't slip
Waterfall seat cushion alleviates pressure, allows maximum flexibility, and promotes circulation
Gas spring raises and lowers the seat and is covered with protective epoxy powder coating
Black shell body is a molded polypropylene material
Self-balancing stool returns to upright position after use
Recommended for users 5'1" and taller; more petite users can add a footrest for a better fit
Specifications
| | |
| --- | --- |
| Weight capacity | 300 lb |
| Dimensions | 25" - 35" H x 13" W |
| Height adjustment | 25" - 35" H |
| Weight | 23 lb |
| Fire safety | TB117-2013 compliant |
| Leg pivot | 360 degrees |
| Warranty | 15 years |
| Shipping dimensions | 15" L x 13" W x 21" H, 26 lb |
F.A.Q.
Is the Motion Stool any different from the E7?

Yes. UPLIFT Desk's first ergonomic stool, the Motion Stool lets you move more when you're seated, and even allows you to swivel and sit at an angle, or "perch". Enjoy the health benefits you get from moving more throughout the day, all while finishing up your latest task. The Motion Stool comes in two color options, blue and black, where the E7 comes in black only. If you need help choosing which chair is right for you, please check out our chair comparison chart for all of the features.

Can I use this at low or high desk heights?

The 10" height range allows you to use the stool while seated or standing. At its lowest setting, the stool will be 23.5" high. When you want to move to standing, you can "perch" on your stool by positioning it in a tripod position with your legs and leaning back into it.

Is this like one of those balance balls?

It is sort of like a balance ball but it is an actual chair and it won't pop.

Will this give my core a workout?

The UPLIFT Desk Motion Stool will better engage your core muscles by allowing you to move through different positions at your standing height desk. However, it is not meant to function like a core strengthening exercise ball. You must have your feet firmly planted on the floor to safely use the Motion Stool.

Can this be used instead of a chair?

While the UPLIFT Desk Motion Stool is a comfortable addition to a sit/stand workstation, it does not lower as far as most chairs, and does not offer back or lumbar support. We do not recommend it as a full-time replacement for an office chair.

Is it easy to lift and carry around?

While you can lift and carry the stool, it does weigh 23 lbs because of its sturdy base.

Is this chair suitable for children?

No, the stool does not go low enough to be safely used by anyone under 5 feet tall.

If I'm 6'2" can I still perch on this?

Of course you can! The UPLIFT Desk Motion Stool goes up to 33.5" at its highest setting, making it a great stool for you to perch on.

Do these stools come in other colors besides black and blue?

Right now they are only available in black and blue, but we will be expanding our color selections in the future so stay tuned!

How comfortable is the cushion on the stool?

The UPLIFT Desk Motion Stool has more padding than its competitors so it is arguably the most comfortable stool of its type on the market. Like anything, sitting for a long period of time could cause you some discomfort. One of the great things about this stool is that it will move with you so that you can change positions more often to stay comfortable.

Why is this called a motion stool?

Not only does this stool work at a seated and a standing height desk, it will also move with you thanks to the convex base.

Will this work for shorter users?

Users under 5'1" tall can still use this stool! But we recommend adding a footrest to your setup in order to make this stool more suitable to your smaller frame. In addition, you may not be able to use the stool in a seated position because the lowest height setting is 23.5" high.

Is this stool supportive?

The cushion on the UPLIFT Desk Motion Stool is comfortable and supportive. However, the stool lacks a back rest, armrests, or lumbar support so it is not a substitute for an office chair. This is meant to complement your office chair, not replace it!

Will the Motion Stool tip over while I am perched on it?

The base of the UPLIFT Desk Motion Stool is weighted so that it will remain upright while you are seated (and even after you are done using the stool!) However, if you try to balance on the stool or lean too far in one direction, you may lose your balance.

Is there any chance of the UPLIFT Desk Motion Stool coming out from under me when I sit down?


You can't just plop down on this stool as you could your couch. Instead, try to guide the stool under your bottom as you sit down. Your feet should remain firmly planted on the ground whenever you are using the stool.

Is this only meant for hard floors, or will it work on carpet?

The tread on the bottom of the UPLIFT Desk Motion Stool is meant to grip a hard floor! This is not meant for plush carpet.

Is the fabric on the seat comfortable?

Yes, the mesh fabric is breathable so that you will stay cool while perching!

Can I use this all day?

No, this stool is meant to break up the monotony of sitting or standing at your desk all day. Just like sitting in your office chair, sitting on the stool for long stretches of time will cause fatigue.
Fabric Color
The UPLIFT Motion Stool features a breathable fabric seat in your choice of black or blue.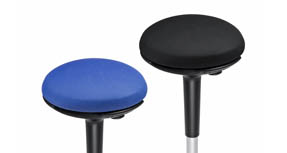 Expedited Production
Get your accessories shipped to you quicker by adding our expedited production option.
Order your desk by 3 pm Central on a business day and we guarantee your order will ship the same day. If placed after this time, your desk is guaranteed to ship the following business day.
If your selected item is not in stock, it will ship per the above guidelines as soon as it arrives.
Great for encouraging posture and movement

Got one for myself for home so my hubby could see it live and try it out. He often sits hunched at his laptop at the breakfast bar for hours without moving. He's completely resistant to suggestions to improve his posture or get up and move. This stool made a huge difference. He intuitively figured out how it encourages movement and likes the ability to bounce, lean, rock and swivel effortlessly. Now I don't have to nag him about moving, he does it on his own because it feels good. The black and steel was attractive enough he agreed to getting several for our breakfast bar. Adjustable high also helps our guests who range from 5'3" to 6'2".

Best thing since Sliced Bread

This stool is versatile and once I got one, they have started popping up all over the office.

Love it. 'nough said.

I'd give it 10 stars!

I got my Motion Stool yesterday and I already love it! I've had an adjustable desk for years and wanted to spend more time up, but with less stress on my feet and knees. This little baby will do the trick. It was super-easy to assemble, and the quality is impressive. I am 4'11" and this stool offers comfortable support with my desk at any height. I can even sit atop it with a footrest and it makes me keep my core engaged and my posture in check. Many of my coworkers have adjustable desks and I will be recommending this fabulous little stool to them. Thanks, Uplift, for a wonderful product.

We ordered this sit/stand stool to use with our antique standing desk. It arrived incredibly quickly and is much heavier duty than it looks. It is great---we love it. The bottom is "sticky" and keeps you feeling secure. The seat is super comfortable, no matter how much of your bum is on it. The adjustable height is perfect for our tall desk. We love it and wish we had ordered it sooner. Top quality product!!!

Perfect for variable height desk

I've found this stool a perfect complement to my variable height standing desk. When I get tired of standing, I can adjust this stool to various heights to support my weight from just leaning back on it in standing position to partly bent to fully bent legs in sitting position. It adjusts easily and pivots easily and has a slight spring in the support pole in addition to the soft cushion top. The round bottom allows for rocking in different directions if you choose to move a bit while sitting or it sits still too if you want it to. Seems well built. Highly recommended.

I just received my UPLIFT motion stool today. It is well made and very sturdy. Assembly was very easy as well. However, the stool it self is not very comfortable. I am 5'2 and the stool does not go low enough for me for my legs to touch the ground comfortably without tilting the stool. Unfortunately one can only be in a titling position for so long before the butt starts to hurt. I was really looking forward to receiving the stool but I have to say, I am disappointed.

I've just returned to order two more of these stools. Our employees with stand-up desks love that they can lean on this when they want a little break from standing--you are half-standing when used for leaning--kind of like a leaning post.

Pros:
great for stand-up desks
easy to assemble
remarkably stable
comfortable
adjustable for everyone

Nice stool if you like something that pivots

I tried this at an expo and it pivots back and forth. I found it nice to be able to sit forward with the stool in a raised position. It's kind of like a standing position but you're resting on your rear a bit to relieve some pressure on your feet.

Pros: Good quality and price
Cons: Limited color options
UPLIFT Desk Warranty Policy
We stand firmly behind the quality of our products. All UPLIFT Desk products come with a 15 Year Warranty, visit the UPLIFT Desk Warranty page for the full policy.
Return Policy
Free Returns with Free Return Shipping within 30 days, visit the UPLIFT Desk Returns page for the full policy.