Enjoy keyboarding made simple. The Workrite Standard Keyboard Tray allows your keyboard and mouse to sit on the same level, giving you more freedom to switch mousing sides when you feel like it.
In-line mousing surface on the platform gives you the ability to quickly reverse the position of your keyboard and mouse, which is extremely handy for multiple-use stations or for users who switch up hands throughout the day.
Your keyboard and mouse will be at home on the same surface, simplifying your desk setup. A mouse trap keeps mice on the platform and can be moved to either side when you decide to change mousing hands.
The Workrite Standard Keyboard Tray 2151 is an all-in-one ergonomic accessory that can improve your keyboarding comfort levels exponentially.
Features
Height range: flush to 6" below the worksurface
360° swivel offers ease of positioning and storage
Tilt range: -15° to +10°, and the system includes a tilt indicator gauge for accurate tilt adjustment
Pinnacle 2 Value Arm with 17" or 22" nylon glide track to accommodate varying desk depths
No-knob, no-lever Lift-N-Lock provides for quick and easy platform placement
Low profile track and mechanism for maximum knee clearance while offering smooth and consistent operation
Optional no-positive-tilt kit prevents users from adjusting keyboard platform incorrectly
Specifications
| | |
| --- | --- |
| Keyboard arm | Pinnacle 2 arm with 17" or 22" ball bearing track |
| Height range | Flush to 6" below work surface |
| Tilt range | -15° to +10° |
| Swivel range | 360° |
Keyboard Tray Palm Support
All WorkRite palm rests are covered with LeatherRite. It has the appearance and feel of fine, soft glove leather, but it is extremely durable and stain resistant. Its porous structure makes it remarkably comfortable in any season, dissipating heat in warm weather and retaining it in cold. LeatheRite is tear-proof and puncture resistant, and the color will not fade over time. The synthetic leather can be cleaned with either soap and water or a disinfectant if necessary.
Both designs feature memory foam padding. WorkRite's memory foam reacts to body temperature and softens when warmed. It supports and forms to the contour of the user to reduce pressure against the palm.
This WorkRite keyboard tray is available with two different palm supports: continuous or split-pad.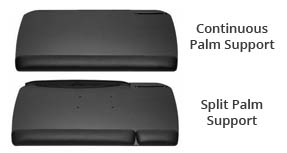 Track Length
Pick a track length to match the depth of the desk the keyboard tray will be mounted underneath. A standard track is 22", so the desk will need at least 22.5" of space available underneath the work surface where the keyboard tray will be mounted. If you have less than 22" of mountable desk depth, the 17" track is necessary.
Positive Tilt Lockout Kit
The optional Positive Tilt Kit restricts the tilt on a Pinnacle Arm to a range of -6° to -15°, which is a negative (neutral) tilt range. This option is not available on Pinnacle AD Arms (3176) and Lever Lock Arms (170).
A positive tilt is not recommended by ergonomists. With a negative tilt, the front of the keyboard tray (closest to a user) is higher than the back of the keyboard tray.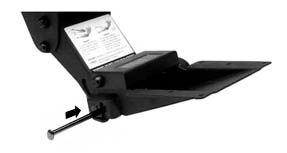 This tray is exactly what I've been looking for. Standard trays do not allow for adjustability in height. The height adjustment of this tray has made a tremendous reduction in the aches between my shoulder blades. This tray slides in and out very smoothly and the height adjustment locks in place nicely. The only thing I'm still getting used to is the mouse trap. The cord tends to tighten up after a while, which requires some readjustment. Nothing serious, just something to get used to.

Works well. Probably slides a little nicer with the ball bearing track but I don't move it in and out that much and I liked saving the money.

Glad I bought it.
This product comes standard with a limited lifetime warranty.
Return Information
Return windows close 30 days after you receive your item.
You are responsible for obtaining a Return Merchandise Authorization, the cost of shipping, and potential restocking fees, if the item has been opened.
To start a return, or to view the full returns policy, click here.