Keyboards can make or break a workstation. Try the Banana-Board Keyboard Tray from Workrite for the ambidextrous mouse platform and keyboard tray combo to bring you into a new era of work.
The Workrite Banana-Board Keyboard Tray model 2128 fits most desk configurations, including corner and cockpit-style desks. It stores cleanly under your desk for a simplified look to your workstation that increases desk space and improves your productivity.
A built-in document holder simplifies the need for extra items on your desktop, and keeps your papers within easy eye line for better ergonomic positioning.
Finally, a better way to work is here.
Features
Mouse-forward design ergonomically assists the forearms natural rotation arc
Mouse platform slides side to side for quick and easy ambidextrous mousing
Banana board platform includes a built-in document holder and cord management
Sleek black finish matches most offices, gray finishes are available by special order
Keyboard tray platform comes with a removable palm support - optional mouse palm support is available by special order
Removable palm support features soft, comfortable memory foam
Meets or exceeds the ANSI/BIFMA standards for performance, durability, and cycle testing
System comes with a Pinnacle 2 arm
Specifications
Dimensions
27" W x 16 1/4" L
Platform dimensions
19" W x 13" L
Mousing platform dimensions
8" W x 13" L
Track length
17" or 22"
Pinnacle 2 arm features
6" height range
-15° to +10° tilt range
360° swivel
Warranty
Lifetime warranty
Track Length
Workrite keyboard trays slide in and out along a track mounted to the underside of the table. Two different lengths are available to accommodate different depths of workstations.
17'' track with memory foam wrist rest
22'' track with memory foam wrist rest
Mouse Palm Support
The Workrite Banana-Board keyboard tray mouse platform can be ordered with a palm support. This cushion clips on to the mouse platform to provide cushion and support while mousing. The clip-on palm support measures 6'' long by 2'' wide.
Positive Tilt Lockout Kit
The optional Positive Tilt Kit restricts the tilt to a range of -6° to -15°, which is a negative (neutral) tilt range. A positive tilt is not recommended by ergonomists. With a negative tilt, the front of the keyboard tray (closest to a user) is higher than the back of the keyboard tray.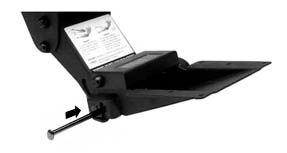 Corner Sleeve
The Workrite Banana Board Keyboard Tray works well with corner conversions for users that sit in a corner desk or a curved corner. Opt for the WorkRite Adjustable Corner Sleeve [179ACD] to adapt 90 degree corners or diagonal corners on corner desks into a usable workspace. The corner sleeve adjusts to fit desks between 1'' and 2.25'' thick.
I have this tray at work and use it everyday. I can tell you that the banana style mouse tray is awful. I actually had to buy a rollermouse after getting this tray so i could stop using a mouse. The tray forces you to actually change your sitting position, or pin your arm towards you, in order to quickly switch between the mouse and the keyboard. As a software developer, and a heavy mouse/keyboard user, and i can tell you over the long haul this is uncomfortable. If you haven't tried one, just put the mouse directly in front of your keyboard and then off to the side and try to use it. i bet you'll find the mouse ends up at the same level as your keyboard, which you simply can't do with this tray....

I have the 'budget tray' at home and prefer it to this tray (see my review). The tile/slide mechanism on this are definitely superior, but the mouse tray is just unusable in my opinion and makes this tray worthless.

Since I have started using this product my writst have stopped hurting me. I am so much more comfortable at my desk now. Love it.
This product comes standard with a limited lifetime warranty.
Return Information
Return windows close 30 days after you receive your item.
You are responsible for obtaining a Return Merchandise Authorization, the cost of shipping, and potential restocking fees, if the item has been opened.
To start a return, or to view the full returns policy, click here.