An unsilenced ringtone here, a little chitchat there - all of this background noise adds up to make one very distracting office. Give you and your team freedom from noisy office disturbances with the 3D Tube Acoustic Wall Panel by UPLIFT Desk.
Thin and lightweight, you'll love the sound-sheltered room you can create by installing one (or a few) wall panels. They attach to almost any flat wall and instantly improve the quiet in offices all over. The Noise Reduction Coefficient of 0.8 means that the panels absorb 80% of sound, while reflecting only 20% back into the room.
When you want to turn down the decibels in your immediate work area, the 3D Tube Acoustic Wall Panel makes it possible, one panel at a time.
Features
Panels dampen environmental noise to create a quieter work area
Lightweight sound-absorbing panels affix to almost any flat wall
Can be used alone or in multiples to create customized sound insulation
Constructed out of dense yet thin polyester fiberboard
Panels have a Noise Reduction Coefficient (NRC) of 0.8
Multiple installation methods available - choose the one that works best for you
Specifications
Panel dimensions
19.75" W x 19.75" D x 2.5" H
TDickness2.5 mm
Noise Reduction Coefficient (NRC)
0.8
Material
Pressed Polyester fiberboard
Warranty
15 years
Shipping dimensions
20" W x 28" D x 6" H, 3 lb
Fire Rating
Euro Class B and ASTM E84-08
F.A.Q.
What are 3D Tube Acoustic Wall Panels? Why do I need these?

UPLIFT Desk designed 3D Tube Acoustic Wall Panels for the purpose of reducing background noise in your environment while adding a visually stimulating piece of decor to your workspace. If you find it's hard to concentrate in your office, these panels help you create a quieter workspace with one (or a few) additions.

How many can I use at a time?

Use as many as you want! You can use these panels alone or in multiples, as many as your wall can fit! The panels are 19.75 inches square, so if you do a little math you can figure out how many fit on your wall space. The more you use, the more sound that is dampened, so if you need more sound absorption these panels help.

Is it hard to install the panels to my wall?

Installation is very easy, and only requires a couple of nails. Panels will hang directly from those nails and may be repositioned without trouble. If you are looking for your panels to attach more permanently, we offer a few optional pieces of mounting hardware, including clips and adhesive strips, that can do the job. For all options, look over our assembly instructions.

How much sound is absorbed by the panels?

3D Tube Acoustic Wall Panels boast a Noise Reduction Coefficient of 0.8; this means that 80% of sound that reaches the panels is absorbed. In Acoustics, zero absorption is 0 and perfect absorption is 1, so these panels greatly reduce ambient noise in your space with an easy, affordable, and wall-mounted addition.
Color
Outfit your wall with the 3D Tube Acoustic Wall Panel by UPLIFT Desk, available in dark gray and white. Each Wall Panel is made from polyester fiberboard to dampen the office chatter. Not only do these panels function to reduce the ambient noise in your office, they also add a nice backdrop to your plain jane office wall.
3M Command Strips
3M Command Strips
Backed by revolutionary 3M adhesive, you'll be able to adhere panels to your wall and remove them without damage or residue left behind on the wall with 3M Command Strips. The adhesive sticks to a variety of materials, including tile, wood, metal, and painted walls.
Each 9 strip pack outfits two panels, leaving you with a tape strip for backup.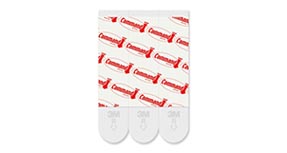 Expedited Production
Receive your accessories even sooner! Just add our expedited production option to your order.
Place your order by 3 pm Central on a business day and we guarantee to start production and ship your order the same day. If placed after 3 pm, your order is guaranteed to ship the following business day.
Note: Expedited production is different from expedited shipping. If you're interested in adding expedited shipping to your order, please contact us directly.
UPLIFT Desk Warranty Policy
We stand firmly behind the quality of our products. All UPLIFT Desk products come with a 15 Year Warranty, visit the UPLIFT Desk Warranty page for the full policy.
Return Policy
Free Returns with Free Return Shipping within 30 days, visit the UPLIFT Desk Returns page for the full policy.