Absorb noise in your work area before it distracts you or your coworkers with the 3D Wave Acoustic Wall Panel by UPLIFT Desk.
Designed to create a more sound-sheltered office space, you'll love the extra decibels these panels absorb. Dense Polyester fiberboard takes over the job of "office shush-er" while simultaneously adding stimulating texture and color to blank walls.
Give yourself some peace and quiet with 3D Wave Acoustic Wall Panels.
Features
Reduces ambient noise via dense Polyester fiberboard
Visually appealing design adds texture to blank walls
Install a single panel or multiples to create a quiet work area
Lagoon blue, dark gray, and red rock color options
Noise Reduction Coefficient (NRC) = 0.8
Multiple installation methods available, choose the one that works best for you
Specifications
| | |
| --- | --- |
| Panel dimensions | 23.75" W x 23.75" D x 2.75" H |
| Thickness | 4.5 mm |
| Quantity included | 1 panel |
| Noise Reduction Coefficient (NRC) | 0.8 |
| Material | Pressed Polyester fiberboard (50% recycled Polyester) |
| Warranty | 15 years |
| Shipping dimensions | 24" W x 24" D x 4" H, 3 lb |
| Fire Rating | Euro Class B and ASTM E84-08 |
F.A.Q.
What are 3D Wave Acoustic Wall Panels? Why do I need these?

UPLIFT Desk designed 3D Wave Acoustic Wall Panels for the purpose of reducing ambient noise in your environment while adding a touch of decor to blank walls. If you find it's hard to concentrate in your office, these panels can help you create a quieter workspace quickly and easily.

How many can I use at a time?

You can use these panels solo or in multiples, as many as your wall can fit! The more you use, the more sound that is absorbed. Panels are 23.75" square so with a little basic math you can figure out how many panels you need if you want to cover your walls for the utmost in sound absorption.

How do these install?

There are a few options. The easiest way to install the panels is to simply hang them from nails on the wall. That allows them to be moved and changed easily. We do offer clips that can be used with optional adhesive strips as well for a more permanent connection. Take a look at the assembly instructions to see all available installation options.

How much sound is absorbed by the panels?

3D Wave Acoustic Wall Panels have a Noise Reduction Coefficient of 0.8. This means that 80% of sound that reaches the panels is absorbed. In Acoustics, zero absorption is 0 and perfect absorption is 1, so these panels greatly reduce ambient noise, like chitchat and office background noise, letting you work with more focus and fewer distractions.
Color
Take a dive into the ocean with the 3D Wave Acoustic Wall Panel by UPLIFT Desk. Choose between Lagoon Blue, Dark Gray, or Red Rock for this square, sculptured panel that easily attaches to any wall. The three-dimensional wave pattern will help you escape to faraway places in an office that is quieter, thanks to the sound-damping fiberboard panel. Fill your wall with multiple panels, or take things up a notch by mixing and matching colors for a checkerboard pattern.
3M Command Strips
3M Command Strips
Backed by revolutionary 3M adhesive, you'll be able to adhere panels to your wall and remove them without damage or residue left behind on the wall with 3M Command Strips. The adhesive sticks to a variety of materials, including tile, wood, metal, and painted walls.
Each 9 strip pack outfits two panels, leaving you with a tape strip for backup.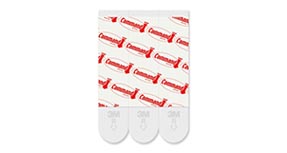 Expedited Production
Receive your accessories even sooner! Just add our expedited production option to your order.
Place your order by 3 pm Central on a business day and we guarantee to start production and ship your order the same day. If placed after 3 pm, your order is guaranteed to ship the following business day.
Note: Expedited production is different from expedited shipping. If you're interested in adding expedited shipping to your order, please contact us directly.
UPLIFT Desk Warranty Policy
We stand firmly behind the quality of our products. All UPLIFT Desk products come with a 15 Year Warranty, visit the UPLIFT Desk Warranty page for the full policy.
Return Policy
Free Returns with Free Return Shipping within 30 days, visit the UPLIFT Desk Returns page for the full policy.