3M Ergonomic Mouse - Large EM500GPL
3M Ergonomic Mouse - Large EM500GPL
Upgrade your office ergonomics easily with a more suitable mouse that curtails repetitive stress injuries like wrist strain and carpal tunnel.
The engineers behind the Ergonomic Mouse from 3M seek to banish the old standards of mousing for healthier ones, starting with its work revolutionizing vertical design that keeps hands in a neutral position for comfortable computer navigation.
Switch to the new style of mousing with the help of the 3M Ergonomic Mouse - Large EM500GPL and feel the difference in your energy and productivity, all with the addition of a single accessory.
Features
Thumb button at the top of the vertical grip has left and right click functions
Easy electronic scrolling lets you navigate with a single click
Software provides user with the option for daily ergonomic tips
Easy installation
USB connector with PS/2 adapter is included
Compatible with PC and Mac computers with USB ports
2 year warranty with a 30-day, money-back guarantee
Specifications
| | |
| --- | --- |
| Dimensions | 5.5" W x 5.5" D x 5.2" H |
| Connectivity | USB connector with PS/2 adapter is included |
| Compatibility | PC and Mac |
| Warranty | 2 years |
Ergonomic Mice by 3M
Choose your size
Your 3M ergonomic mouse comes in one of two sizes.
| | |
| --- | --- |
| Small | 5.4" W x 5.4" D x 4.5" H |
| Large | 5.5" W x 5.5" D x 5.2" H |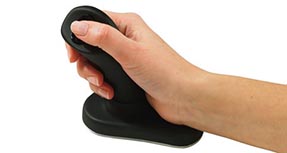 Product Reviews
Write Review
Love it

Posted by Fayez on Jun 29th 2016

I have been using the 3M mouse for years. I has eliminated the pain I would get in my wrist when using a regular mouse. I am in software, so I am on my computer all day long. It takes a bit of getting used to, not overly challenging.
Pros: Not too expensive. Worth every penny, since it eliminated the pain in my hand. The mouse has about a 2 year life span.

3M Ergonomic Mouse

Posted by Steve on Aug 29th 2013

Sure is a good alternative to the traditional mouse. Still have to move arm or at least the wrist to move the mouse, but I guess there's no way to avoid that. I still recommend it.

Ergonomic Mouse

Posted by Robert on Dec 19th 2009

Wonderful. Takes the stress out of working on the computer.
Warranty Information
This product comes standard with a 2-year warranty.
Return Information
Return windows close 30 days after you receive your item.
You are responsible for obtaining a Return Merchandise Authorization, the cost of shipping, and potential restocking fees, if the item has been opened.
To start a return, or to view the full returns policy, click here.
Your Cost
$76.00
List Price: $122.65
Ships Free (US48)
Ships the same business day
Are you sure you're finished customizing this product?
Bulk Deals
In many cases, we can offer bulk quantity discounts for purchases or smaller orders made over an extended period of time. Bulk deals are based on anticipated volume and the products you've selected. We can also provide you with brochures and swatches to assist in your purchasing decisions.
If you would like to request a quote, we can be reached via phone (800-531-3746), email (info@humansolution.com), or live chat from 8am - 7pm Monday - Friday and from 10am - 6pm Saturday.
Swatch Request Form
Sending....
Thank You!
Please allow 1-3 weeks for delivery.