3M Ergonomic Wireless Mouse Large & Small
3M Ergonomic Wireless Mouse Large & Small
Mousing just got more interesting. Introducing the revolutionary Ergonomic Wireless Mouse from 3M - it's the flexible use mouse that can help stop repetitive motion injuries in their tracks.
Thanks to its vertical grip that keeps your arm in a neutral angle during use, you can mouse comfortably without all of the stresses that come with performing repetitive tasks throughout the workday.
Employ the 3M Ergonomic Wireless Mouse Large & Small for better ergonomics and feel the difference in your working comfort from the first click.
Features
Available in 2 sizes: Large and Small
Thumb button at the top of the vertical grip has left and right click functions
Easy electronic scrolling lets you navigate with a single click
Wireless, USB compatible plug and play
Soft-touch painted surfaces for added comfort
Vertical handle design keeps wrist/hand in neutral position
Small size makes for easy storing and carrying
2 year warranty
Specifications
Height
7 1/4"
Length
6"
Width
6"
Models
Small - EM550GPS
Large - EM550GPL
Compatibility
Microsoft - Windows XP, Vista
Apple - Mac OS 10 X v10.4.X, v10.5.X
Also compatible w/ all later versions of PC OS & Mac OS systems listed
Ergonomic Mice by 3M
Choose your size
Your 3M ergonomic mouse comes in one of two sizes.
| | |
| --- | --- |
| Small | 5.4" W x 5.4" D x 4.5" H |
| Large | 5.5" W x 5.5" D x 5.2" H |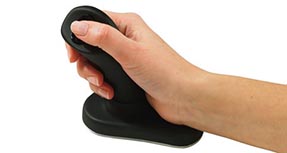 Product Reviews
Write Review
The answer to Carpal Tunnel Syndrome but...

Posted by Greg on Feb 13th 2013

First, I love the joystick mouse. It really has helped tremendously with numbness and pain in my wrist and hand. I have 2 of them in fact. the one I use with Windows, at work, has been a real treat. The only issue is the left click button sometimes is difficult to use because it over selects what you want. On the Mac, at home, though you lose the function of the third button. At work I very much appreciate the scrolling option of the third button. Also the one at home the left click button sticks sometimes which is really annoying. Otherwise I live by these things...

Nice, but doesn't last long

Posted by Sam on Apr 11th 2011

I've been using the 3M Ergonomic mouse for several years. My original wired version still works after about 6 years of use. My one-and-a-half-year-old wireless version recently stopped working. At first, I'd have to click several dozen times at the beginning of each day for it to work reliably. Now, the cursor doesn't move at all. Changing the batteries doesn't help. At the time I bought it, I saw other people complained about the same problem, but I liked the idea of using a wireless mouse. I guess I'll go back to the wired version.
Warranty Information
This product comes standard with a 2-year warranty.
Return Information
Return windows close 30 days after you receive your item.
You are responsible for obtaining a Return Merchandise Authorization, the cost of shipping, and potential restocking fees, if the item has been opened.
To start a return, or to view the full returns policy, click here.
Your Cost
$76.00
List Price: $145.85
Ships Free (US48)
Ships the same business day
Are you sure you're finished customizing this product?
Bulk Deals
In many cases, we can offer bulk quantity discounts for purchases or smaller orders made over an extended period of time. Bulk deals are based on anticipated volume and the products you've selected. We can also provide you with brochures and swatches to assist in your purchasing decisions.
If you would like to request a quote, we can be reached via phone (800-531-3746), email (info@humansolution.com), or live chat from 8am - 7pm Monday - Friday and from 10am - 6pm Saturday.
Swatch Request Form
Sending....
Thank You!
Please allow 1-3 weeks for delivery.