One of the most important tenets of ergonomics is ensuring that your keyboard is optimally positioned to allow you to type with your wrists straight, your arms handing comfortably at your sides, and your elbows at an approximate 90-degree angle. The Big Keyboard Tray System by UPLIFT Desk is an all-in-one solution that prevents discomfort and improves your focus and productivity while at your desk. With its platform tray spanning a full 27", it is large enough to hold both your mouse and keyboard. This feature enables you to keep your most-used desk accessories within reach, which results in fewer strenuous movements throughout your workday.
The Big Standard Keyboard Tray System comes with two mechanism options for adjustment, both of which allow you to customize the tray to find your own personalized height and angle. The Quick-Adjust Mechanism features a lift-and-release function that allows you to make adjustments quickly and efficiently. Similarly, the Economy Mechanism features a single knob that you turn to adjust the height and tilt angle of your keyboard tray, then lock to set your adjustments. Both mechanisms include both an 11" and 21" under desk mounting tracks (making them compatible with almost any desk). We include the optional 11" track for use if you have limited flat space under your desk. And 360-degree swivel possibilities, which allow you to move your keyboard when you need extra space to readjust your workspace or collaborate with a co-worker.
This industry-leading keyboard tray system also brings your keyboard closer to your lap, which results in a more comfortable and ergonomic working position. Studies show that when you're repetitively forced to stretch to reach your keyboard, you can develop pain in your arms, wrists, and hands. Since the Big Standard Keyboard Tray System by UPLIFT Desk allows you to adjust its height, depth, and tilt to find the position that suits you best, you can keep your wrists straight and your elbows correctly bent. This will make for a more comfortable workspace and will reduce and prevent current and future strain. If you need help finding your ideal working posture, be sure to check out our Ergonomic Calculator to determine what works best for you!
Features
Find optimal ergonomics and use the Big Keyboard Tray System by UPLIFT Desk to position your keyboard height, depth, and angle to increase your overall comfort and productivity at work
The keyboard platform has a 27" spread, which makes it large enough to securely fit your keyboard and mouse side-by-side
Positioning your keyboard and mouse closer to your lap height makes for better ergonomics. The Big Keyboard Tray System by UPLIFT Desk comes with two mechanism options for adjustments
The Quick-Adjust Mechanism features a lift-and-release option that makes proper adjustment simple and efficient
The Economy Mechanism features a single knob that sets both height and tilt of the keyboard tray. Both mechanisms include both 21" and 11" long under desk mounting tracks to allow for installation on almost any desk. Plus 360-degree swivel for convenient storage
Platform tilt angle on the Quick-Adjust Mechanism gives you the opportunity to type with perfectly straight wrists, which can prevent future wrist, elbow, and arm pain
This accessory is also compatible with non-UPLIFT desks
Specifications
Big Standard Keyboard Tray
Platform dimensions
27" W x 11" D x 0.38" H
Mouse pad dimensions
8" diameter
Platform material
MDF or Bamboo
Includes
Platform, cord catcher, removable wrist rest, and mouse pad
Warranty
5 years
Shipping dimensions
327.5" W x 11.25" D 1.75" H, 4.5 lb
Economy Mechanism
Adjustment mechanism
Single knob sets both height & tilt of keyboard tray
Swivel at mechanism
360 degree
Height adjustment
6" height adjustment, spring assistance
4.25" below underside of desktop w/o track spacer
1.75" above underside of desktop w/o track spacer
Tilt adjustment
15 degrees negative to 15 degrees positive
Track lengths
21" L (recommended)
11" L (for limited space)
Certifications
Meets BIFMA x 5.5-1998 Standards
Shipping dimensions
22" W x 9" D 4.25" H, 8.35 lb
Quick-Adjust Mechanism
Height adjustment
8" total (3" above track to 5" below)
Tilt Adjustment
20 degrees negative to 10 degrees positive
Track lengths
21" L (standard)
11" L (for limited space)
Swivel at mechanism
360 degree
Shipping dimensions
25" W x 13" D 5" H, 12.5 lb
Big Standard Keyboard Tray System FAQs
Do I need to be trained in ergonomics to find the right adjustments for myself?

Of course not! Our team of knowledgeable experts is here to answer any questions. You can put our ergonomic calculator to use as well

Should I choose the 11" and 21" track options?

Both sizes give you the option to swivel the system 360 degrees, but if you have limited space under your desk, we recommend using the 11" track. Or you could purchase our Track Spacer to allow the 21" track to go over frame parts and cables.

Do I need an ergonomic keyboard if I don't currently have wrist pain?

Yes, an ergonomic tray system and keyboard is a great way to prevent future pain and discomfort

I installed my keyboard tray, but it won't lower. Help!

In most cases like these, the shipping pin is still intact. To fix, we recommend double checking the instructions and lifting up on the front of the tray while lowering the back of the tray to relieve pressure on the pin. Doing so should help you to remove the pin, but if it doesn't, feel free to give us a call at 1 (800) 349-3839

I just installed my keyboard tray and I can't get the tray to lower. Did I do something wrong?

If you've just installed your tray and it isn't lowering, you may have forgotten to remove the shipping pin. You can find instructions on how to remove it in step four of your installation guide. You will just need to lift up on the front of the tray and lower the back to relieve pressure from the shipping pin. Then it will be easy to remove.

Can I use this with other desks?

Yes, this accessory is compatible with UPLIFT and non-UPLIFT desks as long as you have enough clear space under your desk to attach the 11" or 21" track for the track spacer.
Platform Color
Available in Black, White and Bamboo
Mechanism
Affordable and ergonomic—a single knob adjustment on the Economy Mechanism sets both height & tilt of keyboard tray.
The Quick-Adjust Mechanism sets your ideal position in motion much faster compared to the Economy Mechanism due to its sleek design
Track Spacer
The Track Spacer by UPLIFT Desk allows you to mount your keyboard tray track over the crossbars under your desk, giving you more flexibility in positioning accessories, especially on smaller desks. If your desk is only 24 inches deep, this will allow you to place the 22" track over the crossbars so you can stow the keyboard tray completely underneath the desk.
UPLIFT Corner Sleeve
Add an UPLIFT corner sleeve to solve the issues of limited depth when trying to install a keyboard tray on the right angle of an L-shaped or corner desk. This low profile mount is available in two different models to attach to work surfaces 1'' - 2.5'' thick, and is compatible with all UPLIFT keyboard tray tracks.
Goldtouch Ergonomic Keyboard
Add a Goldtouch Adjustable Keyboard - GTN-0033 at a discounted bundle price with this keyboard tray. This wired USB keyboard's split design promotes a more natural and ergonomic typing position.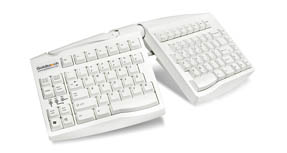 Expedited Production
Receive your accessories even sooner! Just add our expedited production option to your order.
Place your order by 3 pm Central on a business day and we guarantee to start production and ship your order the same day. If placed after 3 pm, your order is guaranteed to ship the following business day.
Note: Expedited production is different from expedited shipping. If you're interested in adding expedited shipping to your order, please contact us directly.
This product comes standard with a 5-year limited warranty.
Return Information
We offer a 30-day trial on all single-item UPLIFT Desk brand orders, with the exception of solid wood and custom laminate desktops. If for any reason you're not satisfied, return the item with no outbound shipping or restocking fees.
Return windows close 30 days after you receive your item. You are responsible for obtaining a Return Merchandise Authorization (RMA) within this time.
All items must be disassembled and returned in "Like new" condition in their original factory packaging. Items not returned in this condition may be subject to additional fees. You are responsible for return shipping costs.
To start a return, or to view the full returns policy, click here.