Keep your current desk, just convert it with the E3 Compact Stand Up Desk Converter.
Boasting all of the features you'd want in a sit-stand converter, just simplified to the extreme, you'll have a more ergonomic workspace in no time thanks to one desk topping addition. Adjusting this ergo-friendly standing device is more than easy. Just slide a tab to unlock it, grasp and raise the worksurface, and lock it in place where you're most comfortable.
The E3 fits on spaces at least 28 inches wide by 14 inches deep, and allows you to work in more comfort and in a space that's better for your body. Enjoy more freedom to adjust with the E3 Compact Stand Up Desk Converter by UPLIFT Desk.
If you're looking for a full sit-stand desk, click here.
Features
Extremely portable sit-stand solution for tables, kitchen islands, craft corners, and more
Transforms any space into a sit-stand station quickly and keeps you comfy while you work
Slim, discreet converter folds down to less than 1" when closed
Perfect for elevating laptops and boasts a 11 lb lifting capacity
Gas spring operation, simply slide tab to unlock and lift
Easy to store and saves space in your area
Fully assembled and ready to use
Specifications
| | |
| --- | --- |
| Weight capacity | 11 lbs |
| Height range | 15.8" |
| Worksurface dimensions | 26.8" W x 13.4" D |
| Color | Black or white |
| Warranty | 2 years |
| Shipping dimensions | 17'' W x 4'' H x 32'' D, 15 lbs |
F.A.Q.
Why do I need a stand up desk converter?

If your current workstation is something you can't part with but you crave better ergonomics, the E3 Compact Stand Up Desk Converter by UPLIFT Desk can help. It comes fully assembled and ready to use, just set it on workspaces at least 28 inches by 14 inches, and get to adjusting to your preferred heights!

What is the E3's weight capacity?

The E3 Compact Stand Up Desk Converter comes with a lifting capacity of 11 pounds.

Can I pick the color?

Our E3 Compact Stand Up Desk Converter by UPLIFT Desk comes in your choice of black or white to match your workstation and decor.

How does it work? Is there a motor in the converter?

The E3 Compact Stand Up Desk Converter works by way of a built-in gas cylinder. This means the converter doesn't need to be set up by an outlet to work.

Is this the only desk converter available for sale?

No. If the E3 isn't what you're looking for, we have a desk converter model for everybody and every workstation. Check out our full selection of Standing Desk Converters by UPLIFT Desk and let us help you find the right desk converter for you, whether it's the E3, the Adapt X, or the UPLIFT Riser or Clamp Desk Converters.

How hard is installation?

The E3 Compact Stand Up Desk Converter is simple to assemble, because there is no assembly! Simply set on your workspace, slide the tab to unlock it, adjust to your most comfortable standing heights, and lock it in place.

What's the best part about the E3 Compact Stand Up Desk Converter?

We love the E3 because it's one of the sleekest and most affordable desktop converters on the market today. The platform saves you space and folds down to less than an inch, so it fits in a variety of work environments. When you need a sit-stand solution now, the E3 is an ideal converter to help you get the ergo-friendly working postures you need to stay comfortable at work.
Color
Choose between black or white for your E3 Compact Stand Up Desk Converter by UPLIFT Desk. This ultra-thin desktop converter will provide a functional workspace when closed, and easily lifts up to convert your desktop into a standing workstation.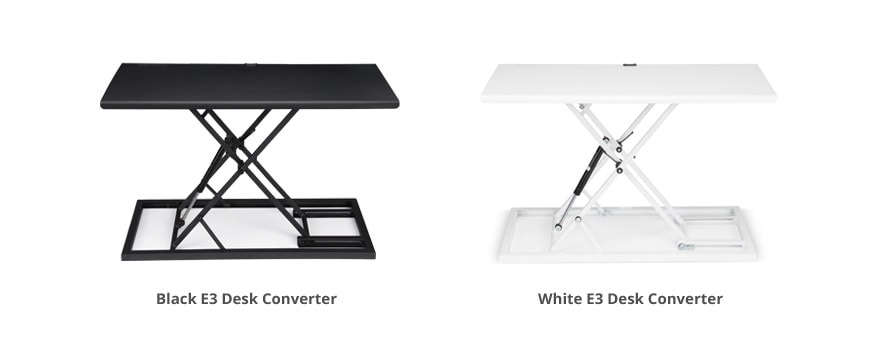 Expedited Production
Get your accessories shipped to you quicker by adding our expedited production option.
Order your desk by 3 pm Central on a business day and we guarantee your order will ship the same day. If placed after this time, your desk is guaranteed to ship the following business day.
If your selected item is not in stock, it will ship per the above guidelines as soon as it arrives.
This product comes standard with a 2-year limited warranty.
Return Information
We offer a 30-day trial on all single-item UPLIFT Desk brand orders, with the exception of solid wood and custom laminate desktops. If for any reason you're not satisfied, return the item with no outbound shipping or restocking fees.
Return windows close 30 days after you receive your item. You are responsible for obtaining a Return Merchandise Authorization (RMA) within this time.
All items must be disassembled and returned in "Like new" condition in their original factory packaging. Items not returned in this condition may be subject to additional fees. You are responsible for return shipping costs.
To start a return, or to view the full returns policy, click here.