Goldtouch Go!2 Mobile Keyboard GTP-0044
Goldtouch Go!2 Mobile Keyboard GTP-0044
Choose Your Video
The Goldtouch Go!2 Mobile Keyboard

01:18

How to Fold your Goldtouch Go!2 Mobile Keyboard

01:27
As research into ergonomics grows, a new age of typing emerges. The Go!2 Mobile Keyboard by Goldtouch is the indispensable splitting and tenting keyboard of dreams.
It's also slim, lightweight, and portable, so you can grab it and go, bringing your work with you. You can finally enjoy freedom at your fingertips with the help of the Goldtouch Go!2 Mobile Keyboard model GTP-0044.
Features
Folds in half for easy and quick storage
Thin and lightweight, weighing less than 1 lb
The two halves separate up to 3 1/2", and the center of the keyboard raises up to 3 1/2"
Extra soft key touch - low activation force and a full key travel distance makes for comfortable keying
Function keys are marked for both PC and Mac
Attractive low profile design in a striking black color
Specifications
Activation key force
39g - 42g average
Travel distance
3.2mm, +/- .5mm
Weight
1 lb, 1 oz
Dimensions
13.5" W x 5.9" D x 0.9" H (at highest point)
Compatibility
Windows XP, Vista, 7, 8
Mac OS X, 10.4 and above
Warranty
1 year
Goldtouch Go!2 Mobile Keyboard
Goldtouch Go! Travel Notebook Stand
The Goldtouch Go! Travel Notebook Stand is designed to support your laptop while you work, relieving unnecessary strain on your back, neck or arms. It can pop up quickly whenever you need it, or it can be stored away in a small case for travel. The stand features a strong but light aluminum construction with a Neoprene storage case that can also be used as a mousing surface. It accommodates laptops up to 17'', and when stored away, measures 7.5'' x 10'' in the case.
Goldtouch Go!2 Mobile Keyboard
Goldtouch Mouse
The right-handed Goldtouch Ergonomic Mouse is offered for $15.00 with this keyboard bundle (regularly $59.00). The popular Goldtouch Ergonomic Mouse treats and prevents repetitive stress injuries caused by traditional mice by decreasing hand fatigue and discomfort for users with its unique, contoured shape. The body of the mouse supports a neutral wrist angle of 20° - 30° as shown in the image below. The Goldtouch Mouse design also offers longer buttons with a low click force, allowing users with different sized hands to comfortably use the same mouse while minimizing the pressure needed to click the buttons. You may also choose the left handed version for a discounted price of $39.00.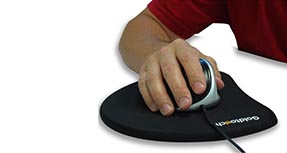 Jar Opener
Don't let a jar of pickles, olives, or your grandmother's jam cause pain or injury. Trying to open a stubborn jar requires high hand forces which lead to unnecessary strain. A jar opener decreases the grip strength necessary to open the often-stuck jar. Keep your hands safe with an UPLIFT jar opener, free with your purchase.
Product Reviews
Write Review
Showing reviews 1-5 of 18 | Next
Good Compact Ergonomic Keyboard!

Posted by Sylvia on Jul 7th 2014

Being used to a full-sized ergonomic keyboard at an office desk, I found that the change to working mostly from a laptop created a challenge to proper posture. A full size external keyboard defeated the size advantage of a laptop. Found the Goldtouch Go!2 Mobile Keyboard in an online search. It's everything it said it was: lightweight, portable, ergonomically configurable. It has a sturdy, although lightweight, construction and is easily adjustable.

Even in MAC mode, there is not total consistency with the option and command keys but then it also has a forward delete ability that the MAC does not have.

Overall, a great choice even in the office.

love this keyboard

Posted by Michele Martinez on May 12th 2014

Took me a couple weeks to get used to layout of keys, but it is such a comfortable keyboard for me to use now. When I tried to use a standard keyboard to make a comparison, my wrists felt kinked and definitely not in an ergonomic position. I will never go back to my old keyboard. This keyboard just feels right and I feel relaxed and safe from carpal tunnel problems. I also like the fact that it's so lightweight, the low profile keys, and the ability to tent the keyboard to my comfort level as well.

Goldtouch Go Travel Keyboard

Posted by Steve on Mar 12th 2013

An excellent keyboard that's both portable and ergonomic.

amazing!

Posted by James B on Feb 7th 2013

I'm an IT consultant and am constantly typing on a laptop which led to a persistent golf-ball-sized tension in my forearm. This keyboard made that nagging discomfort evaporate completely. More importantly, it's a MUCH better keyboard than my laptop's chicklet keyboard.

An excellent product for anyone who types a lot. It's so good I'm considering getting another just in case!

What I was looking for

Posted by Terese S on Jan 18th 2013

As a person who suffers from tendinitis, I have to use an Ergo keyboard. Last year I bought a 10.1 inch netbook and was really happy with it. I thought that the keyboard would be small enough that I would be able to write for at least two hours on it, without pain being an issue. I was wrong about that.

I have an ergo keyboard for my desk top computer, but I didn't know they made ones for laptops.
I was going to buy a cheap ergo, take it with me to the coffee shop, and plug it in.

Then I saw the Goldtouch Go! Travel Keyboard. It fit on top of your laptops' keyboard! I thought that was a real novel idea. A little skeptical, but more than willing to give it a shot, I purchased one for Cyber Monday.

I wasn't too sure about it when it did come in, but I played around with it and low and behold it DOES fit on top of my little netbook's keyboard! It sits atop it very solid. No rocking, no shifting.

I love the key touch, so light but not so jittery that you can accidentally hit keys. I like the feel of the keys when they strike. It's not hard or "clicky", but you are assured that you have hit the right key.

I DO wish that it did have pre-determined angles. Every time I use it, I have to adjust it until it's just right for me. But maybe that's why it's not like that. that's just a little gripe. I loose time writing when I have to constantly readjust my keyboard.

My keyboard has an "extra" dot on the i key. I dunno if they put it there on purpose or if it's a flaw. Either way I can live with it although if it's an easy "pop the key off and replace it" fix, I'd be interested.

Other than that, I am happy I bought this keyboard! I got a deal on it, and an extra discount because of Cyber Monday. When my desk top's ergo goes out I may have to look at a Goldtouch as a replacement!
Showing reviews 1-5 of 18 | Next
Warranty Information
This product comes standard with a 1-year warranty.
Return Information
Return windows close 30 days after you receive your item.
You are responsible for obtaining a Return Merchandise Authorization, the cost of shipping, and potential restocking fees, if the item has been opened.
To start a return, or to view the full returns policy, click here.
Your Cost
$99.00
List Price: $119.99
Ships Free (US48)
Ships the same business day
Are you sure you're finished customizing this product?
Bulk Deals
In many cases, we can offer bulk quantity discounts for purchases or smaller orders made over an extended period of time. Bulk deals are based on anticipated volume and the products you've selected. We can also provide you with brochures and swatches to assist in your purchasing decisions.
If you would like to request a quote, we can be reached via phone (800-531-3746), email (info@humansolution.com), or live chat from 8am - 7pm Monday - Friday and from 10am - 6pm Saturday.
Swatch Request Form
Sending....
Thank You!
Please allow 1-3 weeks for delivery.