Effective 11/15/2021, Humanscale will require a signature upon delivery for all FedEx shipments.


Slim, sturdy, and endlessly sleek, our Humanscale Float Keyboard Tray will bring your Float Table into a new era of work.
The tray attaches slightly below your desktop and moves with you as you go into different postures, giving you optimal ergonomics in one simple tool.
A built-in mousing surface on the tray simplifies the need for a separate platform, and allows for full under-desk storage by streamlining the mechanism and using your desk's height adjustment capabilities to bring your keyboard to the proper height, whether sitting or standing.
Featuring a specially-designed track and mechanism and a keyboard platform large enough to hold both your mouse and keyboard, the Humanscale 259 Float Board Keyboard Tray perfectly integrates a keyboard tray system both functionally and stylistically into your standing desk.
Features
Available in white or black
Intuitive height adjustment that sans locks, levers, or controls
Dial-a-tilt positioning that allows you to type at your most comfortable angles
Raised tilt mechanism to protect the keyboard from collisions with the edge of your desk
Compact 6F mechanism takes the height adjustment out of the keyboard tray mechanism and instead lets you use your height adjustable desk to get the tray in the proper position
Specially-designed 25'' x 9'' keyboard platform wide enough for both a keyboard and mouse, but shallow enough to allow for full storage underneath your desktop
12.5'' track fits on the underside of a 24'' or 30'' deep Float Table desktop without interference with the desks's crossbar underneath
Platform is composed of an ultra-durable, low profile phenolic composite which is nontoxic and easy to clean
Comes with your choice of foam, gel, or slim gel palm rest for even more comfort while typing
Specifications
| | |
| --- | --- |
| 6F mechanism height adjustment | None |
| Tilt | 15° negative |
| Track length | 12.5" L |
| 259 keyboard platform dimensions | 25" W x 9" D |
| Warranty | 15 years |
Humanscale Keyboard Tray Systems Promotional Item
Goldtouch Adjustable Keyboard GTN-0033
This keyboard's split design promotes a more natural and ergonomic typing position.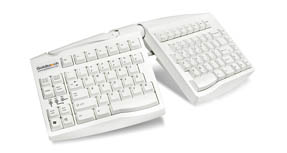 UPLIFT CPU Holder
Clear up desktop space and keep your computer tower off the floor by mounting it to the underneath of your desktop. This accessory is great for height-adjustable desk users.
UPLIFT Single Monitor Arm
Mount a monitor weighing between 4.5 lbs - 17.5 lbs, and adjust the height, depth or lateral position with easy fingertip adjustment.
Color
Two color choices, standard black or white, are offered for the 6F mechanism. The keyboard platform will match the color selected for the keyboard mechanism.
Humanscale Keyboard Mechanism
The Humanscale Float Board Keyboard Tray is offered with the 6F mechanism, which does not allow for height adjustment. Instead, this keyboard tray system is meant to be paired with a height adjustable desk.
Lateral Slider
All Humanscale mechanisms pivot 360 degrees from the point where it is mounted to the track. Some users have a need for additional side-to-side adjustability. The lateral slider provides for eight extra inches of movement from right to left. This is a useful feature for someone at a large workstation that requires them to type facing different angles or monitors.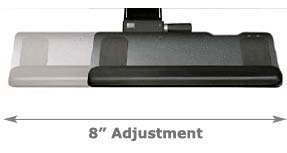 Palm Support
The Float Board Keyboard Tray gives you the option of a foam or gel palm rest, or a slim gel palm rest only 1/4'' thick for use with thin keyboards. Please note that both palm rests will sit roughly 5/8'' away from the closest corner when installed, rather than flush with the edge of the board. All palm rests are 19'' wide and are covered with an easy-to-clean synthetic leather. Palm rests come in black with a black keyboard tray system and gray with a white system.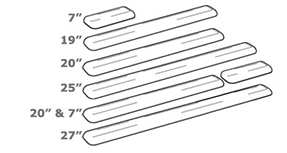 When designing your Float Board Keyboard Tray, if you choose to not add a palm support, there will be holes located at the installation points on the tray.
This is normal and part of the keyboard tray's design, but if you do not want a palm rest and installation holes in your tray, we suggest ordering another keyboard tray.
If you have any questions or need help choosing a keyboard tray, please don't hesitate to call us!
Track Length
The Humanscale Float Board Keyboard Tray comes with a 12.5'' track, which will fit a 24'' or 30'' deep desk.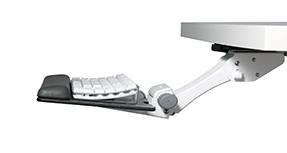 Mouse Platform
A separate mouse platform is not available as this keyboard tray is large enough to support mousing on the main platform.
Mouse Pad
A mouse pad for the separate mouse platform is not available as this keyboard tray is large enough to support mousing on the main platform.
Second Mouse Pad
A mouse pad for the separate mouse platform is not available as this keyboard tray is large enough to support mousing on the main platform.
Fast Shipping & Excellent Product

Excellent product if you have the float desk. Very easy to install and manoeuvre the tray to a comfortable position. The only thing is that you need to make sure your keyboard is not too wide. I had the Logitech K800 and it was too wide to fit on the tray once the palm pad was fitted. Will need to purchase a narrower keyboard.
Warranty Policy
Visit our Warranty page for the warranty policy for this particular product.
Return Policy
Visit our Returns page for the return policy for this particular product.