Effective 11/15/2021, Humanscale will require a signature upon delivery for all FedEx shipments.


Sit and stand your way to a better desk with the Float Table by Humanscale. So smooth in its transitions that it got the name, we're all about the simplicity offered by this next generation adjustable-height desk. Easily adjust the table to your preferred heights with a one hand counterbalance weight adjustment, sans electricity.
No crossbar underneath means more legroom and space for you, as well. Let the ergonomic desk movement take your work to the next level with one simple upgrade.
Features
Provides an impressive 20" of easy, lever-based height adjustments
Requires no electricity and features unobstructed leg space free of bulky support beams
Unique adjustable counterbalance mechanism can support up to 130 lbs
Integral safety feature prevents possibility of injury due to erroneous counterbalance
Lighted indicator for intuitive adjustment instruction
Sturdy steel and aluminum construction meets BIFMA load and capacity requirements
3/4" thick laminate top comes with threaded inserts and requires no drilling
The Design Story
Determined to design a height-adjustable desk without a hard-to-use crank, Humanscale Design Studio's efforts resulted in the Float, a sit/stand table. The Float makes changing postures effortless — a testimony to the Humanscale goals of superior performance, functionality and a beautiful, long-lasting design.
Specifications
| | |
| --- | --- |
| Base dimensions | 63" L x 31" W x 9" H |
| Base weight | 100 lbs |
| Top dimensions | 64" L x 28.5" W x 1.25" H |
| Top weight | 45 lbs |
| Heavy duty kit dimensions | 43" L x 1.5" W x 1.5" H |
| Heavy duty kit weight | 1.64 lbs |
| Height range | 27" to 47" H |
| Base weight capacity (including desktop) | 130 lbs |
| Laminate top thickness | 3/4" thick |
| Warranty | 5 years |
Base Color
The Humanscale Float Table comes in three available base colors: White, Black, or Silver.
Counterbalance Crank
The crank which counterbalances the desktop weight on your Humanscale Float Table can come mounted permanently or is also available removable.
Heavy Duty Kit
The heavy duty kit is an optional cylinder you can add to increase the lifting capacity an additional 30 lbs.
Desktop Size
Humanscale Float Tables can be ordered in the following sizes.
| | |
| --- | --- |
| Depth | Width |
| 24'' or 30'' D | 48'', 54'', 60'', 66'' or 72'' W |
Please note: Depth and width dimension is nominal. Depths are 1'' less than stated to provide a 1'' gap between the work surface and panel. Widths are 1'' less than stated to provide a gap on each side of the work surface. The gaps are to facilitate cable management, monitor arms and pinch points in either a panel or open plan work station environment.
Top Finish
The Humanscale Float Table is available in Black, Gray, Tan, Platinum or White.
Top Edge
The desktop edge of your Float Table comes in your choice of "flat" or "knife" edge. The knife edge is not available on 48'' wide desktops.
Keyboard Tray
An ergonomic keyboard tray is an excellent accessory for your height adjustable desk, and the Humanscale Float Keyboard Tray has been specifically designed for use with the Float Table. Its specially-designed platform, track and mechanism allow for full storage under your Float Table's desktop, even with a 24'' depth top. The streamlined mechanism design features the standard 15° of negative tilt found in all Humanscale mechanisms, but removes the independent height adjustment from the keyboard tray mechanism, instead allowing you to use your Float Table's height adjustment capabilities to adjust your keyboard tray. The Float Keyboard Tray comes in black or white, and also lets you choose between foam, gel or slim gel palm rest.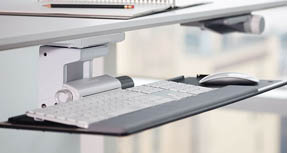 | | |
| --- | --- |
| HUS403~B~S | Black with black slim gel palm rest |
| HUS403~W~S | White with gray slim gel palm rest |
Ergonomic Training Video
This chair purchase includes a free half-hour Ergonomic Training Video with an ergonomic pro. This video will help you learn how best to use ergonomic tools and make the right choices for your workstation. Anyone interested in building an ideal workspace for their own unique needs should take advantage of this offer. The video will cover valuable ergonomic essentials such as:
Understanding the biomechanics of sitting
Setting up a workstation to maximize efficiency
Adjusting a chair to promote neutral posture
Learning exercises to reduce stress and fatigue
I purchased the model with the largest sized top.
As shipped, it comes with the two sets of hardware for attaching the top
a) machine screws for the pre-drilled tops that are sold with the desk
b) wood screws for attaching your own desktop

Assembly is straight forward, it is heavy a second person is helpful.

Be careful with the bolts where they have you attach the angle brace for the top, the metal is relatively soft. I screwed one of the bolts in at an angle by accident and it ripped out the threaded portion from the base. Otherwise the hardware is heavy duty.

I can't recall who first introduced me to this desk, but it was on my wish list for a long time as a necessary ingredient for my "dream" home work space. And when a local store was getting rid of their floor model of a 2' x 4' model of white top on white base, the exact color combo I wanted, I snatched it up as the first step toward my goal.

At first I used the desk as an additional work surface in an office with a traditional sit-down desk, and experimented with using my computer on the high vs the low surfaces. Over the last year I gravitated toward using the Float Desk more as an island, occasionally popping laptop off of its dock to do some work, but I prize the desk mostly for NOT having a computer on it, and letting me spread out what I was working on. Now that I have installed a wall of (perfectly coordinating) white Elfa solid white shelves (including a row of deep shelves at my ideal working height) I can have my computer and assorted office tools at standing height, (or lower, on lower shelves) and the float desk can be moved to be a peninsula addition or as an island, depending on my mood and need - and of course I can lower it when I want to sit and put my feet up for a bit. And did I say that this combination of white Elfa with white Float Desk makes for an awesome custom-look office?

Pros:
It has a fresh, clean modern look.
I like the low profile of the legs, unlike the massive look of the bases of some of the other adjustable-height desks on the market.
The big pro is that it is mechanical - no cords involved! One less thing to break down! Lets you put the table anywhere you like, even in the middle of a room (which is where mine is right now).
It comes with feet that reverse from a shiny metal side for carpeted floors, and a softer felted side for use on hard floors.

Cons:
Cons are few, and mostly if you aren't familiar with the way the lift system works...so I'll clue you in. When you push the lever to allow the table to float up, or to allow you to press it downward, be prepared that the action will vary wildly depending on how much weight is on the table. If nothing heavy is on the table, it can pop up and surprise you and require an unexpected amount of effort to push it down. If you have something heavy on it already, the action is more sedate going up, and you have an assist in pressing it downward.
I also wish it came with locking casters instead of just plain feet, because I'm a big fan of rearranging my work-space to suit the type of project I'm doing...and cleaning under things thoroughly.
And I wish there was a built-in spot for the little metal tool that lets you adjust the tension in the hydraulic apparatus.

Love the table but assembling it was tough for me. The instructions call for several sizes of hex bits.

One of the best home office purchases that I have ever made. I work from home and this "desk" is so easy to adjust for a sitting or standing position that I change it several times a day. My back says "Thank you!".
Warranty Policy
Visit our Warranty page for the warranty policy for this particular product.
Return Policy
Visit our Returns page for the return policy for this particular product.