Effective 11/15/2021, Humanscale will require a signature upon delivery for all FedEx shipments.
The Humanscale Freedom Chair in Leather with Headrest has been discontinued. For a similar product, please visit the Ergonomic Chair page.
Upscale living meets ergonomic seating. It's the Humanscale Freedom Chair in Leather with Headrest and it's ready to change the way you think about office seating.
This is the new Freedom Chair, featuring supple leather and a headrest. The Freedom Chair is here to blend personalized support with the elegance of fine leather, giving you the best of both worlds. No need for knobs and levers here - this desk chair adjusts intuitively as your recline.
Customize the Freedom Chair in your choice of leather for a look the whole office will envy.
Features
Recline is self-adjusting through a full range of motion
Contoured cushions are sculpted to the body
Modular cushions are easily replaceable when it's time to switch seats
Sensitive headrest moves into place as users recline
Headrest cushion moves with the natural curve of your head and neck
Made in USA
The Design Story
The Freedom chair redefines the idea of the standard task chairs. Designer Neils Diffrient was inspired to design an office chair that adapts to the user efficiently, allowing a freedom of movement from one position to the next. This different concept simplified the mechanics, as compared to other chairs, such as cumbersome recline levers and back tension dials. Diffrient realized that the movement during recline took pressure off the body, and transfers it to the back of the chair. Thus the creation of weight-sensitive, self-locking design. Beautiful, functional and simplified.
Specifications
| | |
| --- | --- |
| Chair height | 43" - 53" H |
| Seat height - Standard | 16" - 21" H |
| Seat height - Tall | 17" - 22.25" H |
| Back height | 18" - 21" H |
| Seat width | 20" W |
| Headrest adjustment range | 5" |
| Warranty | 15 years |
| Weight capacity | 300 lbs |
Promotional Item
FREE Goldtouch Adjustable Keyboard GTN-0033
This keyboard's split design promotes a more natural and ergonomic typing position.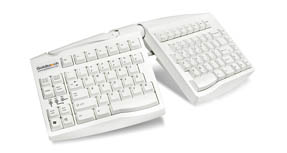 FREE UPLIFT Single Monitor Arm
Mount a monitor weighing between 4.5 lbs - 17.5 lbs, and adjust the height, depth or lateral position with easy fingertip adjustment.
FREE $100 gift certificate toward an UPLIFT Desk
There's no better time to make the switch to a height-adjustable desk! Gift certificate is good toward full two and three-leg UPLIFT Desks; excludes scratch and dent models. (Please note: There is a limit of one gift certificate or coupon per desk order.)
Humanscale Freedom Chair Arms
The Freedom arms are available in two different styles: standard and advanced. The standard arms quickly move up and down; the advanced arms are width as well as height adjustable.
Standard Armrests
Revolutionary armrests move in tandem to eliminate the dangers of uneven arm positioning
Natural lift-and-release action allows for immediate repositioning without the need for buttons or locks
The armrests provide a 6" range of vertical motion to accommodate all users and tasks, and they can be positioned below thigh-level for close table or desk work
The armrests are attached to the backrest, not the seat like most chairs, so they stay in the same relation to your body when you recline
Advanced Armrests
Please Note: Many users prefer the added adjustability of the advanced armrests.
Offer all the same features of the standard armrests
Arms slide left and right for width adjustment
Armrest Padding
Once you pick the type of arms to best suit your needs, choose your arm padding, Duron or Technogel. Add a surface material to complement your Freedom color options.
Duron arms have a foam core and a durable, synthetic leather cover
Technogel arms contain a softer and extremely comfortable gel layer below the synthetic leather cover
Either padding choice can be upholstered in fabric or leather to match your chair
Frame Color
The Freedom Chair is available with three frame colors: graphite and titanium frames are standard colors, and the polished aluminum frame is an upgrade available with either titanium or graphite shells on the cushions and arms.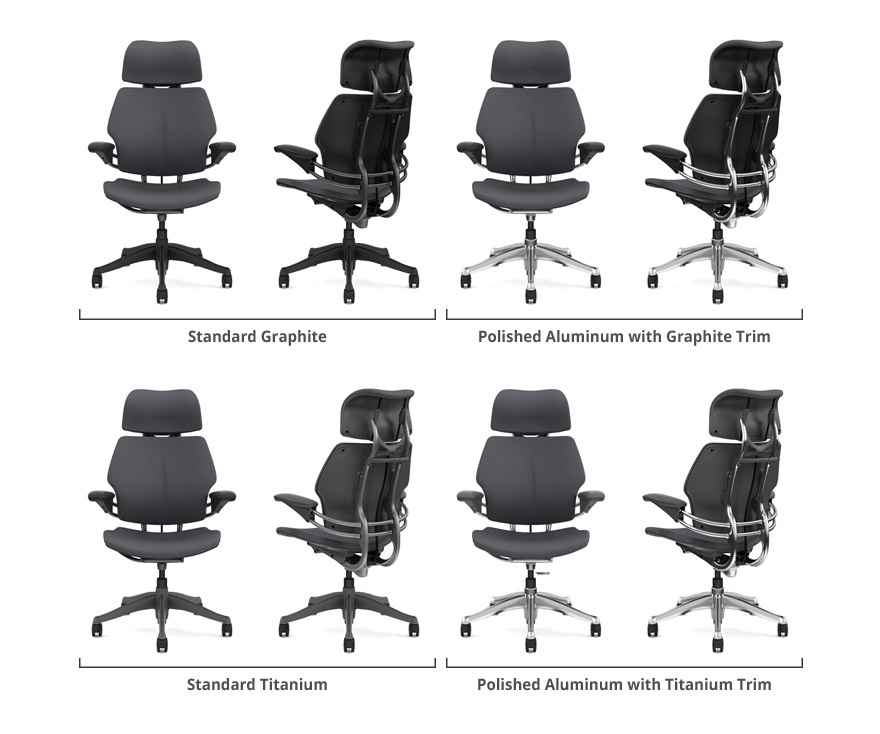 Base Color
The Freedom Chair comes standard with a highly durable composite base with graphite or titanium finish, or upgrade to a powder-coated or polished aluminum base finish.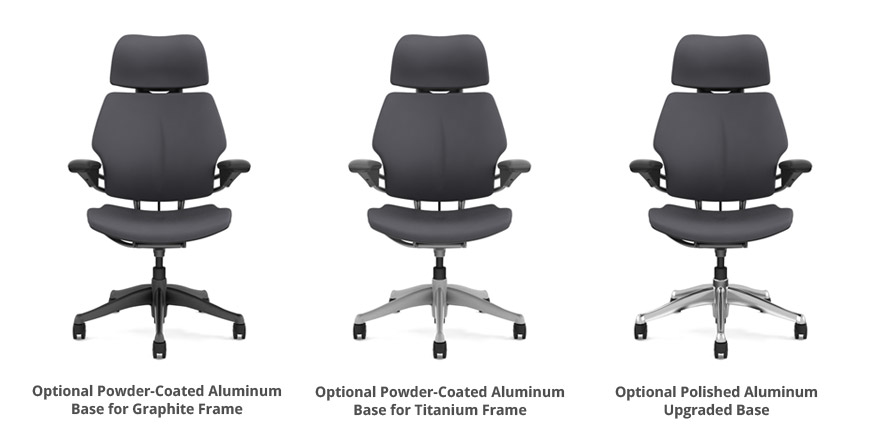 Fabric
Bizon Leather - Grade 1
Bizon is a durable, water-resistant leather suitable for a wide range of applications. The combination of a special retannage and technically-advanced finishing process results in a leather that is not only water-resistant but also practical for applications that require a durable finish.
Cervo Leather - Grade 3
Cervo is chromium tanned and aniline dyed. The unique tannage approximates the rich luxurious suppleness of deer skin. The clarity and depth of the aniline dyes provide a distinct beauty enhancing all the natural characteristics. Cervo is thicker than the other naked leathers in our collection. Specialized milling adds additional character providing a soft pebble grain texture unmatched by any other leather in its class.
Box Stitching Color
Choose from a variety of different color box stitchings for your chair.
Seat Height
Raise or lower the height of the Freedom's seat by selecting a cylinder size. When sitting in a chair, a person's feet should rest comfortably on the floor or a foot rest. Ninety-five percent of our customers select the standard height for their chair; however, a petite user with a lower desk or a tall user with a higher desk can opt for a custom configuration without worrying about bumping their knees on a work surface.
Standard height cylinder fits 90% of the population
Tall cylinder is available for very tall users
Return to height cylinder returns to the tallest setting when you stand up
Please Note: If you aren't sure which height is best for you, give us a call and we'll help you choose.
Casters
The Freedom chair offers four caster choices. Most of our customers select the standard casters for carpet floors or soft casters for hard floors. Glides are perfect for a stationary chair, and the locking casters let the chair move around when no one is sitting down.
| | |
| --- | --- |
| Standard Hard Casters | 2 1/2'' double-wheeled for carpeted floors |
| Soft Casters | 2 1/2'' soft double-wheeled for hard floors |
| Glides | Non-rolling glides for fixed location use |
| Locking Casters | Lock into position when you sit on the chair |
Ergonomic Training Video
This chair purchase includes a free half-hour Ergonomic Training Video with an ergonomic pro. This video will help you learn how best to use ergonomic tools and make the right choices for your workstation. Anyone interested in building an ideal workspace for their own unique needs should take advantage of this offer. The video will cover valuable ergonomic essentials such as:
Understanding the biomechanics of sitting
Setting up a workstation to maximize efficiency
Adjusting a chair to promote neutral posture
Learning exercises to reduce stress and fatigue
This product comes standard with a 15-year warranty.
Return Information
Return windows close 30 days after you receive your item.
You are responsible for obtaining a Return Merchandise Authorization, the cost of shipping, and potential restocking fees, if the item has been opened.
To start a return, or to view the full returns policy, click here.