Effective 11/15/2021, Humanscale will require a signature upon delivery for all FedEx shipments.
When you need a replacement cylinder, base, or footring for your Humanscale Freedom Chair, we have you covered.
Our Humanscale Freedom Chair Replacement Base, Cylinder, and Footring Parts are manufactured to replace broken or worn out parts on your Freedom Chair, giving it new life with the addition of just a few components.
Features
Note: In March 2010 the taper of the cylinders was changed. As a result the new cylinders will not work with an old base. When ordering replacement cylinders for chairs built prior to March 2010, it is important to also order a replacement base.
Specifications
Base options
Graphite
Titanium
Polished aluminum
Cylinder options
Standard 5"
High 8"
Extra high 10"
Footring options
18" chrome
21" chrome
Cylinder
Raise or lower the height of the Freedom's seat by selecting a cylinder size. When sitting in a chair, a person's feet should rest comfortably on the floor or a foot rest. Ninety-five percent of our customers select the standard height for their chair; however, a petite user with a lower desk or a tall user with a higher desk can opt for a custom configuration without worrying about bumping their knees on a work surface.
Standard height cylinder fits 90% of the population
High range cylinder is available for very tall users
Combines with a footring to make the Freedom Chair a Humanscale Freedom Drafting Chair
Please Note: If you aren't sure which height is best for you, give us a call and we'll help you choose.
Base
The Freedom Chair comes standard with a highly durable composite base with graphite a finish, or upgrade to a powder-coated or polished aluminum base finish.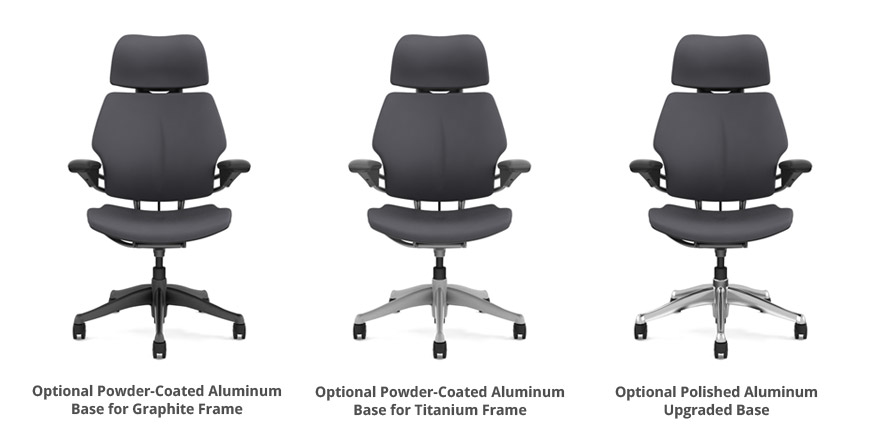 Humanscale Terms and Conditions
Due to manufacturer policy, this item cannot be returned.
Cancellations must be made prior to the item shipping and cannot occur after it has shipped.
If you have any questions about the Humanscale terms and conditions please contact us.
Replacement parts for freedom chair

Service representatives are super. It would be helpful if instructions were included with the parts. The video was misleading it took a lot of sweat and different tools to remove the parts. Once I got to the rep they explained the issues.

Fantastic customer support for my chair and have been able to fix several components over the past few years. Had issues w the arms, but replacements were provided free of charge. Decided to do the pistons at the same time and ordered a piston. Unfortunately the model had changed dimensions for the base and (speaking volumes about customer service) Humanscale recognized the error and sent me the base free of charge. Could not ask for any better service! Additional kudos to Jonah (my service rep) for doing the research and generally being a great guy. Thank you for such great service. Highly recommend the chair and purchasing from this site!
Warranty Policy
Visit our Warranty page for the warranty policy for this particular product.
Return Policy
Visit our Returns page for the return policy for this particular product.